Brunei Yacht Charters
The Sultanate of Brunei is a small but very wealthy country located in Southeast Asia. It is surrounded by Malaysia and is strategically located in the South China Sea. Brunei yacht charters are an excellent way to experience a unique piece of the South Pacific.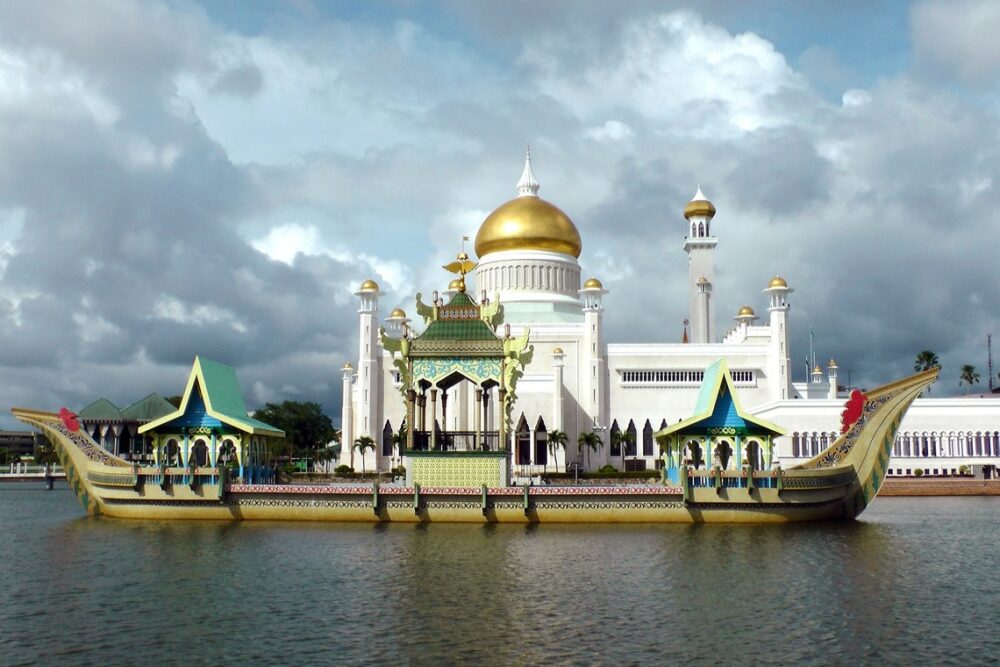 On a Brunei yacht charter vacation, you will experience the dense rainforests, the serenity of religious heritage, and delectable food. The calm sea and the beautiful beaches of Brunei provide ideal conditions for a unique Southeast Asia getaway.
Upon arrival at the yacht, you will be met by an experienced captain and crew who will help you board the yacht and get settled in. The captain will provide an orientation of the yacht and how everything works, as well as an overview of the safety procedures. Once everyone is aboard and settled in, it's time to set sail!
No two Brunei yacht charter holidays are the same, but you can expect to enjoy a variety of different experiences while aboard your vessel. Your captain can tailor the route and activities to your individual needs and preferences.
Brunei's Climate
When it comes to weather, Brunei enjoys a tropical climate with temperatures averaging around 25-35 degrees Celsius throughout the year. The region experiences a wet and dry season, with the wet season occurring from October to March and the dry season taking place from April to September. April, May, and June are generally the best time to visit for warm and sunny days.
Brunei's Attractions | Brunei Yacht Charters
Brunei yacht charters are a rare and special treat in this part of the world. There are only a handful of Brunei superyachts available for charter here. However, yacht cruises have gained popularity in Brunei in recent years. This region's uninhabited coasts, lack of freighters or ports, and calm seas make it an excellent destination for yachting.
The Brunei region provides plenty of unique charter experiences. Brunei Bay has white beaches, coral reefs, and serene islands, and the dawn of Kuraman Island is mesmerizing. During the day, you can enjoy beach-combing, fishing, swimming, snorkeling, and diving. At night, venture to the clubs, bars, and cafes or stay on board your yacht and relax.
Other places to see on your Brunei yacht charter include:
Omar Ali Saifuddien Mosque is a mosque in Bandar Seri Begawan, the capital of Brunei. It is one of the country's two national mosques.
The Royal Regalia Museum. This fascinating museum is located in Bandar Seri Begawan, the capital of Brunei.
Ulu Temburong National Park. This is the first national park to be established in Brunei. It is within the Batu Apoi Forest Reserve.
Gadong Night Market. Browse the stalls at this unique market for souvenirs and gifts, or try out some tasty local delicacies.
The Food of Brunei
Brunei is renowned for its exquisite mix of Malay, Chinese, and Indian influences, so expect a delicious array of dishes full of flavor and history.
Seafood lovers will enjoy the abundance of fresh catches available, while those with a sweet tooth will find many desserts to savor.
Whether it's a romantic dinner under the stars or a special lunch aboard the yacht, your crew will ensure that every meal is a gastronomic delight.
During your stay, you can sample authentic Bruneian dishes such as Ambuyat (a dish made from sago flour), Nasi Lemak (rice cooked in coconut milk), or Kueh Salat (a steamed cake filled with coconut).
Plenty of international dishes are available for those who prefer something more familiar.
Allow our professional brokers to match you with the right yacht and crew for your ideal Brunei yacht charter.
MAP – Brunei
Brunei | Burma (Myanmar) | Cambodia | Indonesia | Papua New Guinea | Thailand | General Info
Please call us today at 1 (321) 777-1707 or describe Your Vacation Vision to help you plan your fully-crewed private luxury yachting vacation! Inquire as soon as possible about your custom, crewed yacht charter.
You make the memories. We make the arrangements.