Cambodia Yacht Charter
A yacht charter in Cambodia offers a once-in-a-lifetime experience. This stunning destination offers miles of coastline, hundreds of islands, incredible culture, and cuisine. What sets Cambodia apart from its other Southeast Asian neighbors is its unique blend of cultures and traditions.
Its ancient temples, traditional markets, and lush national parks will delight travelers of all ages.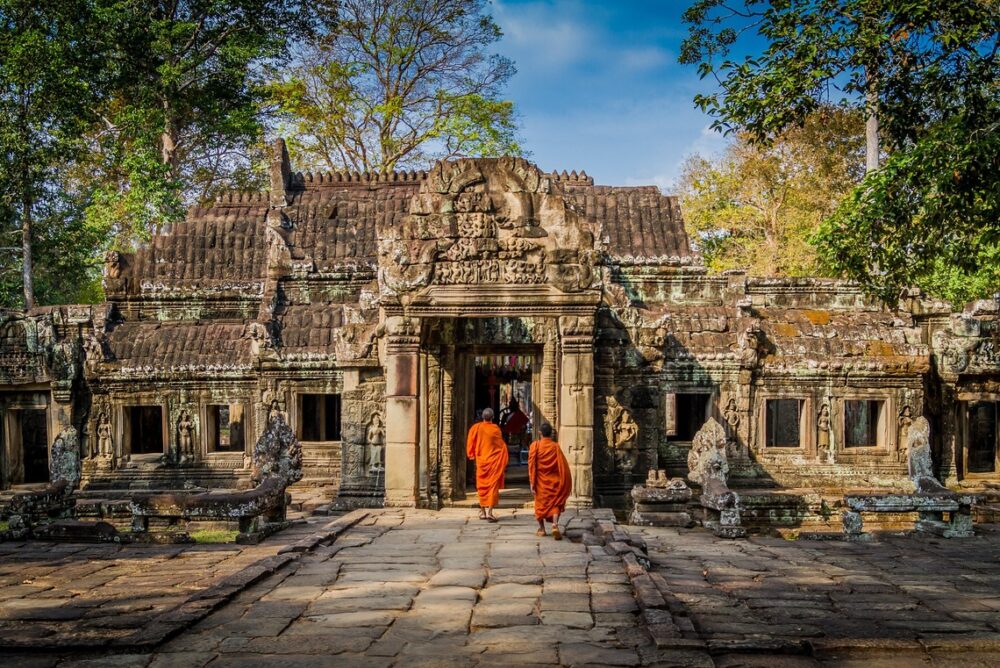 The Climate
Cambodia is a tropical country in Southeast Asia, making it hot and humid all year round. The dry season generally runs from November to April and the wet season from May to October. The highest temperatures are usually found between March and May when they can reach up to 35°C.

The best time to visit Cambodia is during the dry season when temperatures are at their coolest and the humidity is more bearable. However, the peak tourist season runs from November to February, which is also an excellent time to go. There are also fewer crowds in March and April when the heat is more intense.
Places to Visit on a Cambodia Yacht Charter
Your yacht charter crew will ensure you visit these not-to-miss locations during your Asia yacht charter getaway in Cambodia: Phnom Penh, Sihanoukville, and Koh Dek Koule Island.
Phnom Penh
Phnom Penh is Cambodia's capital city and largest city. It is home to a wondrous bounty of culture and economic wealth. It is located at the junction of the Mekong and Tonle Sap rivers. You'll find that temples and museums make up many of the city's cultural and historical attractions. Highlights you should not miss include the Royal Palace & Silver Pagoda, Wat Langka, and the Choeung Ek Genocidal Center.
Sihanoukville
Sihanoukville is the central port city. Since Sihanoukville is home to Cambodia's principal deep-water maritime port, this is a perfect base for exploring the nearby islands. This city also offers some good beaches: Otres beach, Lamherkay beach, Ochheuteal beach, and Independence beach.
Koh Dek Koule Island
Koh Dek Koule Island is an exquisite jewel resting in the tranquil waters of Siam Bay. This island gives itself wholly to indulgence and the extravagances that make time in the tropics so precious. This small island is reserved for the wealthy, and there is only one exclusive luxury resort.
The Food of Cambodia
Cambodia's unique cuisine developed over centuries of influences from neighboring countries, particularly Vietnam and Thailand. This cuisine is called Khmer food for its simplicity, with fresh herbs and spices that bring out the flavors in the dishes. One of the most popular dishes is fish amok, made with a curry paste and steamed in a banana leaf. Cambodian cuisine is also known for its soups, including the famous fish soup called samlor machu ktiss. Other popular dishes include fried noodles, stir-fried vegetables, and grilled meats. Cambodians enjoy desserts such as sticky rice, fruit smoothies, and coconut ice cream.
Allow Luxury Yacht Charters to match you with the perfect professionally crewed superyacht or luxury yacht for your ideal Asia yacht charter getaway.
Brunei | Burma (Myanmar) | Cambodia | Indonesia | Papua New Guinea | Thailand | General Info
MAP – Cambodia
Check out more yacht charters to nearby destinations in the Southeast Asian Regions.
Please call us today at 1 (321) 777-1707 or describe Your Vacation Vision to help you plan your fully-crewed private luxury yachting vacation! Inquire as soon as possible about your custom, crewed yacht charter.
You make the memories. We make the arrangements.