How do you define an escape? If to you, an escape entails getting as far away from your routine as possible, our South Pacific yacht charters may be just what you're looking for.
This remote corner of the world is home to thousands of volcanic islands, atolls, and coral reefs ready to be explored. Sandy beaches, fjords, and steep mountains provide countless ways to relax and embrace nature without distraction. Make your dream a reality by choosing one of our South Pacific and Tahiti yacht charters.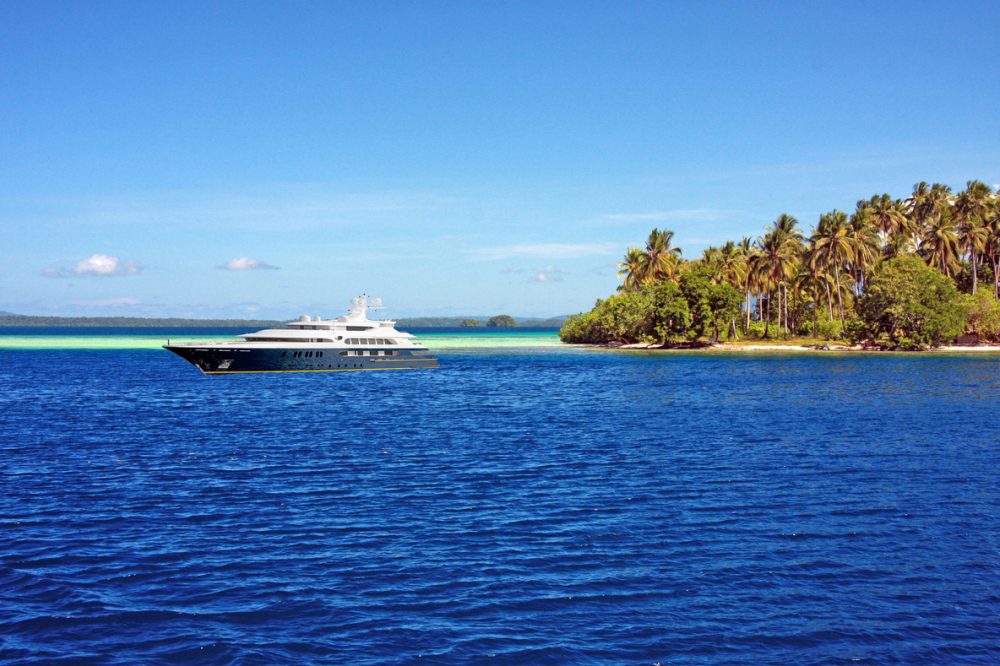 Tahiti
Tahiti's idyllic waters are almost too incredible. Fortunately, the archipelago of over 100 islands, pearl farms, and electric blue lagoons is natural. It's also an excellent choice for your next Tahiti yacht charter.
Tahiti's Society Islands, located in the western area of the 2,000 sq. km nation, include the most popular and lively destinations. On Tahiti, the largest island, you can immerse yourself in nature while traversing the mountainous interior and its countless rivers and tropical plants. Along the shore, however, luxurious resorts, restaurants, and spas patiently await your arrival in paradise.
Speaking of paradise, Bora Bora has become synonymous with such a description. Breathtaking white beaches, coral reefs, and overwater bungalows delight honeymooners and couples with their unparalleled beauty and tranquility. Inviting waters are perfect for snorkeling, scuba diving, or nearly any water sports activity you can imagine.
Next, sail to nearby Raiatea and visit the birthplace of Tahitian culture. Here, the first Polynesian people prospered and eventually departed for New Zealand, Hawaii, and more. Mystical archaeological sites, waterfalls, and perfect sailing conditions make the island a great stop on your French Polynesia yacht charter.
In northeastern Tahiti, nature lovers can visit the Marquesas Islands, where waterfalls, rainforests, and black sand beaches will awaken your senses. From your yacht, admire the steep cliffs and volcanic peaks while you head to incredible scuba diving sites. Onshore, jump on horseback to explore the islands and their rich tiki culture, made famous by Herman Melville's 1846 book, Typee.
Australia
Known for its rare and sometimes dangerous species, Australia is a vast and diverse ecosystem of contrasts. Its interior is harsh, and unforgiving, while its eastern coast teems with vibrant life along the massive Great Barrier Reef. Both a UNESCO site and one of the seven wonders of the world, the largest coral reef in the world provides refuge for thousands of marine life not found anywhere else in the world.
Great Barrier Reef and Whitsunday Islands
Situated at the center of the Great Barrier Reef are the Whitsunday Islands, a must-visit while sailing Australia's Queensland coastline. The 74 islands vary in size, with the largest four sitting just off the coast and west of the reef, which shields the islands from ocean swells.
Golfers will revel in the championship golf course on Hamilton Island, while beachgoers will fall in love with Fraser Island or the silica sands of Whitehaven Beach in the National Park. The islands offer incredible snorkeling, scuba diving, and sailing amongst whales, dolphins, sea turtles, and fluorescent schools of fish.
Sydney & Tasmania
New South Wales in southeastern Australia also offers dynamic and mesmerizing yacht charter itineraries. You can choose to sail off the coast of Sydney, where you can visit the iconic Sydney Harbour Bridge and countless wildlife habitats like Bouddi National Park while navigating Pittwater and Hawkesbury.
Further south, avid sailors can choose to charter in Tasmania where you'll be surrounded by yacht culture in bustling port cities like Hobart. No matter where you choose to visit on your Australian yacht charter, you'll be warmly embraced by friendly Aussies and abundant sunshine.
New Zealand
Neighboring New Zealand is truly a nation of sailors, who take advantage of its location between the Tasman Sea and the Pacific Ocean. In particular, the northern part of the North Island is perfect for sailing as well as exploring the numerous fjords and harbors.
Auckland
Heading north along the coast from Auckland, you'll encounter 170 miles of coastline with picturesque bays, inlets and marine reserves. Anchor in the Bay of Islands for excellent fishing, scenery and marine life. Take a bike ride on the Twin Coast Cycle Trail or visit one of the small Maori indigenous communities to get to know their history.
For more stunning views, hiking trails, beautiful beaches you can even venture to Great Barrier Island, 60 miles northeast of Auckland. Natural beauty is around every corner, including bird sanctuaries, hot springs, and hidden coves for fishing and surfing.
Need a day to unwind? Why not visit one of the many premium vineyards located on islands like Waiheke, just across from Auckland. The country's wine and delicious food are even more reasons to venture to this tremendous and less known part of the world. Come explore our New Zealand yacht charters today.
Fiji
Few places are more remote and gorgeous than the 300 islands that comprise Fiji. Situated in the gorgeous South Pacific Ocean, a trip to Fiji is the ultimate escape. The lush volcanic islands and crystal clear seas will undoubtedly linger in your mind and the kindness of the Fijian people will remain in your heart. Without a doubt, Fiji is one of the best South Pacific yacht charters you can choose.
Mamanuca Islands
Closest to the main island of Viti Levu are the Mamanuca Islands, packed with picture-perfect beaches, fishing spots, and plenty of underwater adventure. Fiji's coral reefs, caves, and shipwrecks give divers endless possibilities to be amazed. The warm temperatures and 50m visibility in some places also help!
Yasawa Islands
Your yacht charter can also whisk you to the more distant Yasawa Islands. Here, you can island-hop, while you savor the freshest coconut water and fruit you've ever had. Amongst the twenty islands also lie small Fijian villages where you can experience local life. The welcoming atmosphere and ancient ceremonies will leave you in awe. And for total relaxation, you can sail to adult-only island resorts to sunbathe in total serenity.
Bula! Which in Fijian means "to good life" and "health" and is used to say hello and goodbye.
Cook Islands
Nestled between Fiji and Tahiti are the Polynesian islands known as the Cook Islands, since their 1773 European discovery. Many of the fifteen islands are tiny lands perfect for swimming, paddle boarding, and traversing the untouched tropical forests and underwater caves.
However, if you're looking for more action, you can instead visit Rarotonga for great restaurants, cultural shows, and live music. With beach activities, villages, and numerous day tours, there's something for the whole family to enjoy.
Honeymooners and couples may want to choose to stop in Aitutaki for a romantic experience unlike any other. The blue lagoon and spa treatments will calm the mind and soul, and the delicious cuisine will satisfy all hunger pangs. When you're ready, head out to discover the island via a leisurely bike ride or brush up on your fishing techniques.
New Caledonia
A French island territory east of Australia, New Caledonia, was also discovered by Englishman James Cook. Caledonia is the Latin word for Scotland and was named such by Cook in 1774. Later, in 1853 it became a French colony under Napoleon III and today retains French as the official language.
This blend of indigenous and European history makes the group of islands culturally unique. Many small islands are ideal for sailing, snorkeling, and fishing. However, most of the action is concentrated in and around Grand Terre.
The city of Nouméa on the main island of Grand Terre boasts French restaurants, shopping, and European flair. The island is also home to the 800m tall Mont-Dore, a dream hiking destination south of Nouméa.
Most interestingly, you can see the huge influence of the island's central and dividing mountain range from the water. While the eastern shore is humid and lush, the west ranges from arid desert to agricultural grasslands. Grand Terre also boasts red soils and an interesting mining past, as if that wasn't spectacular enough.
Solomon Islands
Yet another spectacular destination to charter a yacht in the South Pacific is the Solomon Islands. Famously entangled in WWII, many artifacts remain submerged below the brilliant blue waters. In addition, the 1,000+ islands are studded with coral reefs and atolls bursting with turtles, fish, and sharks. An experience guaranteed to impress even the most seasoned divers.
With such enormous biodiversity, fishing in the Solomon Islands is also top-notch. Sportfishing, river fishing, and the Soloman islands have it all. For a different vantage point, head outside the capital of Honiara to hike through ancient villages.
Or, true adventurers can choose to climb the 1,770m tall Kolombangara Volcano. Most interestingly, take advantage of your yacht charter and visit one of the remote islands where indigenous people still live without electricity or running water.
Don't delay. Make your dream a reality by contacting us about our best Tahiti and South Pacific yacht charters!
Please call us today at 1 (321) 777-1707 or describe Your Vacation Vision to help you plan your fully-crewed private luxury yachting vacation! Inquire as soon as possible about your custom, crewed yacht charter.
You make the memories. We make the arrangements.