Australia Yacht Charter
Experience one of the 7 Wonders of the Natural World
Imagine the warmth and beauty of the South Pacific: spectacular scenery, superb facilities, and unforgettable food and wine. You are sailing the azure waters of Australia in first-class sophistication aboard your luxury yacht charter.
Australia is a land of beauty and contrast with so many attractions to explore. Including huge deserts, wide-open spaces, mountains, diverse topography, rivers, lush tropical bush, amazing aquatic ecosystem, unique and rare animals. As well as an easy-going and friendly local population.
Sailing or cruising the islands of Australia is one of the most memorable holidays you will ever have. It is perfect for couples, families, or groups of friends just wanting to get away from the daily grind. Additionally, outdoor adventure, sophisticated leisure, and everything that is exciting under the sun and out at sea awaits. Take a luxury yacht charter vacation that is like no other.
The internationally known and world-class cruising areas of Australia include the Whitsunday Islands and the Great Barrier Reef in Queensland. There are also the Pittwater or Hawkesbury waterways of New South Wales, near Sydney. In addition, The Gold Coast, Melbourne, Hobart, Tasmania, Cairns, the Kimberly Coast, and Perth. As well as other less traveled but spectacular regions of Australia. These are all luxury yacht charter destinations that await you.
Sailing Seasons in Australia
The trade winds usually blow slightly stronger from May to August. July is the coolest month, and January is the warmest. Cyclones, if they do occur, are most likely between February and March.
Popular Whitsunday | Australia Yacht Charter
One of the most popular yacht charter destinations in Australia is the Whitsunday Islands. The Whitsundays are a cluster of some 70 islands located in the central region of the Great Barrier Reef. They are renowned internationally for offering the best sailing conditions in all of Australia.
The 74 Islands of the Whitsundays have long been renowned as a scuba diving mecca. All the islands have fringing reefs of coral gardens, with abundant marine life to explore. With iconic sites such as Blue Pearl Bay and Black Island, it's easy to see why. Divers have the opportunity to experience thousands of species of brightly colored fish, brilliantly hued corals, and diverse marine life. Including dolphins, turtles, dugong, and whales.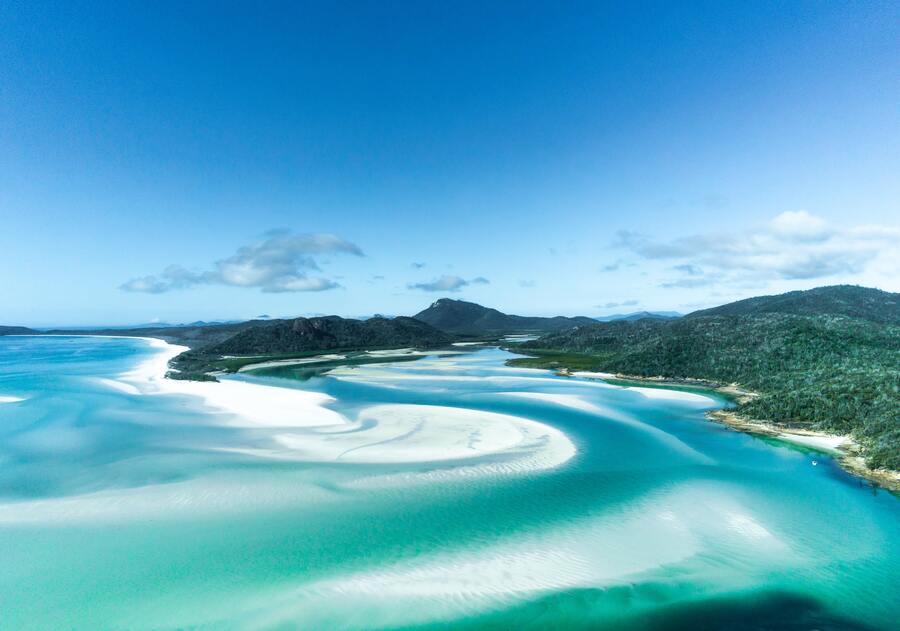 With over 90 national parks, this undisturbed landscape offers you plenty of hiking and trekking adventures. Stretch your legs and trek to the gorgeous waterfalls on Hook Island. Moreover, lounge on the beach or snorkel the extensive reef system offshore Langford Island. It's a long strip of sand that nearly disappears at high tide. Don't forget to check out Fraser Island. Which is considered the largest sand island in the world and has a beautiful bird sanctuary.
The Great Barrier Reef
Australia yacht charter won't be complete without visiting the Great Barrier Reef. It's considered one of the most prominent tourist destinations in the world. Because of the diverse marine life, it offers. From the remarkable weedy sea dragon to the world's largest breeding colonies of Australian sea lions. South Australia's waters are home to some of the most unique and diverse marine life on our planet. Up to 90% of species that live in these rich coastal waters are found nowhere else on earth. Indeed many of them call The Great Barrier Reef their home.
The Great Barrier Reef is one of the seven wonders of the natural world (larger than the Great Wall of China). And the only living thing on earth visible from space. Here, from your private yacht, you can explore the world's largest collection of corals and diverse marine life. As you snorkel or scuba dive for a once-in-a-lifetime opportunity.
Hawkesbury and Pittwater
Another favorite Australian yacht charter destination is Hawkesbury and Pittwater in New South Wales. Where you can mix exhilarating sailing with onshore activities in Sydney. Such as shopping, the opera house, a harbor bridge walk, live shows, fine restaurants, and excellent nightlife.
Tasmania, Australia Yacht Charter
We offer you customized yacht charter itineraries to meet your unique interests. Your private yacht charter will take you anywhere you want to go (weather conditions permitting). With the opportunity to visit some of the most beautiful and remote places in Tasmania. For a truly unique experience explore Tasmania's ancient temperate wilderness. All from the comfort and luxury of your private yacht charter.
Australia Yacht Charter
The Australian continent, with its diverse topography and ecosystems, is yours to explore on an Australia yacht charter holiday. Due to the increasing superyacht presence around Australia's sandy shores, there are many yachting opportunities for you to choose from. Choose your destination and type of yacht from catamarans and sailing yachts, to luxury superyachts. And everything in between, we have it all. Experience the tropical beauty of Australia in sheer luxury by chartering your private yacht through Luxury Yacht Charters.
Australia | Fiji | New Zealand
MAP – Australia Yacht Charter
Please contact us at 1 (321) 777-1707 or complete our contact form to start planning your yacht charter vacation! It's never too early, or too late to inquire about your bespoke private yacht charter.
You make the memories. We make the arrangements.