Experience the Ultimate Luxury with Greece Motor-Sailors
Imagine starting an incredible adventure in the enchanting Aegean paradise, surrounded by the stunning blue waters of the Eastern Mediterranean. Our Greece motor-sailors are more than just boats; they're like luxurious havens with plenty of space, perfect for your Aegean holiday.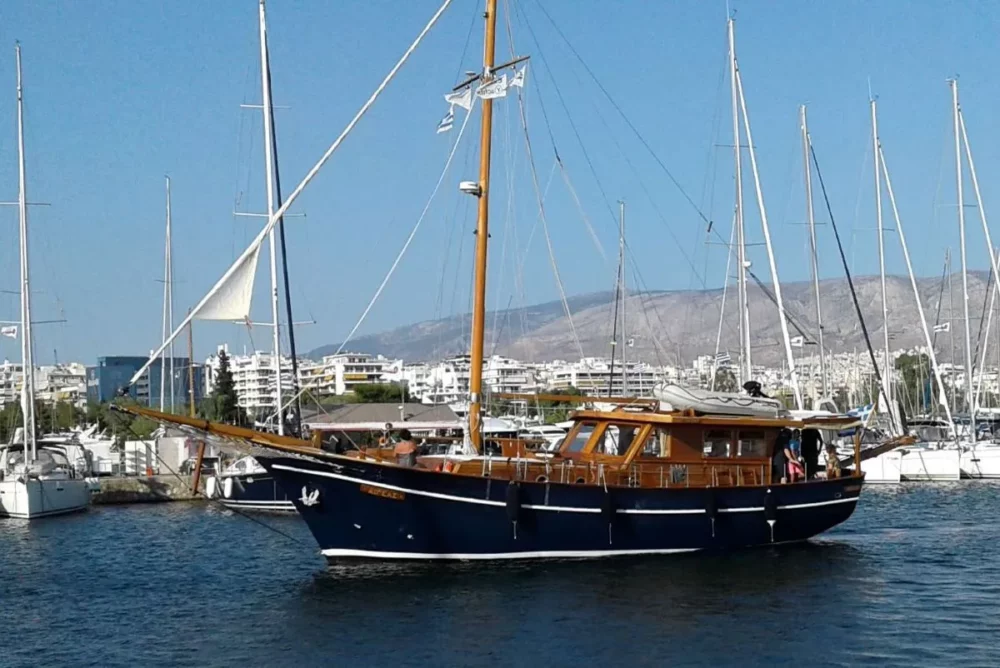 The Eastern Mediterranean stands as an unrivaled gem for your travel itinerary. It offers an exclusive selection of charter yachts not found elsewhere. This region is a symphony of captivating mountainous landscapes, blissful weather, many islands, and endless sandy beaches. It's no surprise that it has secured its spot as a favored destination for globetrotters from around the world.
Setting sail with Greece Motor-Sailors unlocks an unparalleled opportunity to immerse yourself in this Mediterranean paradise and the surrounding archipelagos.
What is a Greek Motor-Sailor?
A motor-sailer, also known as a motor sailer or motor sailboat, is a hybrid vessel. It combines the features of both a motor yacht (powered by engines) and a sailing yacht (propelled by sails). This unique design offers advantages to power- and sail-driven vessels, creating a versatile and adaptable boating experience.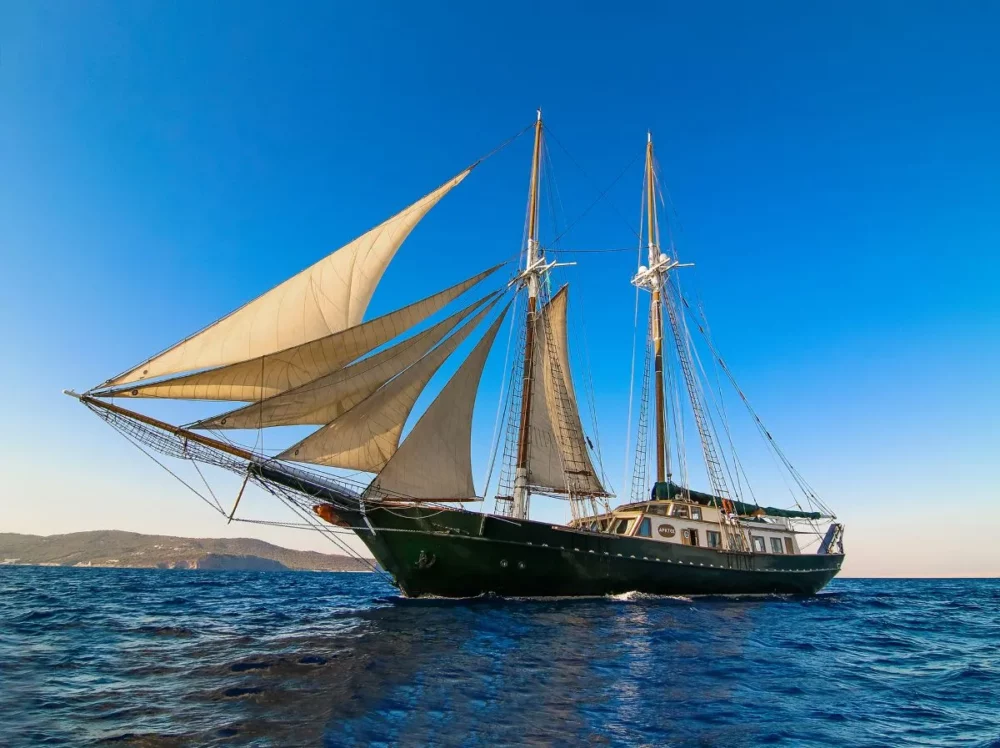 Motor-sailers typically have a traditional sailboat hull shape with a keel and a mast equipped with sails. However, they also feature a reliable engine for unfavorable wind conditions. The sail configuration can vary but usually includes a main sail and sometimes additional foresails or jibs.
The combination of sails and engines allows motor-sailers to provide flexibility regarding travel options. When wind conditions are favorable, the sails can harness wind power. Thus, you have a more eco-friendly and serene cruising experience. In contrast, the engines can take over when the wind is insufficient.
Motor-sailers are popular among boaters who appreciate the romanticism and elegance of sailing but also value the convenience and reliability of engine power. They are a good choice for long-distance voyages, coastal cruising, and island hopping since they can adapt to varying weather conditions and offer extended cruising ranges.
These vessels come in various sizes and designs, offering many amenities and comfort features for short and extended journeys. They also provide a great deal of deck space. Overall, motor-sailers offer a versatile and adaptable way to explore the seas, combining the best of both sailing and motor yacht experiences.
Why Choose Greece Motor-Sailors for Vacation?
Greece, adorned by the embrace of pristine waters, boasts a tapestry of breathtaking landscapes. The Aegean and Ionian Seas paint a canvas of unparalleled beauty. With over 1,400 islands and islets, Greece beckons travelers to embark on an island-hopping adventure.
Aboard, you'll bask in the luxuries of a private crew and chef, who will meet your every need as you sail the Mediterranean. Immerse yourself in the splendor of the Mediterranean as you relax in world-class staterooms and gourmet dining.
The Greek Islands Await Your Discovery
The time has come to embrace your vacation dreams. Greece Motor-Sailors are your gateway to experiencing the majesty of the Mediterranean in its truest form. The Aegean's captivating allure, the vessels' luxuries, and the promise of unforgettable adventure beckon you to set sail. Ready your sea legs, for a world of wonder awaits your exploration.
Other Types of Crewed Yachts for Charter in Greece
Take a look at the other types of crewed yachts available for charter in Greece:
Please call us today at 1 (321) 777-1707 or describe Your Vacation Vision to help you plan your fully-crewed private luxury yachting vacation! Inquire as soon as possible about your custom, crewed yacht charter.
You make the memories. We make the arrangements.