Motor-Sailor Yacht Charters
Crewed Motor-Sailor yacht charters are a fantastic way to discover the Eastern Mediterranean. Historically originating in Turkey, today you can charter excellent motorsailers in Greece, Croatia, and Italy. Also known as Gulet, these yacht charters offer a unique sailing experience, combining the convenience of motorized transportation with the joy of sailing. While on charter, they do typically use motor engine power, but again can also utilize the sails.
Interestingly, you charter the two main types of yachts: the traditional, often wooden motorsailers and the more modern, sleek steel hull styles. In addition, motor sailors can significantly vary in size, typically ranging from 35ft to 180ft (11m – 75m) in length. With their shallow draft, these vessels are perfect for navigating coastal waters and exploring secret coves, while providing you with plenty of space to relax and enjoy your vacation.
Key Features of Motor-Sailors
No matter which type of motorsailer you choose, you'll enjoy a spacious and very comfortable yacht, perfect for groups of all sizes.
In particular, motorsailers have large flybridges with great layouts for dinner parties or entertaining. Even dancing!
While all are equipped with sails, they mainly use engine power and are free to travel without wind.
What's more, these yachts are great options if you're looking to travel with other couples or singles.
Motor sailors have very large cabins with ensuite bathrooms, always providing privacy when desired.
Some motor sailors can sleep more than 12 guests, unlike other types of yacht charters. Some sleep 20, while the largest can sleep up to 50 people.
Additionally, the crew cabins are typically more separate from guest cabins, allowing for as much or as little interaction as wanted.
In comparison to traditional motor yachts of the same size, motor sailors are often a more affordable option.
Most importantly, you'll find everything you love about luxury hotels and resorts, and more, on a motorsailer.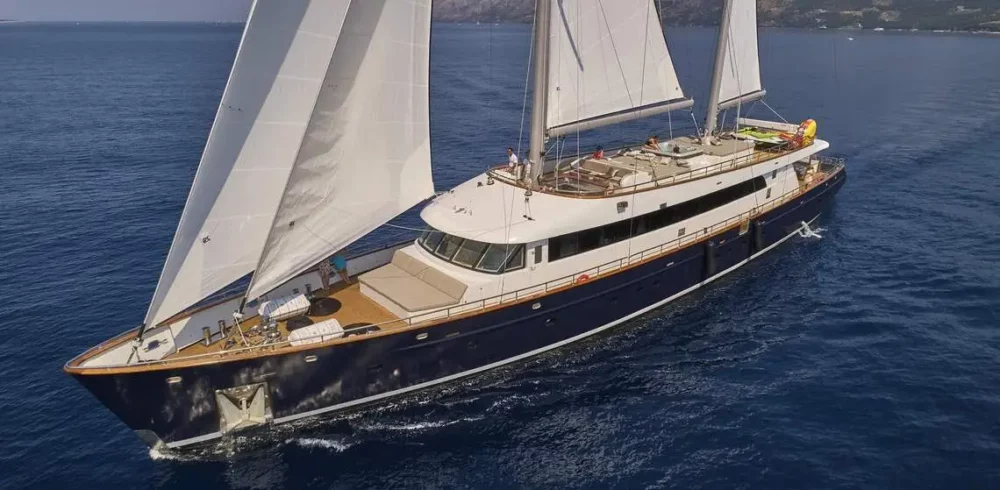 Charter Locations for Motor-Sailor Yacht Charters
Croatia
Croatia offers many high-end, sleek, and modern yachts, one of the premier destinations for motor-sailor yacht charters. Here, choose to charter along Croatia's Istrian Peninsula, Kvarner, or the Dalmatian coast. You can't go wrong with a yacht charter to Croatia, home to gorgeous landscapes, islands, food, and wine. What's more, many of these can accommodate 20 or more passengers, as they can have a different classification than other 12-person yachts.
Many Croatian motor sailors are family owned and operated. Motor sailors like:
Greece
Another top destination for chartering a motorsailer is none other than Greece. Notably, seven groups of islands await you in the Aegean, Ionian, and Mediterranean Seas, each showcasing a unique personality and culture. In Greece, you can cruise between picturesque historic islands, try kitesurfing, or relax on the sprawling flybridge. After your day's activities, treat yourself to delicious local cuisine and wine. With good wind conditions, you'll likely have the opportunity to use the sails but rely on motor power to cover more ground, faster.
Turkey
However, nearby in Turkey, you can also take in views of the Riviera's blue lagoons, pine forests, and wildlife aboard an iconic motor sailor, also known as a gulet. Along this stretch of southwestern Turkey, you'll encounter incredible sights, including the medieval castles of Bodrum and beautiful beaches in Fethiye. A true blend of eastern and western cultures, a motor-sailor yacht charter to Turkey will undoubtedly be memorable.
The modern marinas along the coast offer all the amenities you'll need while aboard your motor sailer yacht charter. Onboard your yacht you'll have the opportunity to discover remote islands, explore ancient ruins, and spend your evenings enjoying delicious Turkish cuisine.
Learn More About Motor Sailor Yacht Charters
We've compiled some great posts on motor sailor yacht charters around the Mediterranean. If you have any questions, please of course reach out to one of our experienced brokers at 321 777-1707.
Please call us today at 1 (321) 777-1707 or describe Your Vacation Vision to help you plan your fully-crewed private luxury yachting vacation! Inquire as soon as possible about your custom, crewed yacht charter.
You make the memories. We make the arrangements.