Bahamas Sailboat Charters | Cruising Paradise
Bahamas sailboat charters allow you to experience the islands' beauty from the deck of your private yacht. Whether you're looking for a romantic getaway or an exciting adventure, a private sailboat charter offers a range of benefits that can make your holiday exceptional.
| | |
| --- | --- |
| 4 Guests | Year/Rebuilt: 2022 |
| $18,500 - $19,750 /wk | 57.00 Ft Sail |
Monohull Sailboats vs. Sailing Catamarans
Traditional sailboats and sailing catamarans each have perks and things to consider, depending on what you're looking for and what matters most.
Monohull sailboats are the traditional choice for sailing enthusiasts. They offer a classic sailing experience with their sleek design and graceful maneuverability. Monohulls can slice through the water, providing an exhilarating sensation as the boat heels over in response to the wind.
Monohulls are versatile and can navigate various weather conditions, making them suitable for more adventurous sailing trips. In the Bahamas, where the winds can be unpredictable, a monohull sailboat allows for greater agility and adaptability.
On the other hand, sailing catamarans have gained popularity in recent years and offer different advantages. Catamarans feature two hulls connected by a wide deck, providing exceptional stability and spaciousness. The open deck layout creates ample space for lounging, sunbathing, and socializing, making them ideal for groups or families on a vacation.
The stability of catamarans makes them particularly well-suited for those prone to seasickness, as they offer a smoother sailing experience with minimal heel. The shallow draft of catamarans also allows for easy access to shallower anchorages and beaches, which is a definite advantage when exploring the Bahamas' crystal-clear waters.
When deciding between a monohull sailboat and a sailing catamaran for a yacht charter vacation in the Bahamas, it ultimately comes down to personal preferences and priorities. We will work with you to determine the best yacht for your vacation.
Bahamas Sailboat Charters | Destinations
Sailing is one of the best ways to explore the stunning sights of the Bahamas, with its clear blue waters and white sandy beaches. Not only will you experience the scenery up close, but you'll also be able to see some of the hidden gems you might miss out on if you take a regular cruise ship.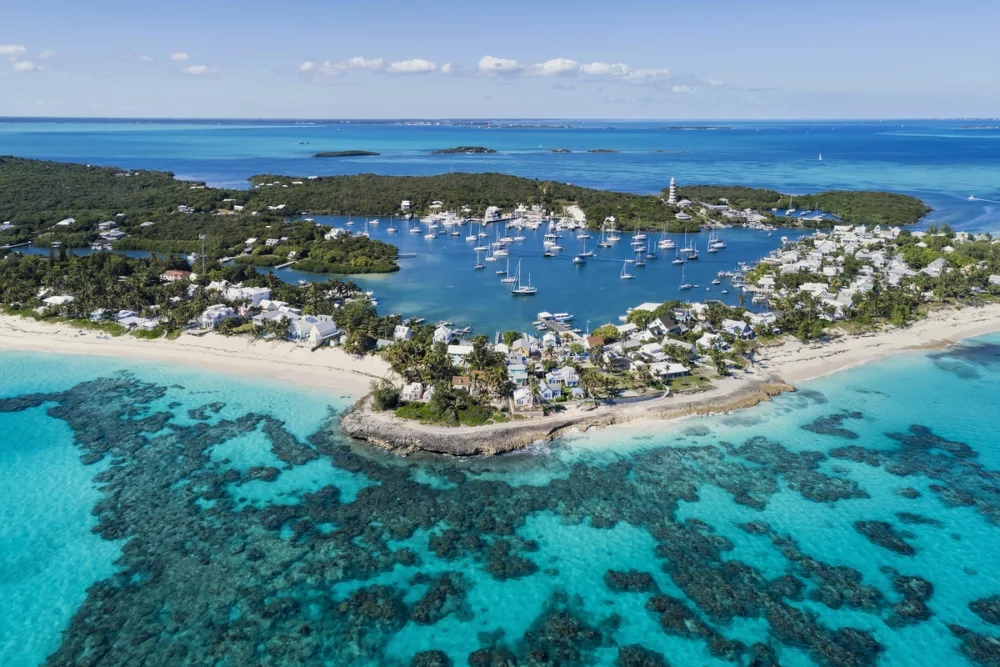 The Abacos are a preferred sailing area. With an experienced Bahamas charter crew, you can visit what is known as the New England of the islands.
Or, visit the Exumas and Eleuthera. These islands offer excellent anchorages, clear turquoise waters, white sandy beaches, fantastic diving spots, and world-class fishing. A Bahamas sailboat charter is entirely customizable to suit your interests. Take a look at VANISHING POINT for an example of a Bahamas sailboat.
Select a destination below to find out more:
Luxury Bahamas sailboat charters also provide a great deal of privacy and flexibility. You'll be able to customize your itinerary, set your own pace, and enjoy the islands' beauty at your leisure.
Activities
While in the Bahamas on a sailboat, you'll have many incredible activities to enjoy. The crystal-clear waters beckon you to indulge in snorkeling and diving adventures. Explore vibrant coral reefs, swim alongside tropical fish, and perhaps even encounter graceful sea turtles or majestic rays.
You can set anchor near secluded cays and pristine beaches, perfect for sunbathing, picnicking, and beachcombing. Take advantage of the steady winds by sailing, harnessing the power of nature to glide across the turquoise waters.
Fishing enthusiasts can try to catch some of the Bahamas' renowned game fish, such as marlin or mahi-mahi. And as the sun sets, be prepared for mesmerizing vistas and tranquil evenings, whether you choose to stargaze on deck or sip cocktails while enjoying the island's vibrant nightlife. The Bahamas offer a playground of memorable experiences, all easily accessible from the comfort of your sailboat.
The Health Benefits of Sailing
Sailing is not only relaxing, but it is also good for your mind. Relaxing on the deck and breathing in salty air allows your body to absorb more oxygen, thus improving your serotonin levels and mood. The soothing sounds of the wind and the water give you a better night's sleep.
In addition to improving your mood and sleep, a sailing adventure offers a unique perspective to travel. There is no need to fight the crowds or the traffic.
Additional Yacht Types for Charter in the Bahamas
Please call us today at 1 (321) 777-1707 or describe Your Vacation Vision to help you plan your fully-crewed private luxury yachting vacation! Inquire as soon as possible about your custom, crewed yacht charter.
You make the memories. We make the arrangements.