Enchanting Eleuthera | A Tropical Paradise
Eleuthera forms part of the Great Bahama Bank on its western edge, and its eastern coastline faces the Atlantic Ocean. The main Island lies 50 miles east of Nassau, and it is a long, thin island, one hundred and ten miles long and just over one mile wide at its narrowest.
Beautiful pink sand beaches and a relaxed atmosphere make this a wonderful place to visit.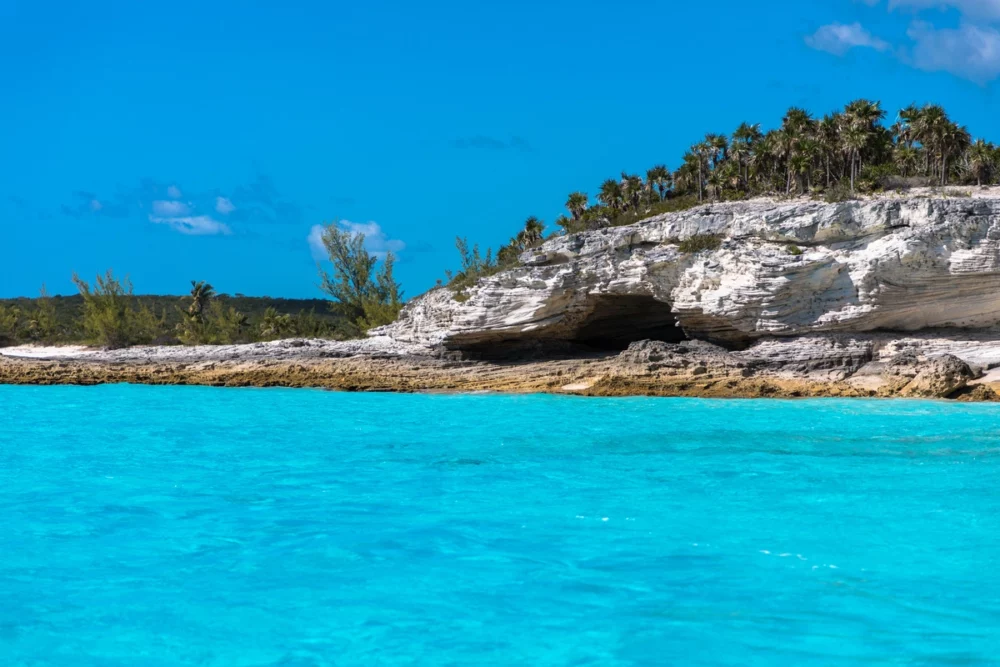 Interesting Facts About Eleuthera
Eleuthera is two islands, North Eleuthera and South Eleuthera.
The islands started as coral reefs.
In 1648, a group of Puritans sailed to Eleuthera for religious freedom.
"Eleuthera" originates from the Greek word "eleuthero," which means freedom.
Weather
The summers in the Bahamas are hot, humid, wet, and mostly cloudy. The winters are comfortable, humid, windy, and mostly clear. Over the year, the temperature typically varies from 66°F to 90°F and is rarely below 59°F or above 92°F.
Eleuthera | Places to See
Preacher's Cave: Immerse yourself in Eleuthera's history by visiting Preacher's Cave, where the Eleutheran Adventurers sought shelter during their early days on the island. This sacred cave offers a glimpse into the island's past and provides a serene atmosphere for reflection.
Hatchet Bay Caves: Explore the island's geological wonders in this extensive network of limestone caves.
Queen's Bath: Discover a hidden gem on Eleuthera's Atlantic side. Queen's Bath is a series of natural pools carved into the rocky coastline, creating a picturesque spot for bathing and relaxation.
Glass Window Bridge. The Island forms a border between the Atlantic Ocean and the Caribbean Ocean. On the Glass Window Bridge, you can view the thin line of land between the dark blue Atlantic waters and the turquoise waters of the Bahamas.
Glass Window Art Gallery: Located near the Glass Window Bridge, this art gallery showcases the works of local Bahamian artists. Admire the vibrant paintings, sculptures, and crafts inspired by the island's natural beauty and rich cultural heritage.
Tarpum Bay: A picturesque fishing village, Tarpum Bay offers an authentic glimpse into the island's maritime culture. Watch local fishermen in action, stroll along the waterfront, and savor freshly caught seafood at one of the waterfront eateries.
Leon Levy Native Plant Preserve: Nature enthusiasts will appreciate visiting this enchanting botanical garden in Governor's Harbour. Stroll along the winding trails and discover diverse native plants, including rare and endangered species.
Eleuthera | Things to Do
Brave guests can try cliff jumping at Rock Sound Ocean Hole. There's a blue hole where you can jump from the surrounding cliffs. Cliffs vary in height from 5 to 25 feet.
Tour a pineapple farm. Eleuthera is the agricultural center of the Bahamas, and pineapples are the most popular crop.
Shop at The Beach House Boutique in Governor's Harbour.
Also, in Governor's Harbour, have some great food and enjoy island music at the Friday Night Fish Fry.
See turtles at Edwin's Turtle Lake Marine Reserve.
Beach-Hop: With over 100 miles of coastline, Eleuthera boasts numerous pristine beaches waiting for you to discover. Anchor your yacht at secluded coves like Lighthouse Beach, French Leave Beach, or Ten Bay Beach, and indulge in sunbathing, picnicking, or leisurely walks along the shore.
Golf. Golf enthusiasts can enjoy golf at the Rock Sound Club, an 18-hole golf course boasting stunning ocean views. Challenge yourself on this beautifully landscaped course surrounded by Eleuthera's natural beauty.
Marinas
Cape Eleuthera Bahamas Marina. An idyllic retreat between Exuma Sound and Rock Sound. Accommodating vessels up to 200′ LOA and features full utilities, free Wi-Fi, and a deep draft 12′ MLW entry at a straight 90° angle.
Davis Harbour Marina at Jack's Bay Club. The peaceful and secluded setting is in a protected harbor. The marina offers 24 slips, night-time security, Frigates Bar & Grille, local charter boat captains, Wi-Fi, Captains Lounge with Direct TV, ice, laundry, shower facilities, business center, fuel (gasoline and short pump diesel), electric – 30 & 50 AMP 3-Phase Power, RO water, concierge, provisioning, mail services.
8-Day Sample Itinerary | Exploring Eleuthera
Here is a sample 8-day itinerary. Please note that the nautical miles mentioned are approximate and may vary depending on the specific route taken, weather conditions, and yacht speed. This is just a sample. We will work with you and your group to create a custom itinerary based on your interests and desires.
Day 1: Depart for Spanish Wells
Board the yacht in Gregory Town and enjoy a welcome lunch. Cruise over to Meeks Patch near Spanish Wells. (3 hours approx.) Spend the night at anchor at Spanish Wells.
Day 2: Remora Bay/Harbour Island
After breakfast, head into Remora Bay Marina on Harbour Island. Enjoy lunch on board or at one of Harbour Islands' top restaurants. Then spend the afternoon exploring Pink Sands Beach and touring the island before returning to the boat for dinner. Spend the night in Remora Bay Marina.
Day 3: Beach Day at Man Island
After breakfast, head to Man Island. Spend the day relaxing and soaking up the sun. Return to the boat mid-afternoon and anchor near Glass Window Bridge. Arrive in time to enjoy dinner at this beautiful bay. Spend the night at anchor Glass Window Bridge.
DAY 4: North Exuma
After breakfast, take the tender to shore to visit the glass window bridge. Then, head to the Queen's Baths. Afterward, travel to North Exuma. Have lunch while underway. (5 hours approx.) Spend the night at anchor Ship Channel Cay.
Day 5: Allen's Cay
After breakfast, take the tender to Allen's Cay, where you can see and feed the Bahamian Rock Iguanas.
Day 6: Norman Cay
On day 6, explore Norman Cay. Anchor overnight.
Day 7: Rose Island
After breakfast, cruise back north to Rose Island. (3 hours approx.) A population of about 15-20 live here off the small island of Green Cay all year round. There are also beautiful beaches to explore here and some awesome reefs to snorkel.
Day 8: Departure Nassau
Depart in Nassau.
Please call us today at 1 (321) 777-1707 or describe Your Vacation Vision to help you plan your fully-crewed private luxury yachting vacation! Inquire as soon as possible about your custom, crewed yacht charter.
You make the memories. We make the arrangements.