Nassau, New-Providence, Bahamas
Nassau, New-Providence, Bahamas, is the bustling capital city of the Bahamas. This tropical destination attracts vacationers from all parts of the world. Paradise Island sits just offshore from the island of New Providence. Two bridges connect to the city of Nassau over Nassau Harbour.
Paradise Island is overflowing with tropical charm, resorts, hotels, restaurants, shops, nightlife, a golf course, an aquarium, and a casino. Of course, there are plenty of beaches to explore.
The majority of the Exuma Yacht charters start from Nassau. You can do a round-trip itinerary or a one-way ending at Norman Cay, Staniel Cay, or Georgetown, Great Exuma.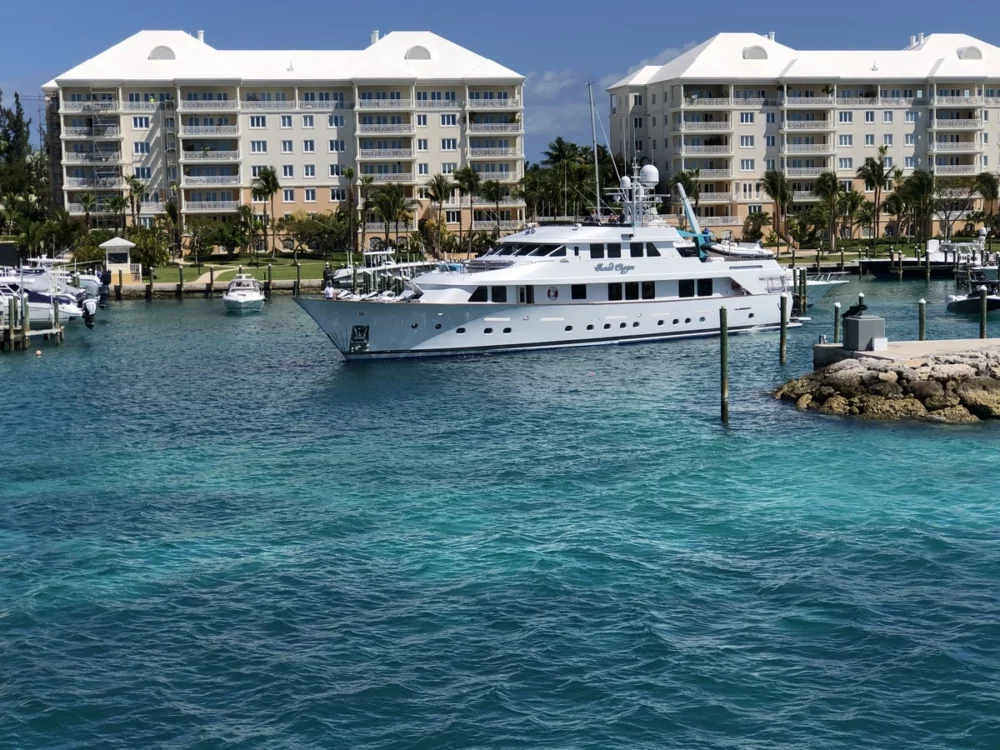 A Brief History
As you step onto the shores of Nassau, you'll find yourself immersed in a rich tapestry of history. Originally inhabited by the Lucayan people, the British colonized the island in the 17th century. Nassau played a significant role in the era of piracy, with famous pirates such as Blackbeard and Calico Jack roaming its waters.
Weather
In Nassau, the summers are hot, humid, and mostly cloudy. The winters are comfortable, muggy, dry, and windy. The temperature typically varies from 66°F to 90°F and is rarely below 59°F or above 93°F.
Start or End Your Charter in Nassau
In addition to being a fantastic stop on your itinerary, Nassau is an excellent starting or ending point for your luxury yacht charter vacation. Since Lynden Pindling International Airport provides convenient access to the island, it is easy for you and your guests to join your yacht or bid farewell after an unforgettable voyage.
Places to See in Nassau New-Providence Bahamas
Fort Fincastle and the Queen's Staircase: Fort Fincastle is an imposing 18th-century fortress. The nearby Queen's Staircase is a remarkable hand-carved limestone staircase.
Pirates of Nassau Museum: Delve into Nassau's notorious pirate past at this interactive museum, where you can learn about the swashbuckling adventures and treacherous lives of the Caribbean pirates.
Paradise Island: Just a short distance from Nassau. Visit Atlantis Paradise Island, where you can enjoy world-class entertainment, thrilling water slides, and a lively casino.
Things to Do
Snorkel and Dive: Explore the colorful underwater world surrounding Nassau. The crystal-clear waters teem with coral reefs and fascinating marine life. Swim with friendly sharks at sites like Stuart Cove's Dive Bahamas.
Watersports. Since your yacht has many fun water toys, you'll want to jump in the water and ski, wakeboard, or float on a mat.
Luxury Spa Retreat: Treat yourself to a day of relaxation and rejuvenation at one of Nassau's luxurious spas. Unwind with soothing massages, revitalizing facials, and indulgent treatments inspired by local traditions.
Explore Nassau's Historic Sites: Visit landmarks such as Fort Charlotte, Fort Montagu, and Government House. Stroll through the charming streets of Old Town Nassau, adorned with pastel-colored colonial buildings.
Experience Junkanoo: The festival has music, colorful costumes, and energetic dancing.
Golf: Play golf at Nassau's world-class courses, such as The Ocean Club Golf Course and the Royal Blue Golf Club.
Shop: Dive into the local shopping scene at the famous Straw Market in downtown Nassau. Browse handmade crafts, jewelry, artwork, and souvenirs. There are also countless other places to browse for souvenirs.
Dining in Nassau New-Providence Bahamas
These popular restaurants showcase the city's diverse culinary landscape. It is best to make reservations, especially during peak seasons. Here are some of the most popular restaurants:
Graycliff Restaurant: This renowned restaurant offers a sophisticated dining experience in the elegant Graycliff Hotel. Enjoy an exquisite menu featuring international cuisine with a Caribbean flair, paired with an extensive wine selection from their award-winning cellar.
Café Matisse: Nestled in a charming colonial-style building, Café Matisse is known for its artistic ambiance and delectable Italian cuisine. Feast on dishes inspired by Mediterranean flavors and an impressive wine list.
Dune at The Ocean Club: Indulge in a beachfront dining experience at Dune. The restaurant is within The Ocean Club, a Four Seasons Resort. This upscale restaurant showcases a menu of modern Mediterranean cuisine crafted with fresh, locally sourced ingredients. The stunning ocean views and elegant ambiance add to the overall enchantment.
Fish Fry at Arawak Cay: For authentic Bahamian cuisine, visit the Fish Fry at Arawak Cay. This vibrant outdoor food market is a favorite among locals and visitors alike. Sample freshly caught seafood, such as conch salad, fried fish, and Bahamian-style lobster tails, while enjoying the lively atmosphere and live music.
Café Munnings: Located at the National Art Gallery of the Bahamas, Café Munnings offers a delightful blend of art and culinary indulgence.
Nassau New-Providence Bahamas | Marinas
Palm Cay Bahamas Marina offers 194 slips, fuel, a dockside cafe, restaurant, concierge service, 194 slips, full service, a deep-water marina, 24-hour security with sea gate, fuel dock facility (gas and diesel), a fish cleaning station, vessels from 18′ to 70′, 8ft at low tide, electricity, water, Wi-Fi.
Albany Marina accommodates 71 vessels as large as 300 feet and offers state-of-the-art berthing facilities, easy clearance procedures, and the highest level of service for luxury vessels. A security and yacht watch program closely monitors yachts harbored at Albany.
The Nassau Yacht Haven Marina is within walking distance of many shops and businesses. Marine supplies are available next door, and a short walk up the street will bring you to the Harbor Bay Shopping Center.
Bay Street Marina offers 110 slips that accommodate vessels from 40′ to 500′ with 12′ drafts and low tide. The marina offers fuel, electricity, and free Wi-Fi at every slip. In addition, guest amenities include a swimming pool, fitness center, business center, shower, laundry facilities, fish cleaning station, and restaurants.
Atlantis Marina is within the opulent Atlantis Paradise Island resort. Here, you can access the resort's world-class facilities, including fine dining restaurants, a championship golf course, and rejuvenating spa treatments.
Yachts
Please call us today at 1 (321) 777-1707 or describe Your Vacation Vision to help you plan your fully-crewed private luxury yachting vacation! Inquire as soon as possible about your custom, crewed yacht charter.
You make the memories. We make the arrangements.