An Exuma Yacht Charter Bahamas is a nature lover's paradise. Stretching out over 100 miles, Exuma encompasses 365 islands and cays, each with its personality and distinctive attractions. This particular part of the Bahamas boasts beautiful white-sand beaches, breathtaking turquoise water, abundant marine life, and tons of nature-loving activities. If you're looking to explore the islands and make new friends while enjoying some serious R&R in the process, Exuma is the place to be. While you're there, consider booking your Exuma Yacht Charter—you'll experience all that this area has to offer in comfort and style!
The Exuma Islands are home to the Exuma National Land and Sea Park– one of the most extensive underwater and land preserves. In addition, one of the top snorkeling spots on Warderick Wells Cay encompasses 176 square miles of underwater limestone and coral reefs. It features numerous blue holes, caverns, caves, and shallow sites rich in staghorn and elkhorn corals. You will be amazed by the marine life here, as well as the Bahamian rock iguana – a giant lizard-like creature – which makes this protected nature preserve its home.
On the Water
The Exumas boasts 365 islands, cays, and islets. Some islands, Big Major Cay, Little Water Cay, and Stocking Island, are all uninhabited marine reserves. These uninhabited islands are considered part of Exuma Cays Land and Sea Park; waters of these nature preserves are off-limits to motorized vessels or fishing activities. Instead, you can enjoy water sports like kayaking and snorkeling on your Exuma yacht charter adventure. You might also see pink flamingos in flight as they circle lazily around their island homes in search of food.
Inland: Beautiful shorelines include dramatic cliffs along palm tree-filled shores with abundant coral reefs below. There are also gentle shores, such as long beaches with secluded patches for privacy and sandbars for delightful picnics. Making them an accessible destination for watersports of all kinds. The crystal-clear waters allow visitors to get up close and personal with marine life like fish, rays, and dolphins.
On the Boat | Exuma Yacht Charter Bahamas
The islands and Cays are ideal for yacht charterers seeking privacy. Or those who don't want to be surrounded by other people during their holiday. Most charter yachts will anchor in nearby bays or well off the islands. From there, guests can explore uninhabited or privately owned islands, searching for secluded spots for fishing or snorkeling. The Exumas also has plenty of great beaches safe for swimming and diving. Another fun way to cool off on board if it gets too hot. And more so if the yacht has a water slide.
Why Charter a yacht in the Exumas?
The best part? You won't see many signs of civilization while cruising in this area—just miles upon miles of endless aquamarine ocean stretching across the horizon line. And if you do come across another yacht anchored near shore, there may not even be anyone around to stop and chat. You are alone with nothing but your thoughts and nature at large.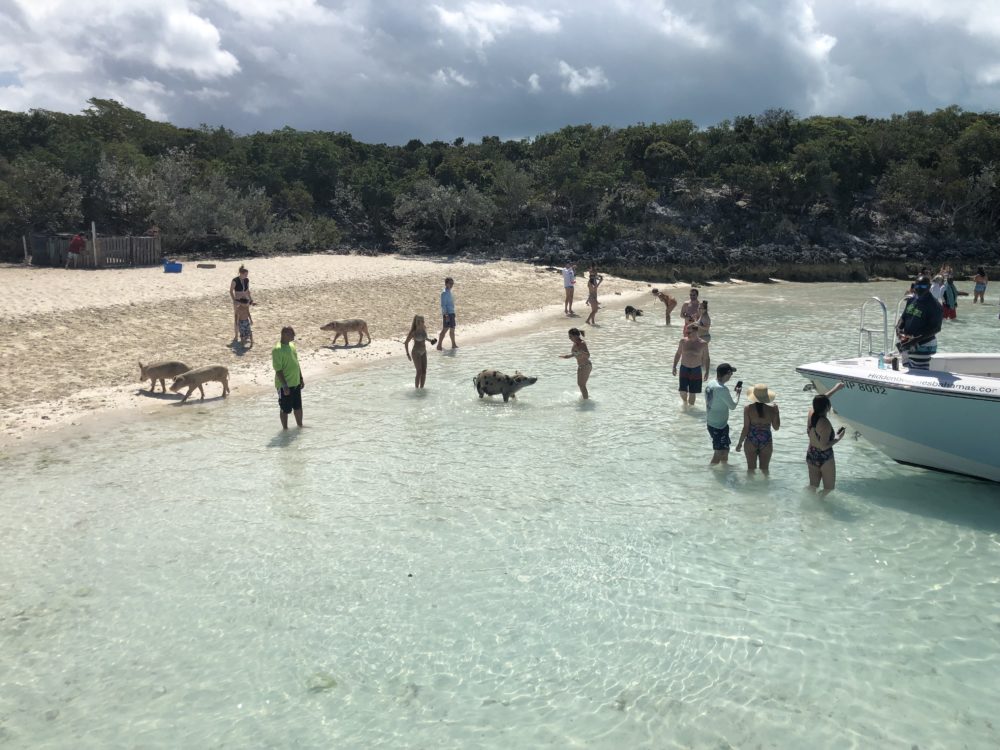 Exuma Sample Itineraries | Bahamas Yacht Charter
Here are a few links to Exuma Yacht Charter Sample Itineraries
Nassau to Nassau. This tends to be the most popular. Nassau has an International Airport serving the biggest commercial jets and two FBOs for private aircraft.
Nassau to Staniel Cay. One-way charters are excellent options. You can enjoy more time in the Exumas, avoiding the trip back to Nassau. Staniel Cay has a small airport, served by local Bahamian operators and Makers Air operating their Cessna Grand Caravans. This itinerary can be done in reverse.
Nassau to Georgetown, Great Exuma. Weather can determine if you'll get to Great Exuma or stop in Staniel Cay because of an open ocean section of the trip. Explore the Southern Exumas.
Call Us at 321-777-1707 for a Free Consultation.
Please call us today at 1 (321) 777-1707 or describe Your Vacation Vision to help you plan your fully-crewed private luxury yachting vacation! Inquire as soon as possible about your custom, crewed yacht charter.
You make the memories. We make the arrangements.