An Exuma Yacht Charter in the Bahamas is a nature lover's paradise. Stretching out over 100 miles, Exuma encompasses 365 islands and cays, each with its personality and distinctive attractions. This part of the Bahamas boasts beautiful white-sand beaches, breathtaking turquoise water, abundant marine life, and activities for nature lovers.
Embarking on an amazing adventure in the Exumas island chain, you'll discover a paradise beyond your wildest dreams. One special place is Shroud Cay, a hidden gem that's incredibly beautiful and untouched. It's a peaceful escape that feels like a dream come true.
Yachts for Your Charter in the Bahamas
You have several options for luxury yachts for your charter in the Bahamas. We will work with you to help you decide which type of boat to select for your vacation.
Power Boats: Speed and Comfort Combined
If you're seeking a thrilling and fast-paced charter experience in the Exumas, a power boat is an excellent choice. These sleek vessels are fast and agile, allowing you to navigate the stunning island chain swiftly. With powerful engines, power boats can reach destinations quickly, thus making the most of your vacation.
Sailing Catamarans: Graceful Cruising and Serenity
For those who appreciate the charm and tranquility of sailing, a catamaran charter in the Exumas is an ideal option. Sailing catamarans offer a unique blend of stability, spaciousness, and comfort. Their dual hulls and wide beam provide ample deck space for sunbathing, dining, and socializing.
Power Catamarans: The Best of Both Worlds
Power catamarans offer the best of both worlds. They are fast and easy to maneuver like power boats, yet spacious and stable like catamarans. Power catamarans are an excellent choice for charters.
Power catamarans can navigate the Exumas' waters effortlessly while providing a smooth and stable ride. The spacious interiors boast multiple cabins, common areas, and amenities. You and your guests will have a relaxing and enjoyable experience on board.
Exuma Yacht Charter Bahamas | On the Water
The Exumas boasts 365 islands, cays, and islets. Some islands, Big Major Cay, Little Water Cay, and Stocking Island, are all uninhabited marine reserves. These uninhabited islands are also part of Exuma Cays Land and Sea Park. Waters of these nature preserves are off-limits to motorized vessels or fishing activities.
The park features numerous blue holes, caverns, caves, and shallow sites rich in staghorn and elkhorn corals. You will be amazed by the marine life here! You'll also encounter the Bahamian rock iguana – a giant lizard-like creature – which makes this protected nature preserve its home.
Not too far away is Compass Cay, another magical spot known for its rich marine life. When you step onto Compass Cay, you'll feel a sense of calm and relaxation. Dive into the clear blue waters and explore the colorful coral reefs and tropical fish.
For an exciting experience, visit the Thunderball Grotto. Snorkeling inside the cave, you'll see sunlight shining through the openings, creating a magical and unforgettable sight.
On your Exuma yacht charter Bahamas adventure, you can enjoy water sports like kayaking and snorkeling. You might see pink flamingos in flight as they circle lazily around their island homes, looking for food.
Inland: Beautiful shorelines include dramatic cliffs along palm tree-filled shores with abundant coral reefs below. There are also gentle shores, such as long beaches with secluded patches for privacy and sandbars for delightful picnics. Making them an accessible destination for watersports of all kinds. The crystal-clear waters allow visitors to get up close and personal with marine life like fish, rays, and dolphins.
On the Boat | Exuma Yacht Charter Bahamas
The islands and Cays are ideal for yacht charterers seeking privacy. Most charter yachts will anchor in nearby bays or well off the islands.
From there, guests can explore uninhabited or privately owned islands, searching for secluded spots for fishing or snorkeling. The Exumas also has plenty of great beaches safe for swimming and diving. Another fun way to cool off on board if it gets too hot. And more so if the yacht has a water slide.
Why Charter a yacht in the Exumas?
As you sail through this region, you'll encounter very few signs of civilization – just vast stretches of aquamarine ocean. Should you come across another anchored yacht along the coastline, you might find it completely deserted. You will be alone with your thoughts and the beauty of nature.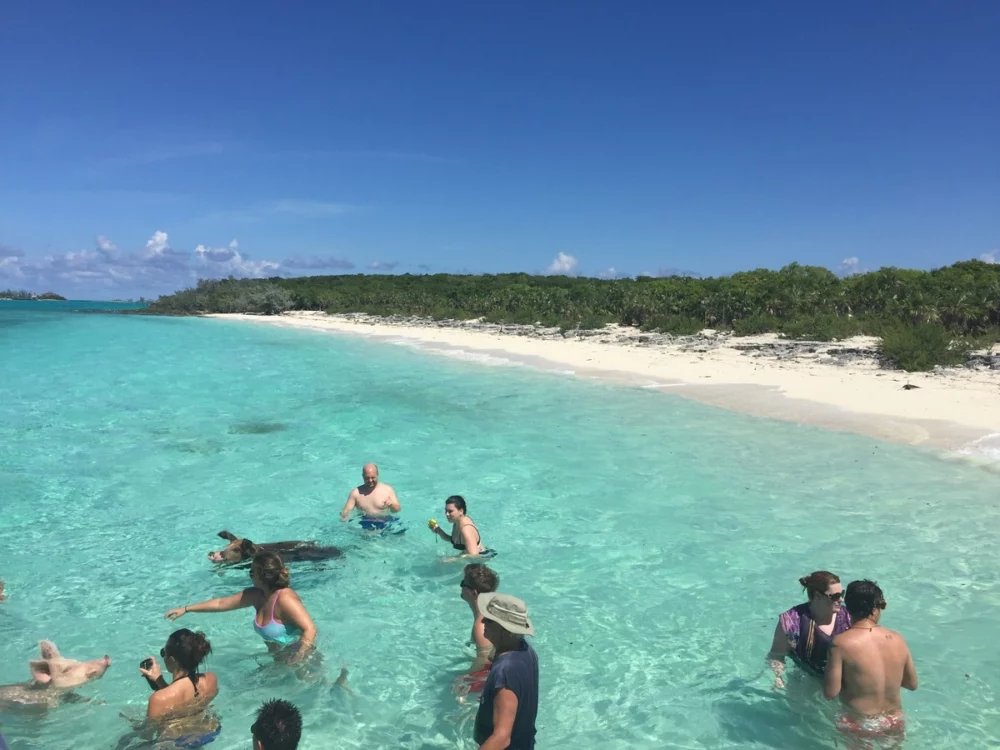 Exuma Sample Itineraries | Bahamas Yacht Charter
Here are a few links to Exuma Yacht Charter Sample Itineraries.
Nassau to Nassau. This tends to be the most popular. Nassau has an International Airport serving the biggest commercial jets and two FBOs for private aircraft.
Nassau to Staniel Cay. One-way charters allow you to enjoy more time in the Exumas, avoiding the trip back to Nassau. Staniel Cay has a small airport, served by local Bahamian operators and Makers Air. You may also charter this itinerary in reverse.
Please call us today at 1 (321) 777-1707 or describe Your Vacation Vision to help you plan your fully-crewed private luxury yachting vacation! Inquire as soon as possible about your custom, crewed yacht charter.
You make the memories. We make the arrangements.