It's true that when you step onto a motor yacht charter in the Bahamas, you're stepping into luxury. What you may not realize, however, is that there are several reasons why charters are better than conventional vacations. So, why charter a motor-yacht in the Exumas? This post will show why a motor yacht charter is so unique and worth every penny.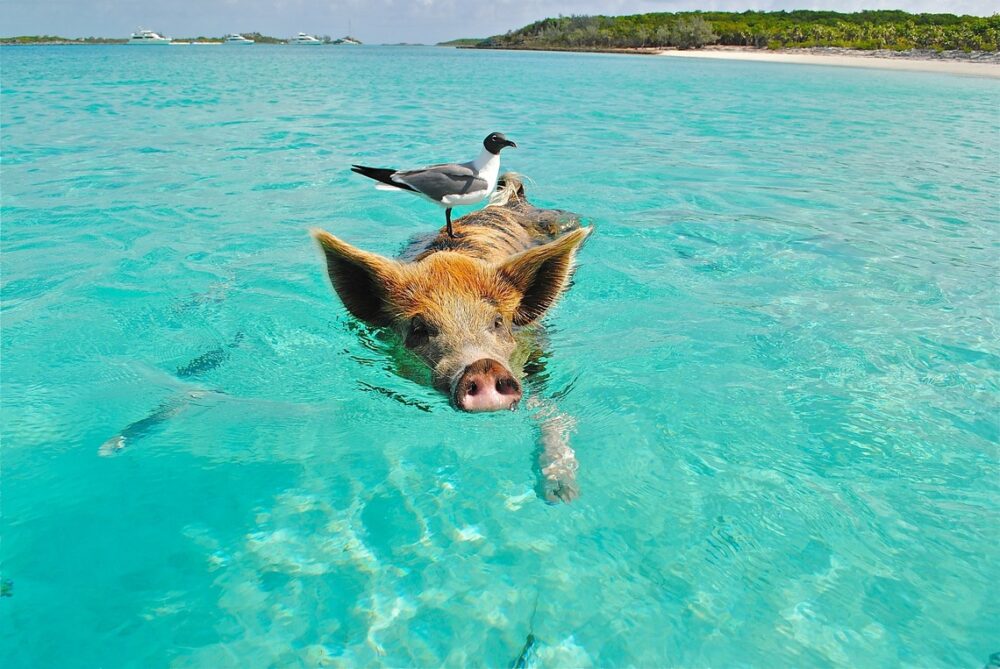 An Exuma motor-yacht charter is a perfect first vacation.

Getting your significant other into yachting for an anniversary or special birthday? Or are you planning an adventure with family or friends? No matter what group of people you're traveling with, there's something special about a motor yacht charter vacation. First of all, there are zero lines and long waits. Next, there are never-ending entertainment options and luxury service and dining. Last, the waters are usually very calm and quite friendly to first-time boaters.
There's something the entire family will enjoy.
As much as people dream of getting away on their own private yacht, they also like being around their friends and family. A motor yacht charter allows you to experience luxury while still spending time with loved ones. In addition, you don't have to worry about cooking or cleaning up after anyone. Having a professional crew does all of that for you!
It's a unique intimate getaway for you and your significant other.
With smaller groups and varying itineraries, you'll get closer to nature than if you were traveling on one of those big-party cruises or all-inclusive tours. Taking a vacation just for two offers plenty of quality time together that will surely help keep your relationship healthy and strong during any season of life. Imagine waking up each morning to stunning views of tropical islands and crystal blue waters.
An Exuma motor-yacht charter isn't just for couples.

Everyone loves to get away and celebrate life. And, while it's true that many people use luxury yacht charters as an escape from everyday life with their loved ones, not everyone has a significant other or partner. In fact, many yachts can accommodate parties of any size, meaning you can enjoy your own private motor yacht rental for any occasion — business or pleasure.
A group vacation is much better than staying at home because it is more affordable. A hotel room can cost about $250 per night, which can add up quickly when you have a large party. What's more, you'll have plenty of space. On a yacht, there's plenty of space for all your guests to sleep comfortably and extra space for activities!
You can get out on the water, even if you don't fish.
You don't have to be a fishing enthusiast to enjoy chartering your own private motor yacht. There are many other advantages of taking a trip on these luxurious vessels. Enjoy freshly caught meals, top-notch service, and warm breezes as you cruise around breathtaking tropical islands.
Or if you prefer not to get wet while exploring, take advantage of land-based activities such as shopping, visiting historic sites, beachcombing, biking, and hiking. Whatever you do, get out there!
Summer or winter vacations are great.
With beautiful weather year-round and the best waters for water sports like snorkeling and fishing, you will leave with lifetime memories. You can get up close to wildlife in the clear warm ocean water or relax on the sun deck of your yacht as you drift by smaller islands.
Intermittent rain showers won't put a damper on the fun, either. Your experienced crew has a lot of ideas for rainy-day merriment. Yachts also come equipped with movies, wifi, games, and books.
Enjoy epic after-dinner drinks on the deck.
With a yacht charter, you can kick back and enjoy an after-dinner cocktail as you listen to waves lapping against your motor yacht's hull. There are few better ways to end an evening than with incredible views of one of Earth's most beautiful landscapes. Your crew will undoubtedly whip up a special drink just perfect for you and your guests. Be sure to ask for the recipe so you can relive the tropics when you return home.
There is so much to see!
Cruising from Nassau to the Exuma Cays, you'll enjoy the beaches where your footsteps are the only ones in the sand. Explore Thunderball Grotto, and swim with the pigs and sharks. Go fishing and enjoy your catch for dinner prepared by your chef the way you prefer.
An Exumas yacht charter vacation is about natural beauty and untouched isolated ecology. The Islands stretch over 100 miles and are made up of 365 Cays. They remain reasonably untouched by man. The area is one of the most pristine yacht charter cruising grounds and is certainly one of the best in the Caribbean.
With a population of just 3,540 people, most islands within the Exumas chain are uninhabited (apart from the sunbathing iguanas). This stunning chain of islands is surrounded by crystal clear waters, shallow sandy shoals, and spectacular reefs teeming with wildlife. Many of the islands have beautiful white-sand beaches. A crewed charter is a magnificent way to see this beautiful and remote destination.
On your luxury yacht charter, you can visit the 400-foot-deep Blue Hole on the Atlantic side of the chain. See what is said to be one of the only intertidal Stromatolite reefs in the world, a living fossil dating back three and a half million years. Also, you can see the Grotto on Staniel Cay, made famous by the James Bond movies Thunderball and Never Say Never Again.
Allow Luxury Yacht Charters, a division of CKIM Group, to help plan your Exuma Bahamas yacht charter vacation.
Please call us today at 1 (321) 777-1707 or describe Your Vacation Vision to help you plan your fully-crewed private luxury yachting vacation! Inquire as soon as possible about your custom, crewed yacht charter.
You make the memories. We make the arrangements.