Ultimate Island Hopping | Bahamas Power Catamaran Charters
The Bahamas beckons you with its mesmerizing turquoise waters, jaw-dropping archipelagos, and colorful marine creatures. But why settle for the ordinary when you can go all out? Bahamas power catamaran charters offer an unmatched combination of luxury, speed, stability, and versatility. These yachts allow you to explore the breathtaking beauty of the islands in ultimate style and comfort.
The Exuma Islands and Cays and Abacos Islands are the ideal destinations for Bahamas power catamaran charters. The islands are within easy reach of each other, and many have well-appointed marinas.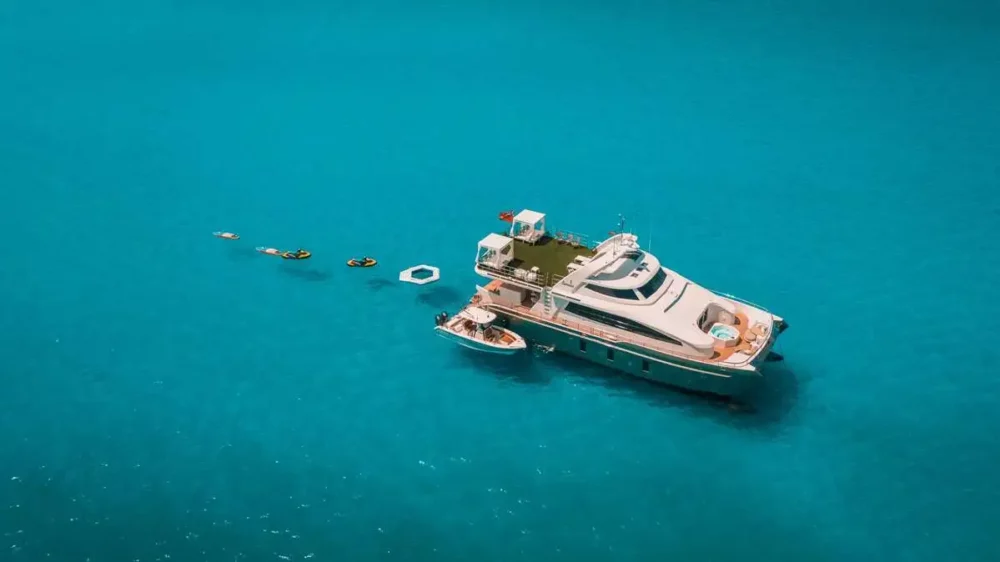 Bahamas Power Catamaran Charters | Advantages
Imagine sipping a fruity tropical drink on the spacious flybridge, the wind gently tousling your hair as you zip through the waves with the grace of a dolphin. Stability is the name of the game here. Say goodbye to sea sickness and hello to smooth sailing. Power catamarans also have loads of deck space, perfect for hosting an impromptu dance party.
What's more, it's not just about the smooth ride. Power catamarans are built for speed and efficiency. They're like the sports cars of the sea, ready to take you on a turbocharged journey through the Bahamian waters. So you can zoom past the monohull yachts, leaving them green with envy as you effortlessly reach your dream destinations.
Spacious Interior and Exterior
Since power catamarans are roomy, they are a good choice for two couples or families with children. Although charter power catamarans are available from March or April to the end of September, a few power cats are based year-round in the Bahamas.
Bahamas Power Catamaran Charters | Destinations and Activities
The Bahamas has it all for adventure-seekers. Want to mingle with the swimming pigs at Big Major Cay? Done. How about snorkeling in the famous Thunderball Grotto, where James Bond himself has graced the silver screen? Consider it checked off the bucket list.
And let's not forget the Exumas, where pristine beaches like Stocking Island and Staniel Cay await your sun-worshipping pleasure.
But wait, there's more! Don your snorkeling gear because the Bahamas has some of the best underwater scenes you'll ever see. Dive into a world of vibrant coral reefs, explore hidden caves, and swim alongside tropical fish and sea turtles.
It's like entering a real-life aquarium but without the glass walls. And when you've had your fill of aquatic adventures, unleash your inner adrenaline junkie with a myriad of water sports. Kayaking, paddleboarding, wakeboarding, jet skiing – you name it, you can do it.
Your catamaran has a variety of water toys to keep your group busy all day. Some of the toys may include:
Stand-up paddleboards
Kayaks
Water skis
Jet skis
Inflatable toys
Floating mats
Scuba and snorkel gear
Fishing equipment
Beach games
Island Hopping
With a power catamaran, you can quickly and easily hop from one island paradise to another. Discover hidden shores, untouched cays, and secret anchorages only the lucky few can see. Each island has its unique charm, ready to enchant you with its natural beauty and tranquility.
Bahamas Power Catamaran Charters | Dining
The Bahamas offers a fantastic array of culinary experiences. When dining ashore, be sure to sample some of the local foods. The islands are known for their conch and crab dishes, often served with a side of plantains or other tropical fruits. There's also a variety of Bahamian specialties such as johnnycake. If you're looking for something more unique, try the ceviche, which consists of raw fish marinated in lime juice.
If you want a more upscale dining experience, plenty of island restaurants offer everything from fine Italian cuisine to steak and lobster dishes. Of course, your chef on board can also create some fantastic meals!
Book Your Bahamas Power Catarman Charter Today
So, why settle for the ordinary when you can have an off-the-charts experience? Chartering a luxury power catamaran in the Bahamas is your golden ticket to an incredible journey through tropical bliss. It's time to buckle up, soak up the sun, and make lasting memories. Bon voyage!
Please call us today at 1 (321) 777-1707 or describe Your Vacation Vision to help you plan your fully-crewed private luxury yachting vacation! Inquire as soon as possible about your custom, crewed yacht charter.
You make the memories. We make the arrangements.