Want to take your vacation to the next level? Then you should consider a power catamaran rental in the Bahamas. A fully-crewed luxury power catamaran is a fantastic way to relax from the everyday routine. These yachts offer space, versatility, and stability at sea. They're perfect for first-time charterers, families, groups of friends, or couples.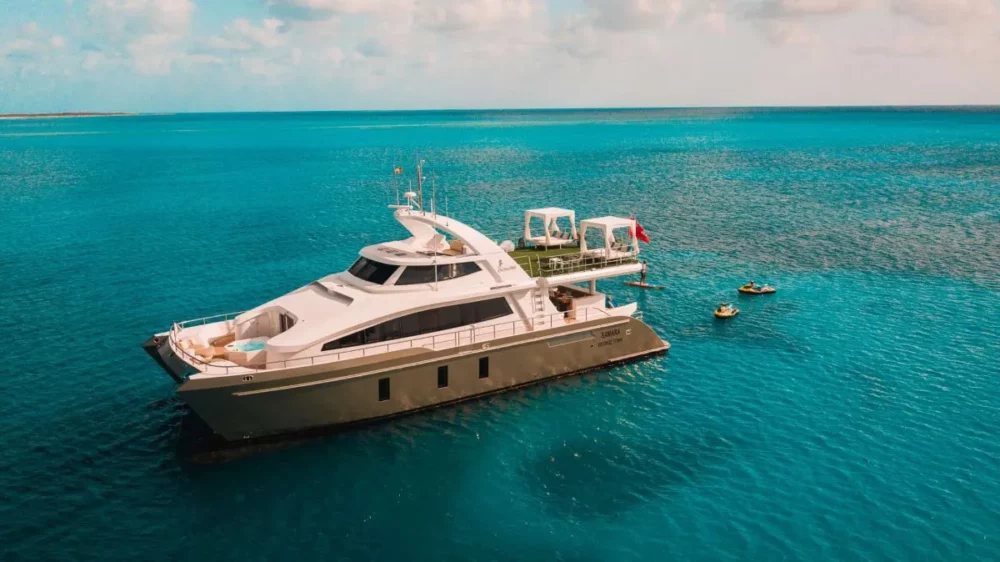 Advantages of Renting a Power Catamaran
Here are just a few of the reasons to choose a power catamaran for your Bahamas yachting holiday:
Stability and Comfort
A power catamaran's twin hulls make these boats very stable. This design minimizes rocking and rolling, providing a comfortable and smooth cruising experience even in choppy waters.
Since power catamarans are so stable, the likelihood of motion sickness is reduced. Thus, this type of yacht is ideal for those prone to seasickness or wanting to ensure a pleasant voyage for all guests.
Fuel Efficiency and Performance
Power catamarans are more fuel efficiency than monohull yachts. The dual-hull design offers less drag, allowing power catamarans to cruise at higher speeds while consuming less fuel.
With their efficient hull design, these boats can achieve higher cruising speeds. This advantage allows faster island hopping. You will have more time to explore the beautiful Bahamian islands!
In addition, power catamarans typically have a shallower draft than motor yachts, meaning they can access more secluded and shallow anchorages and coves that may be inaccessible to larger yachts.
Ample Deck Space and Outdoor Living
Luxury power catamarans offer expansive deck spaces, including multiple lounging, sunbathing, and outdoor dining spaces. Many feature a spacious flybridge allowing guests to enjoy the Bahamas' breathtaking views.
Power catamarans usually have convenient swim platforms and ladders, making it effortless to access the crystal-clear waters of the Bahamas for swimming, snorkeling, and using water toys.
Versatility and Accessibility
The Bahamas consists of numerous islands and cays, and power catamarans offer excellent maneuverability, allowing you to easily explore and hop between different destinations, discovering secluded anchorages and pristine beaches.
Power catamarans can often dock in smaller marinas or anchor closer to shore due to their dual hulls and maneuverability, providing greater flexibility in choosing berthing options and exploring coastal towns and villages.
Who Should Rent a Power Catamaran in the Bahamas?
If you plan a trip to these beautiful islands, there is no better way to spend your time than on a power catamaran. Therefore, renting a boat with everything you need and more is essential. Power catamaran charters like SAMARA are perfect for families, couples, or groups of friends who want a unique vacation experience. And the answer could be a Bahamas Luxury Boat Rental.
Even if you've never been on a boat, your experienced and professional captain will ensure you are safe and comfortable daily. Moreover, everyone will enjoy the meals, snacks, and beverages their private chef prepares.
5 Beautiful Bahamas Anchorages To Visit
Spend a week or more sailing around some of the Bahamas' most beautiful islands. There are so many places to explore! Renting a power catamaran means no worries about where to drop anchor for the night. Here are a few favorite anchorages check out: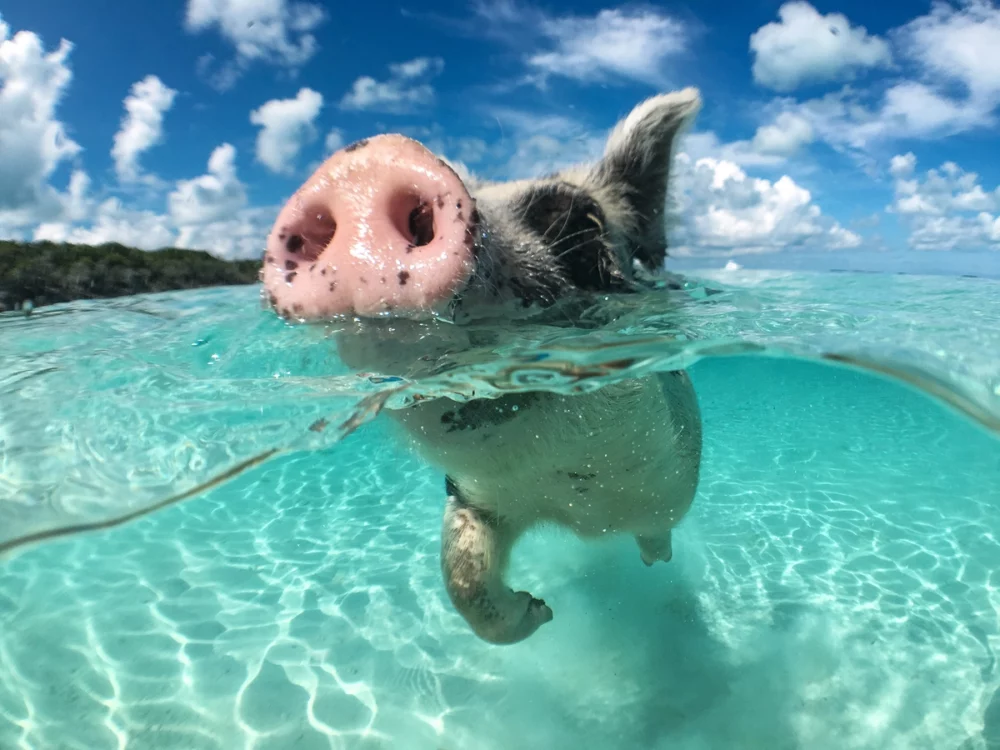 Big Major Cay, near Staniel Cay. This uninhabited islet is home to the world-famous swimming pigs and piglets. A count conducted in 2019 estimated that up to 60 pigs live on the island.
Shroud Cay. Shroud Cay is an uninhabited archipelago of cays and rocks surrounding a shallow mangrove swamp. It is part of the Exuma Cays Land & Seas Park.
Warderick Wells Cay, headquarters of Exuma Cays Land & Sea Park. Established in 1958, the park is governed by the Bahamas National Trust.
Thunderball Grotto. Taking its name from the James Bond movie, "Thunderball," this beautiful location is home to scores of tropical fish and other amazing sea life.
Norman Cay. A stunning location. The blue water here is like none other, and the scenery can only be described as picture-postcard perfect.
Final Thoughts about Renting a Power Catamaran in the Bahamas
Renting a power catamaran in the Bahamas is one of the best ways to explore your private island paradise—and you can't ask for much more!
CKIM Group's charter brokers will ensure your power catamaran rental in the Bahamas is customized to suit your group's unique wishes. Our team will work closely with you and your captain to craft a one-of-a-kind vacation experience.
Start planning today; there are the Top Five Caribbean Yacht-Rental Destinations, if not the Bahamas.
Please call us today at 1 (321) 777-1707 or describe Your Vacation Vision to help you plan your fully-crewed private luxury yachting vacation! Inquire as soon as possible about your custom, crewed yacht charter.
You make the memories. We make the arrangements.