Exquisite Journey: Berry Islands Bahamas-Yacht Charter
When it comes to your next getaway, consider a Berry Islands Bahamas-yacht charter. The Berry Islands of the Bahamas are an archipelago of 30 islands and cays in the Caribbean Sea. With its pristine coral reefs, turquoise waters, and lush green vegetation, the Berry Islands offer a one-of-a-kind yacht charter experience.
These islands provide the perfect backdrop for sailing, snorkeling, fishing, and other outdoor activities.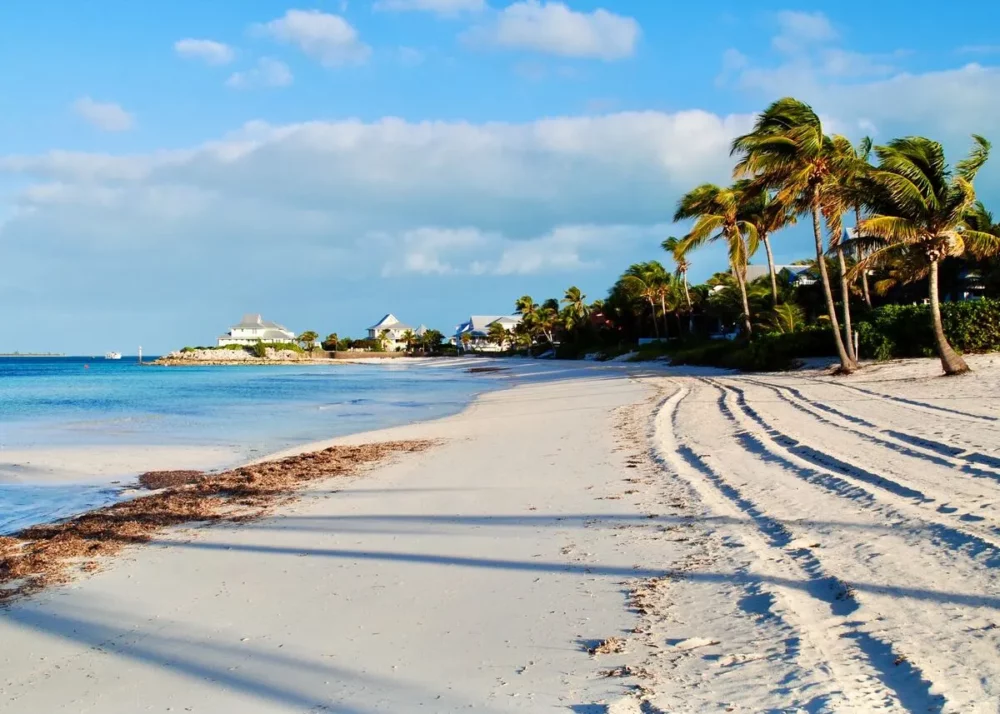 The main islands are, from north to south, Great Stirrup Cay, Cistern Cay, Great Harbour Cay, Anderson Cay, Haines Cay, Hoffmans Cay, Bond's Cay, Sandy Cay, Whale Cay, and Chub Cay.
The Berry Islands are so secluded they are only accessible by boat or private plane. There are two main settlements here: Great Harbour to the north and Chub Cay to the south; each has private airstrips and marina facilities.
A Brief History of the Berry Islands
Nestled in the western Bahamas, the Berry Islands have a fascinating history dating back centuries. Originally inhabited by the Lucayan people, the islands became a haven for pirates who sought refuge in the region's secluded coves and hidden anchorages. In the 18th century, the British Royal Navy established a presence in the Berry Islands to combat piracy and protect trade routes. Today, the islands are famous for their tranquility and unspoiled beauty.
Berry Islands Bahamas | Weather
The summers are hot, humid, wet, and mostly cloudy. The winters are comfortable, humid, windy, and mostly clear. The temperature typically varies from 67°F to 88°F and is rarely below 57°F or above 91°F.
Berry Islands Bahamas | Things to See and Do
With its calm waters, gentle breezes, and endless possibilities for fun, this is truly an exceptional destination. There are countless activities for your Berry Islands Bahamas yacht charter. Here are just a few of the things you can see and do.
Fish
The Berry Islands offer plenty of fishing opportunities. Deep sea fish for marlin and big tuna, reef fish for grouper and snapper, or fly fish in the shallow flats for bonefish. The fish are biting year-round in the Berry Islands!
Scuba Dive
Bimini is on the Great Bahamas Bank, a limestone plateau with shallow, crystal-clear waters. Bimini's location on the northwest edge of this bank places it right on a deep ocean trench. Fast-flowing, nutrient-rich waters from the Gulf Stream flow onto the Great Bahamas Bank around Bimini, bringing abundant marine life, including wild dolphins.
Divers can find dozens of sites, including coral reefs, walls, caverns, blue holes, and shipwrecks.
Beachcomb
Bimini has some lovely beaches to explore. Some are more popular such as Radio Beach, while others are more secluded such as Blister Beach and Spook Hill Beach.
A few nearby cays with white sand and coral reefs would be the most secluded beach experiences.
Try Conch Salad
Taste local conch at Mr. Tropical's Conch Stand. Known as the tropical Conch Salad king, Mr. Tropical creates a variety of conch salads to please his guests.
Visit The Village
Bullock's Harbour, more commonly known as "The Village," is the capital of The Berry Islands. There are also several shops, restaurants, and bars located here. Try CoolieMae's Sunset By The Sea or Hammerhead's Restaurant and Bar for authentic Bahamian food.
Marinas
Great Harbour Cay Marina has 65 slips nestled inside a serene harbor, accommodating up to 150 feet of yachts. This "Hurricane Hole" is one of the most protected marinas in the Bahamas. Marina amenities include ice, showers, laundry, WiFi internet access, a bar, and a restaurant. Additionally, there are 24-hour security cameras, grocery stores, golf cart rentals, and car rentals.
Chub Cay Resort & Marina is at the southernmost tip of the Berry Islands. Located next to The Pocket and the Tongue of the Ocean, Chub Cay is known as the "Billfish Capital of the Bahamas." This newly renovated 109-slip marina can accommodate up to 190′ yachts with upgraded power units and 30/50/100 amp power available. In addition, you'll find water, fuel, ice, high-speed internet, and a fully-stocked store.
Boats for Your Berry Islands Bahamas-Yacht Charter
Here are just a few yachts for your vacation in the Berry Islands:
Please call us today at 1 (321) 777-1707 or describe Your Vacation Vision to help you plan your fully-crewed private luxury yachting vacation! Inquire as soon as possible about your custom, crewed yacht charter.
You make the memories. We make the arrangements.