Incredibly close, yet worlds apart. The 700 islands of the Bahamas are a mere 45 miles south of the continental United States, yet they feel like an entirely different place. To help you navigate these vibrant waters, we've handpicked the most gorgeous locations for your next Bahamas yacht charter. Explore six fantastic Bahamas Yacht-Charter Destinations below.
Visit our Bahamas Yacht Charter Itineraries for inspiration and ways to escape your cold or rainy winter!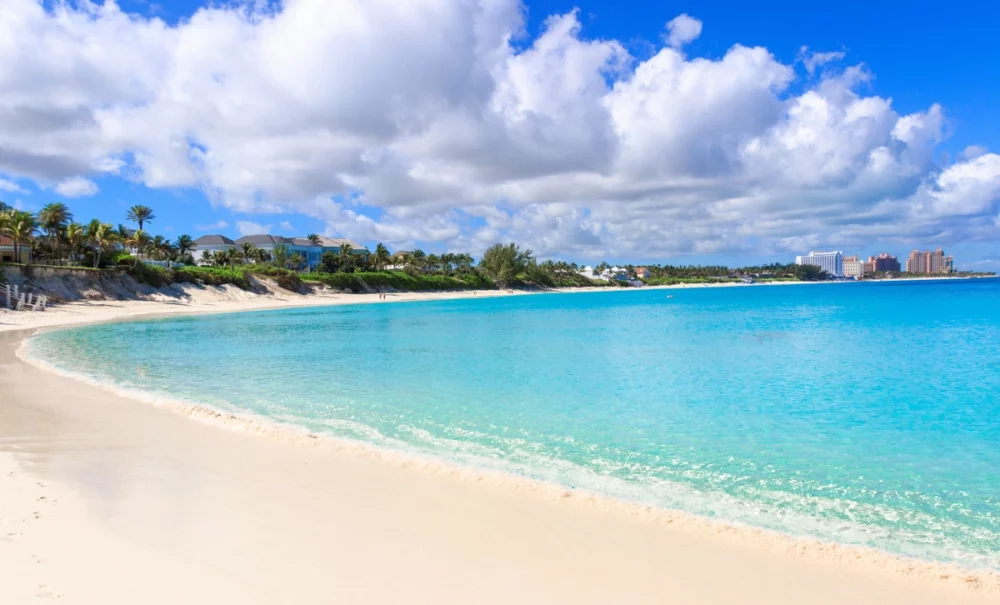 The Exumas
With private beaches, quaint towns, and delicious food, the Exumas have something for everyone. Spend your days slowly sailing the large archipelago en swimming with nurse sharks. Land lovers can also explore one of the many hiking trails on foot. With 365 cays and islands, you can devise your dream charter to suit all your island wishes.
On Great Exuma, visit the capital of George Town for culture, local life, and delicious seafood specialties. Stop by Shirley's or Tropic Breeze Beach Bar for some authentic dishes.
Spend your next day traversing the expansive Moriah Harbour Cay National Park. You'll witness incredible marine life, birds, sand dunes, beaches, and more here. For a truly unique experience, you can swim with pigs in Major Cay, certainly a sight to be seen!
While diminutive in size, Little Exuma Island also packs a powerful punch. In particular, The Hermitage Estate is a beautiful and historic site to familiarize you with Bahama's complex past. Equally interesting, the old salt lake and the Tropic of Cancer are perfect ways to spend a sunny day.
Staniel Cay and Stocking Island are also excellent for snorkeling and water sports. Their clear waters provide the perfect backdrop for an exhilarating day on the water. For more details on one of the 6 Best Bahamas Yacht Charter Destinations, head to our Exumas Charter Itineraries.
Bahamas Yacht-Charter Destinations | Abaco Islands
The long stretch of Abaco Islands showcases coral reefs teeming with turtles and incredible Catacombs where divers can explore authentic shipwrecks. The Pelican Cays National Park is perfect for snorkeling, diving, or kayaking in the protected area. Even more, adventure awaits you in the Atlantic, where courageous deep-sea fishermen can have their shot at catching the big one.
The Abacos' colonial architecture provides a glimpse into early settlements, especially in Hope Town in New Plymouth. In Hope Town's Elbow Reef, you can even journey to the top of the oldest manually-run lighthouse, dating back to 1862.
Man-O-War Cay has many traditions, with residents continuing to hand-build wooden boats as they were by Arawak tribespeople centuries ago. After learning the history of the friendly Abacos, don't miss a serene beach day at Treasure Cay.
Still recovering from 2019's Hurricane Dorian, the Abacos are undergoing much-needed recovery work. Despite the destruction, the natural beauty and spirit of the Abacos people remain intact.
Berry Islands
There's no better place to relax than in the Berry Islands, a secluded area of the Bahamas hiding deserted beaches. Only two of the 30 Cays are inhabited, so it's easy to find your own paradise along strands like Sugar Beach and Sand Dollar Hill at Great Harbour Cay.
Have you always dreamt of wrangling a Marlin from deep-blue waters? Then Chub Cay is calling your name. Known for unrivaled game fishing, even the most experienced fishermen will have their hands full at this extraordinary spot!
If you want more high-intensity fun, visit Hoffman's Cay to cliff jump at the Blue Hole. Reward yourself with lobster or conch salads from local stands. The Berry Islands are a great stop on your next Bahamas yacht charter.
Harbour Island, Spanish Wells, and Eleuthera
Effortlessly combining New England charm with easy-going island vibes, Harbour Island is known as the Nantucket of the Bahamas. Once the former capital, colonial architecture adorns the small streets of Dunmore, steps from pristine beaches. Steer your rented golf cart to Pink Sands Beach to sunbathe and indulge in local delicacies.
Jump back aboard your Bahamas yacht charter and visit Spanish Wells, situated northwest of Harbour Island. Take a fishing trip or snorkel around the Cay to admire the reefs and abundant sea life.
Next, sail to Eleuthera for turtle watching at Edwin's Turtle Marine Reserve. Or, beach-hop from Surfer's Beach to Ocean Hole. Whatever you decide, don't leave without visiting the Glass Window Bridge. This incredible site is where the Atlantic and Caribbean meet, creating spectacularly contrasting dark and light blue water stripes.
Equally important to the small island's heritage are its pineapple farms. Eleuthera is, interestingly, the central garden of the Bahamas, producing much of its agriculture. The most cultivated crop on the island is the symbol of hospitality, the pineapple.
Nassau and Paradise Island
Upon stepping foot in Nassau, you'll feel the energy emanating from adventure activities, nightclubs, and countless restaurants. Anyone looking for an adrenaline rush, luxury shopping, or culinary experience should head to Nassau or Paradise Island. With numerous luxury resorts, plenty of non-stop music, art, action, and electricity is in the air.
While there, see some of Nassau's rich historical sites like the Gothic Cathedral or Queen's Staircase. The Pompey Museum also illustrates African history in the Bahamas, while Bay Street showcases the islands' rich art culture.
Bimini Islands | Six Bahamas Yacht Charter Destinations
Diving is one of the most popular ways to spend time in the Bimini Islands. This, of course, is for a very good reason. Here, bull sharks and hammerheads may accompany you along Victory Reef or at one of the more than twenty sites. With the Gulf Stream nearby, it's not uncommon to encounter sharks at the Continental Shelf.
Those less experienced divers and snorkelers can instead leisurely explore the S.S. Sapona Shipwreck, which has been aground since 1926. Now home to many fish and marine life, rum runners once used it during Prohibition. Speaking of rum, fresh cocktails, and seafood await you at one of the Biminis' many waterside restaurants. Try Bimini Big John's in Alice Town. 
While in Alice Town, stop by the famous Dolphin House Museum, poet Ashley Saunders' former residence made of shells, stone, sea glass, and recycled materials. A lover of dolphins and the Bahamian Sea, Ashley has been building the landmark house since 1993 as a tribute to her beloved islands.
Along with the Berry Islands, the Biminis are home to some of the best deep-sea fishing. With so many record-breaking catches, they've even been deemed the Sport Fishing Capital of the World. Various big game swims these waters, from tuna to marlin and sailfish.
If you enjoy fly fishing, you too can practice your skills by trying to bring home Biminis' bonefish. Families will also have a great time bottom fishing for grouper and snapper.
Bahamas Yacht-Charter Destinations Await
Experience the epitome of luxury with yacht charters in the Bahamas. Immerse yourself in the sheer beauty of pristine white sands and crystal-clear waters. Discover the hidden gems of beautiful beaches and indulge in the ultimate relaxation on a luxury yacht charter. Let the enchanting allure of the Bahamas captivate your senses as you bask in the opulence of this tropical paradise.
Whether you long for rest and relaxation or crave endless adventure, one of the 6 best Bahamas yacht charter destinations will be perfect. Be sure to visit our Bahamas Yacht Charter Itineraries and get planning your Bahamas yacht charter today!
Please call us today at 1 (321) 777-1707 or describe Your Vacation Vision to help you plan your fully-crewed private luxury yachting vacation! Inquire as soon as possible about your custom, crewed yacht charter.
You make the memories. We make the arrangements.