Awesome Abacos Yacht Charter Itinerary
Welcome to the beautiful Abaco islands in the Bahamas. It is far removed from the hustle and bustle of Nassau and Freeport, and these islands are also known as the Out-Islands. This is the start of your personal Abacos Yacht Charter Itinerary.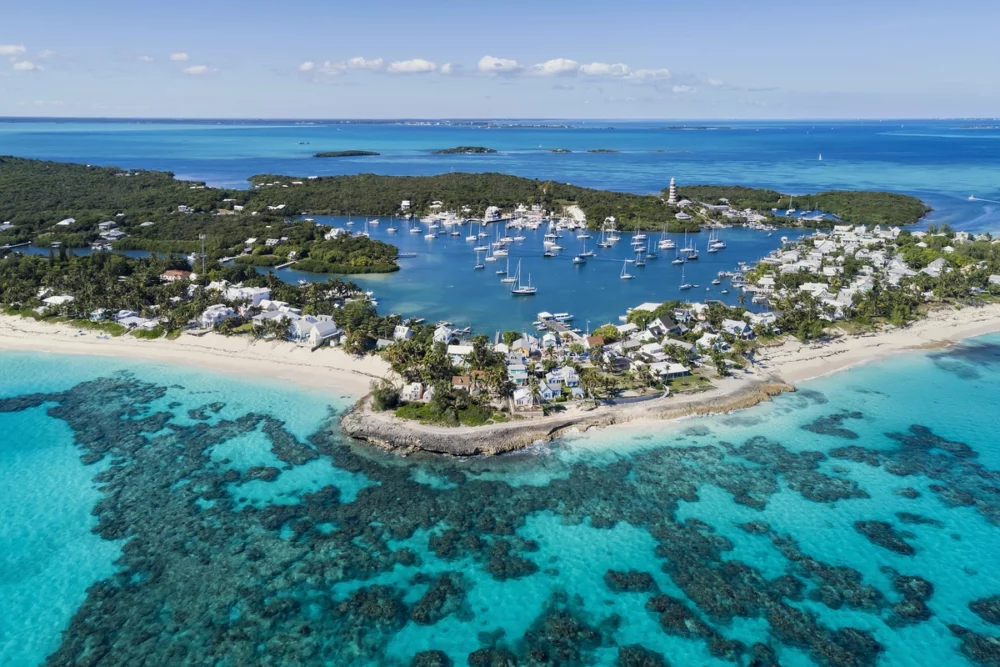 You'll discover many Cays (pronounced "keys") during your holiday. And you'll have the opportunity to meet many interesting people, as each cay has a unique character.
The Sea of Abaco is a premier sailing destination with protected waters. You will see why: "It's always better in the Bahamas!"
Day 1: Depart from Marsh Harbour
Transfer from Marsh Harbour airport (10 min) to the marina. Meet your captain and crew, then step aboard your yacht. Get settled in your cabin, take a deep breath, and relax– you're finally here!
The captain will briefly review the daily routine and safety on board. Set sail and then anchor at an excellent spot for the evening. Enjoy welcome drinks at sunset, followed by a gourmet dinner. Anchor overnight.
Day 2: Elbow Cay
Have breakfast at your leisure—afterward, cruise to Hope Town, Elbow Cay. You will immediately notice the town's candy-striped lighthouse.
The lighthouse, constructed in 1864, is still hand-wound by lighthouse keepers. The 101-step climb to the top of the lighthouse is well worth the effort since the view is spectacular.
Hope Town streets are narrow concrete paths between houses painted in tropical color combinations: pink, green, turquoise, salmon, yellow, and blue. The houses have gingerbread eaves and picket fences carved with hearts, whales, and pineapples.
Elbow Cay and Hope Town offer many activities and attractions. Here are some popular highlights:
Snorkel: Dive into the vibrant underwater world and explore the breathtaking coral reefs surrounding Elbow Cay.
Fishing: Abaco is renowned for its excellent game and deep-sea fishing opportunities. Embark on a fishing excursion and test your skills against the abundant fish species in these waters.
Sunbathing and Swimming: With numerous secluded white sand beaches stretching across the island, indulge in ultimate relaxation and soak up the sun on pristine shores. Cool off in the crystal-clear waters.
Surfing: Visit popular surfing spots like Garbanzo Break, Town Break, or Hamburger Point.
Exploring the Island: Rent a golf cart or bike and see the sights.
You can visit the Wyannie Malone Historical Museum. Delve into exhibits and displays that showcase Elbow Cay's past, providing insights into its vibrant and colorful heritage.
Shopping: Browse through the charming shops, each with its own unique island character.
Nightlife: Experience the lively nightlife scene of Hope Town. In season, the town comes alive with music and entertainment.
Massage, Yoga, and Spa Services: Relax and rejuvenate with luxurious spa services.
Day 3: Fowl Cays National Park and Great Guana Cay
On day three of your Abacos yacht charter itinerary, leave Hope Town for Fowl Cays National Park. This national underwater sea park is a paradise for snorkelers. The water's color is stunning; you will see groupers, rays, and many other tropical species.
Since its establishment in 2009, The Fowl Cays National Park has become a haven for nature lovers. It covers a small but important area home to diverse marine habitats like coral reefs, seagrass beds, rocky shores, and sandy bottoms.
Head to Great Guana Cay and anchor offshore.
Go to the Beach
Great Guana Cay offers a laid-back atmosphere that will instantly put you at ease. The island boasts some of the most stunning beaches in the Bahamas, with crystal-clear waters and soft white and pink sands. The snorkeling here is excellent, as Guana Cay is home to the world's third-largest reef, stretching along the island's entire length.
Explore the Island
Explore Guana Cay and quickly discover its unique charm and history. Around 150 people live on the island. They are descendants of loyalists who migrated from the North during the Revolutionary War. The settlement on the island offers services like grocery stores, golf cart rentals, and shopping.
Have a Rum Punch. Or Two.
Regarding dining and drinking, Nippers Beach & Grill and Grabbers Beach & Grill are popular spots to enjoy a few rum punches with the locals.
Relax
Finally, don't forget to take some time to relax. Whether swaying in a hammock with warm breezes or enjoying a drink, Great Guana Cay offers the perfect setting to unwind and soak in the laid-back ambiance.
Anchor overnight.
Day 4: Man-o-War Cay
Spend the morning in Guana Cay.
Afterward, sail towards Man-o-War Cay, which only takes 1 ½ hours. The beach is excellent. The waters around the anchorage are crystal clear and perfect for kayaking.
In the evening, drinks will be served as you enjoy the view over the Sea of Abaco. Have a farewell gourmet dinner on board.
Day 5: Return to Marsh Harbour
In the morning, sail back to Marsh Harbour. If time allows, stop for a last swim in the turquoise waters. Anchor in the bay, then take the tender to the shore, where a taxi will transfer you to the airport.
The end of your Abacos Yacht Charter Itinerary until the next time.
Please call us today at 1 (321) 777-1707 or describe Your Vacation Vision to help you plan your fully-crewed private luxury yachting vacation! Inquire as soon as possible about your custom, crewed yacht charter.
You make the memories. We make the arrangements.