Exumas Charter Itinerary | Relax in Paradise
Set sail from Nassau on an Exumas Charter Itinerary and immerse yourself in the Bahamas' captivating wonders. Journey through the Bahama islands and experience a carefully crafted adventure that allows you to enjoy the best of the archipelago.
From pristine beaches and charming cays to vibrant coral reefs and quaint settlements, this itinerary offers a perfect blend of relaxation, exploration, and discovery.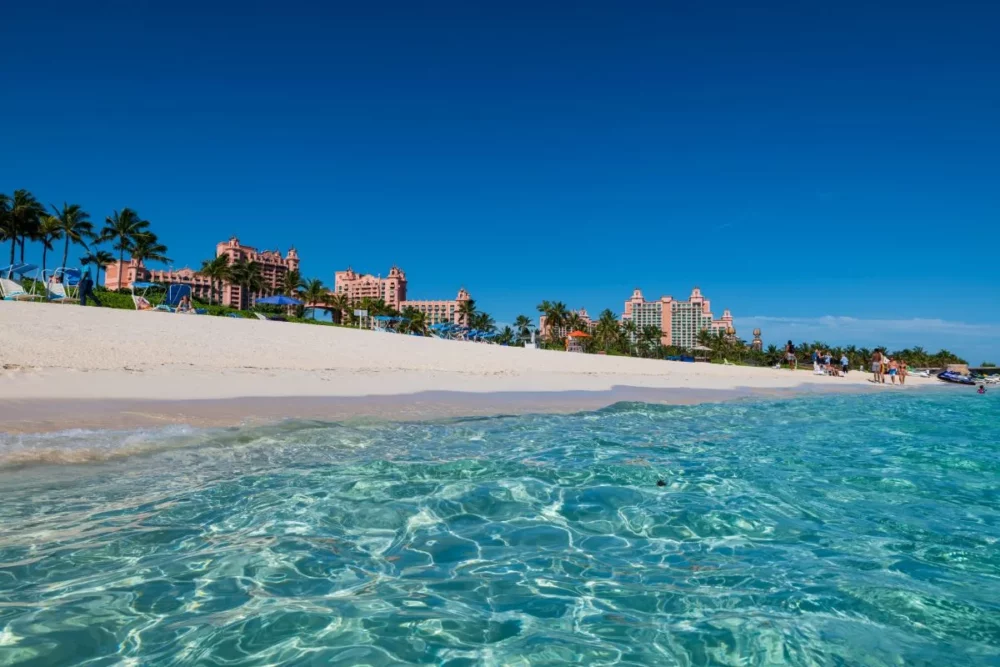 Day 1 – Paradise Island to Highbourne Cay
Begin your adventure in Paradise Island, Nassau, the Bahamas' capital. This place is all about good vibes and non-stop fun. Nestled on the beautiful New Providence island, Nassau has something for everyone.
New Providence and Paradise Island have stunning beaches, fantastic dining options, exciting casinos and nightlife, and top-notch golf courses. There is plenty to do here both before and after your charter.
Your captain will plot a course to Highbourne Cay, the gateway to the Exumas.
Activities on Paradise Island
Snorkeling
Shopping
Swimming
Dining
Nightlife
Day 2 – Highbourne Cay to Shroud Cay | Exumas Charter Itinerary
Highborne Cay is a privately owned cay known as the gateway to the Exuma Cays. Just to the north is Allen's Cay, a favorite for Iguana lovers! Take a quick tender ride to Allen's Cay, where you can feed the rock iguanas that freely roam the island.
Scuba Divers Paradise
The clear waters of the Exumas make it a diving paradise. Today, divers on board can explore the Exuma Wall, a 75-foot descent, while others can learn scuba basics at a shallower location.
Cruise into the harbor at uninhabited Shroud Cay in time for an alfresco dinner under a star-filled sky. Anchor for the night.
Activities
Snorkeling
Hiking
Swimming
Day 3 – Shroud Cay to Warderick Wells
Wake up at peaceful Shroud Cay and feel as if you're in heaven. After breakfast, tender to explore the tidal creek, which serves as a nursery for birds, sea turtles, and fish.
Cruise to Warderick Wells, home to the Exuma Cays Land and Sea Park. Kids can "discover" the skeleton of a 53-foot sperm whale that washed up long ago. Runners rejoice since there are more than seven miles of trails to explore onshore.
Explore the island on foot. Many incredible walks lead through the flora and fauna. Note that fishing or removing anything from these protected grounds is illegal.
Activities
Snorkeling
Hiking
Swimming
Days 4 and 5 – Warderick Wells to Staniel Cay
Your captain starts early, so you'll arrive at Bell's Cay as you wake up, making it the perfect time for a morning dip at the Aquarium. See why this snorkel site earned its name as fish surround you. Afterward, head to Compass Cay, where you can swim with the friendly nurse sharks that swim off the docks.
Enjoy sunset cocktails and dinner at the private island of Fowl Cay. The Hill House restaurant offers spectacular 360-degree views of the surrounding islands. Spend the night at the Staniel Cay Yacht Club Marina.
Activities
Snorkeling
Hiking
Swimming
Bone Fishing
Day 6 – Staniel Cay
Colorful overwater cottages dot the shore at Staniel Cay. This picturesque island is the jumping-off point for more adventures: visit Thunderball Grotto, made famous by the James Bond movies filmed here, and see the famous swimming pigs nearby Big Major's Cay.
Use the tender to explore cays that larger yachts can't reach, and the crew will set up a picnic lunch on a sandbar. Visit the Staniel Cay Yacht Club restaurant for dinner and its historic, burgee-filled bar for a late-night drink.
Activities
Snorkeling
Hiking
Swimming
Bone Fishing
Day 7 – Staniel Cay to Paradise Island
Wake early for a morning swim in the turquoise waters, then enjoy a relaxing breakfast. Your yacht will soon return to Paradise Island, where you can partake of some exciting casino action or a meal at Nobu before returning to reality.
Activities
Snorkeling
Hiking
Swimming
The end of your Exumas Charter Itinerary until the next time.
Yachts for an Exumas Charter Itinerary
There are many yachts available for your Exumas Charter Itinerary. Here are a few:
Please call us today at 1 (321) 777-1707 or describe Your Vacation Vision to help you plan your fully-crewed private luxury yachting vacation! Inquire as soon as possible about your custom, crewed yacht charter.
You make the memories. We make the arrangements.