Warderick Wells Cay
Warderick Wells Cay is home to the Exuma Cays Land and Sea Park, stretching from Wax Cay Cut in the north to Conch Cut in the south. Note that all living and dead wildlife is protected. For this reason, visitors may not take anything from the park, including rocks and sand.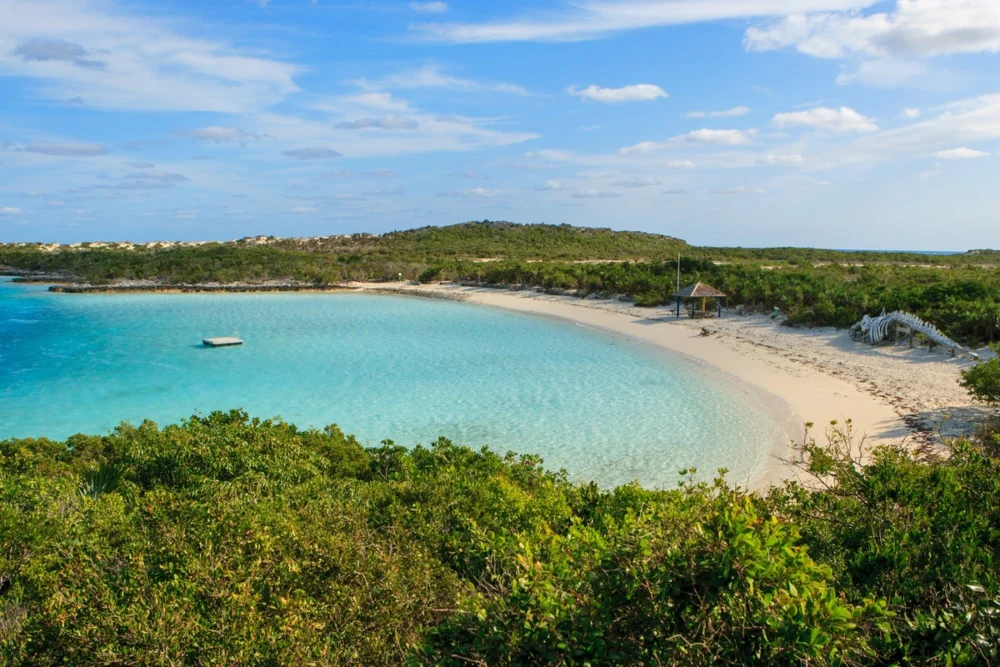 Be sure to bring all supplies when visiting the park, as there are no available supplies, including water. The park headquarters has a small gift shop, and the proceeds support the park. There are no bathrooms, showers, or other shoreside facilities.
Brief History
Warderick Wells Cay has a rich history dating back centuries. The Lucayans originally inhabited the island, the indigenous people of the Bahamas. During the colonial era, it was a hiding spot for pirates who used the natural harbor and its surrounding caves to stash their treasures. Today, the island is managed by the Bahamas National Trust and is part of the protected Exuma Cays Land and Sea Park, established in 1959.
Warderick Wells Cay | Weather
The weather is very similar to the other cays in the Bahamas. The summers are hot and mostly cloudy; the winters warm and mostly clear; and it is windy year round. The temperature typically varies from 70°F to 88°F and is rarely below 66°F or above 90°F.
Warderick Wells Cay | Things to See and Do
Snorkel at Brad's Reef at Long Cay. The underwater world is teeming with colorful reef fish and other tropical marine life.
Hike Boo Boo Hill, the tallest hill on the cay. It's a short hike to the peak of Boo Boo Hill and easy enough for most visitors. The top of the hill provides stunning views of the surrounding waters.
See the skeleton of a 50-foot sperm whale on display at the entrance to this protected area. Although it died after ingesting a plastic bag in the ocean, the sperm whale didn't die in vain. It stands as a reminder for visitors to be mindful of the environment.
Explore the island. There are several marked walking paths to observe the island's abundant plant and animal life. Look for curly-tailed lizards, Bahama mockingbirds, white-tailed tropicbirds, and yellow warblers.
Look for caves.
Kayak and look for nurse sharks and other marine life.
Marinas
There are no marinas at Warderick Wells Cay. Also, anchoring is prohibited so yachts don't destroy the coral and sponges. However, moorings are available for ten dollars per night. The fees provide needed revenue for the park and guarantee that the coral and sponges will remain for future generations.
While the island may not have marinas or extensive facilities, the lack of development contributes to the Cay's pristine beauty and untouched nature. Visitors can still enjoy the breathtaking views, hiking trails, and underwater exploration. The absence of marinas and facilities adds to this island's secluded and serene experience, making it a truly unique stop on a yacht charter itinerary in the Bahamas.
Yachts
6 Cabins
Year/Rebuilt: 2011 Refit:
Built: 2011
$770,000 - $875,000 /wk
257.00 Ft Power
6 Cabins
Year/Rebuilt: 2021 Refit:
Built: 2021
$550,000 - $600,000 /wk
200.00 Ft Power
Sample 8-day Itinerary With Warderick Wells Cay
Nassau to Highbourne Cay (38 NM) – Day 1
Depart Nassau and sail to Highbourne Cay.
Explore the pristine beaches and crystal-clear waters.
Enjoy snorkeling and diving in the surrounding reefs.
Highbourne Cay to Staniel Cay (18 NM) – Day 2
Sail to Staniel Cay, known for its swimming pigs at Big Major Cay.
Swim with the pigs and feed them on Pig Beach.
Visit Thunderball Grotto, a famous underwater cave featured in James Bond movies.
Staniel Cay to Warderick Wells Cay (17 NM) – Day 3
Sail to Warderick Wells Cay, located within the Exuma Cays Land and Sea Park.
Anchor using a mooring ball and explore the island's hiking trails.
Hike to Boo Boo Hill for panoramic views and leave a driftwood memento.
Warderick Wells Cay to Shroud Cay (15 NM) – Day 4
Head to Shroud Cay, an uninhabited island with mangrove creeks and secluded beaches.
Take a dinghy ride through the mangroves and discover hidden lagoons.
Enjoy a picnic on one of the beautiful sandy beaches.
Shroud Cay to Compass Cay (9 NM) – Day 5
Sail to Compass Cay, known for its friendly nurse sharks.
Swim in Rachel's Bubble Bath, a naturally formed tidal pool.
Relax on the beach and soak up the sun.
Compass Cay to Warderick Wells Cay (20 NM) – Day 6
Return to Warderick Wells Cay for another day of exploration.
Hike different trails and discover new viewpoints and natural wonders.
Snorkel or dive in the nearby coral reefs and encounter diverse marine life.
Warderick Wells Cay to Norman's Cay (25 NM) – Day 7
Sail to Norman's Cay, which has a fascinating history as a former drug trafficking hub.
Snorkel around the sunken drug plane.
Relax on the beautiful beaches and enjoy the tranquil atmosphere.
Norman's Cay to Nassau (40 NM) – Day 8
Sail back to Nassau, concluding your yacht charter itinerary.
Explore the vibrant capital city, visit historical sites, or indulge in shopping and dining.
Please note that this is only a sample itinerary. The nautical miles mentioned are approximate and can vary depending on the specific routes and conditions.
Please call us today at 1 (321) 777-1707 or describe Your Vacation Vision to help you plan your fully-crewed private luxury yachting vacation! Inquire as soon as possible about your custom, crewed yacht charter.
You make the memories. We make the arrangements.