Highbourne Cay
Highbourne Cay, Bahamas, is a privately-owned island in the Exuma Cays 35 miles southeast of New Providence. It is approximately three miles long and shaped like the letter H. The highest point is over 100 feet above sea level, one of the highest elevations in the Exumas. Centuries ago, this Cay was a haven for pirates, and now most boaters have it on their itinerary.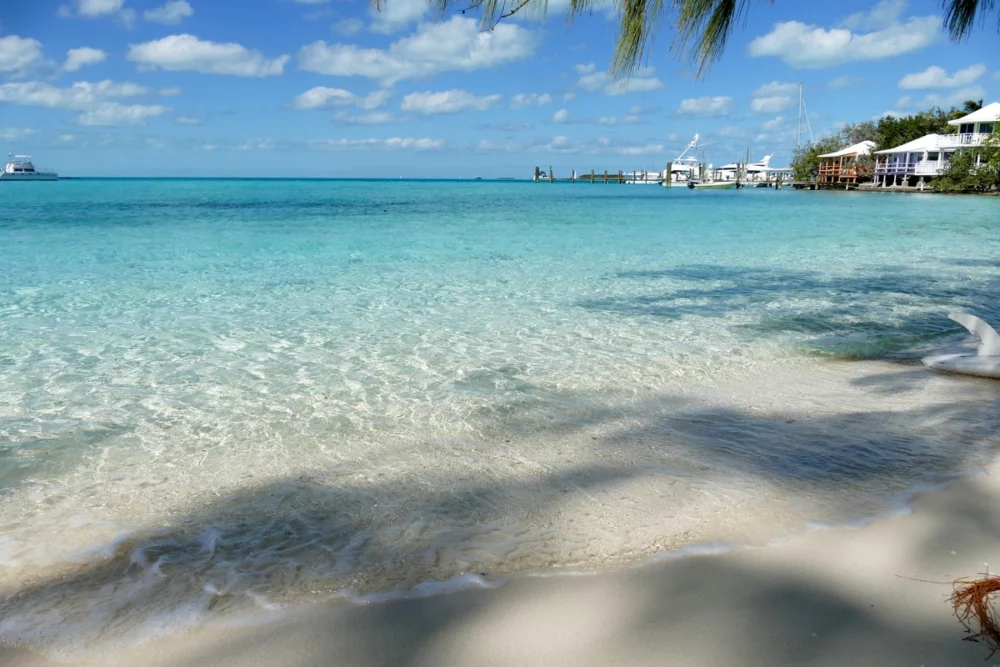 A Brief History
Highbourne Cay boasts a fascinating history that adds depth to its allure. The island takes its name from Colonel Andrew Deveaux, a loyalist who fought in the American Revolutionary War. Deveaux sought refuge in the Bahamas, and in 1783, King George III rewarded his loyalty by granting him the island, originally named High Burn Cay. Over time, the name transformed into the beloved Highbourne Cay we know today.
Weather
The weather in Highbourne Cay is generally warm to hot. The sun shines most days, but there's often a breeze to cool the temperature. December through March can get chilly at night, while the rest of the year enjoys warm and mild weather.
Highbourne Cay | Things to See and Do
Go to the beach. Highbourne Cay has eight beaches that are all mostly deserted. So on any given day, you may have the entire beach to yourself. Picture yourself basking in the sun on powdery white sands, surrounded by swaying palm trees and gentle ocean breezes.
Snorkel. You can see stromatolites in the waters off Highbourne's East Beach. Stromatolites are the world's oldest-known macrofossils. Discover coral reefs teeming with tropical fish, graceful rays, and sea turtles. Dive enthusiasts can explore dive sites, including the "Octopus's Garden" and "The Washing Machine."
Explore. Bikes and golf carts are available at the resort, and bikes are free. However, the golf carts require a fee.
Eat. The island's only restaurant, Xuma, is open every day except Monday. It is one of the best restaurants in the Exumas—reservations are required.
Enjoy an open-air workout at the Crow's Nest.
Fish: Highbourne Cay is a haven for fishing enthusiasts, with ample opportunities for deep-sea fishing and bonefishing. Test your skills against prized game fish such as marlin, tuna, mahi-mahi, and the elusive bonefish, renowned for its thrilling fight.
Kayaking and Paddleboarding: Take to the calm, azure waters of Highbourne Cay on a kayak or paddleboard. Glide through hidden coves, explore untouched beaches, and revel in the tranquility of the island's natural surroundings.
Sunset Cruises: End your day in style with a sunset cruise around the island. Enjoy a leisurely sail as the golden sun dips below the horizon, casting a kaleidoscope of colors across the sky. This magical experience is the perfect way to unwind and soak up the beauty of Highbourne Cay.
Marina
Highbourne Cay Marina is the only marina on the Cay. The marina is in a beautiful, naturally-sheltered harbor. It features 750 feet of face dock for yachts up to 180 feet (8′ drafts) and 16 back-in slips for boats up to 75 feet.
Sailing guides consistently describe this marina as an "excellent outpost." This is partly due to Highbourne Cay Marina's naturally sheltered harbor and professional, friendly staff.
Standard marina amenities include fuel (large capacity diesel tanks), power, reverse-osmosis water, ice, wireless internet, and a well-stocked store. Showers and overnight laundry are available to marina guests.
Please call us today at 1 (321) 777-1707 or describe Your Vacation Vision to help you plan your fully-crewed private luxury yachting vacation! Inquire as soon as possible about your custom, crewed yacht charter.
You make the memories. We make the arrangements.