US Virgin Islands Yacht Charter
A US Virgin Islands yacht charter takes you to America's Caribbean paradise. The US Virgin Islands are sisters to the British Virgin Islands and the Spanish Virgin Islands. They consist of the three main islands of St. Croix (Twin City), St. John (Love City), and St. Thomas (Rock City). Water Island is the youngest and the smallest of the USVI. It is a residential island with a population of fewer than 200 people.
The US Virgin Islands are known for their white sand beaches, warm crystal clear waters, excellent sailing conditions, delicious cuisine, and rich history. Famous beaches include Magen's Bay, Honeymoon Beach, Trunk Bay, and strategic harbors, including Charlotte Amalie and Christiansted. Most of the islands, including St. Thomas, are volcanic in origin and hilly. Moreover, you can hop from one harbor to another when you arrange a USVI yacht charter through Luxury Yacht Charters.
The most common way to get there is by flying into either St. Thomas or St. Croix International Airport. Many major airlines fly directly to the USVI from numerous cities throughout the USA, so finding a flight that fits your schedule should be fairly straightforward.
What is the difference between the USVI and the British Virgin Islands?
If you are looking into US Virgin Islands Yacht Charter, you can explore three main islands. These include St. John, St. Thomas, and St. Croix. The BVI consists of four larger islands: Tortola, Anegada, Virgin Gorda, and Jost Van Dyke. So, you might think that the culture and customs of the two island groups are almost the same. But they remain unique from each other.
US Virgin Islands
Overall, USVI yacht charters are typically more popular with medium to large groups (i.e., family and friends). Short sailing distances between anchorages, except when sailing to St. Croix, make it possible to visit more places in a few days.
Also, United States citizens arriving from Puerto Rico or the U.S. mainland do not need a passport to travel to the USVI since it is a United States Territory. Entry requirements for non-U.S. citizens are the same as for entering the United States from any foreign destination. Upon departure, a passport is required for all but U.S. citizens.
St. Thomas
One of the most popular destinations on a USVI yacht charter is St. Thomas. This bustling capital offers stunning views of the harbor, lined with colorful boats, as well as a variety of excellent restaurants, shops, and attractions. You can also visit the historic sites like Fort Christian. Enjoy shopping and dining in Charlotte Amalie, visit beautiful Coki Beach, or take a hike in Drake's Seat for a breathtaking view of Magen's Bay.
Just off the coast, sail to Buck Island for snorkeling with turtles, or Water Island for beach bars and relaxing. St. Thomas offers an array of things to do for families and couples. Don't worry, your captain and crew will discuss your group's specific wishes and work with you to create a tailored itinerary.
St. John
As the smallest of the three main Virgin Islands, St. John is known for its stunning beaches and lush landscapes. With USVI charters, you can explore the beauty of St. John at your own pace. St. John is known for its white sand beaches and crystal clear waters. Trunk Bay is one of the most popular spots on the island and is perfect for swimming, snorkeling, and beach-combing. Other beautiful spots on St. John include Cinnamon Bay, Lameshur Bay, and Salt Pond Bay, all offering stunning views of the Caribbean Sea.
Snorkeling is popular in this area, as the waters are teeming with a variety of marine life. Hiking is also popular, as the island is covered in dense tropical forests and offers spectacular views from atop its mountain peaks. What's more, the many USVI luxury yachts available for charter can take you to St. John's many hidden coves and bays.
St. Croix
Another popular destination is St. Croix, a quieter island that is home to some of the USVI's finest luxury resorts and beaches. Here, you can spend the day exploring its stunning reefs or relaxing in one of its many spas. St. Croix is known for its amazing snorkeling spots, so don't miss out on this must-do activity. If you're looking for a bit of adventure, you can also go kayaking and stand-up paddle boarding (SUP) around its calm waters.
Once you've seen the underwater life, it's time to explore St. Croix's vibrant culture and history. Take a tour of Christiansted and Frederiksted, two historic towns that have retained their colonial charm. If you're looking for a more laid-back experience, visit some of the small villages along the coast and get to know the locals.
When you need a break from sightseeing, head to one of the many pristine beaches. Whether you're looking for secluded coves or lively boardwalks, St. Croix has something for everyone.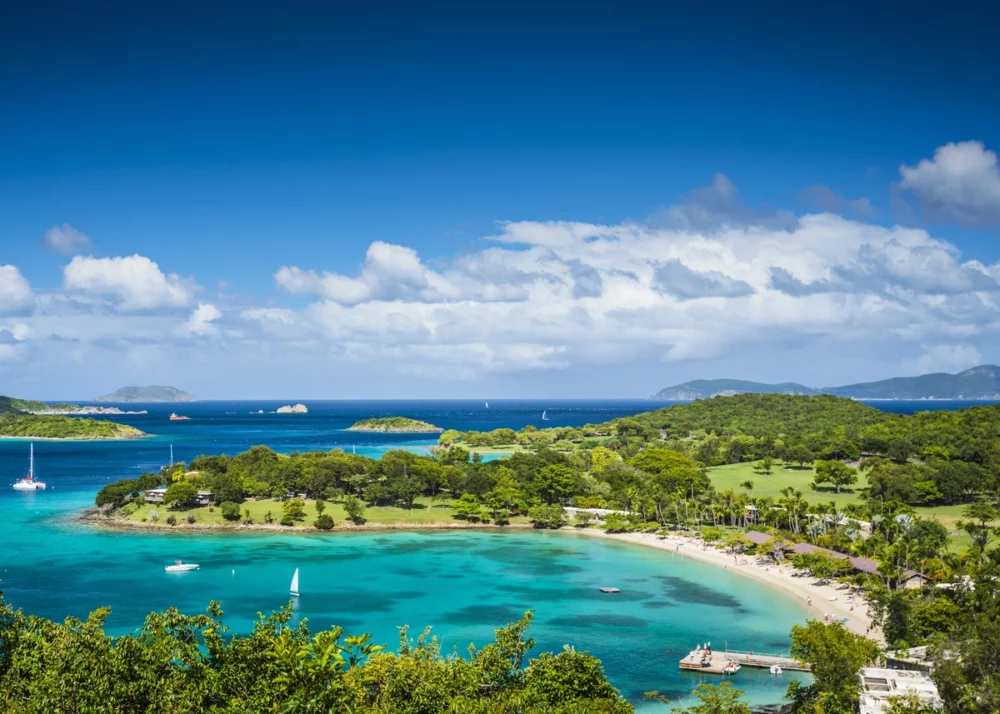 British Virgin Islands
A BVI private charter is more suited for older adults and honeymooners. It's ideal for those looking for a more laid-back and/or secluded itinerary. See our British Virgin Islands Yacht Charter page for more information.
It's crucial to research your yacht charter destination and the islands you want to include in your customized itinerary.
What is it like sailing on a US Virgin Islands yacht charter?
Short sails, protected harbors, shopping, and gourmet restaurants combine to make this area one of the most popular boating areas in the Caribbean. In addition, gorgeous waters and national parks await you on a USVI yacht charter.
You can choose between the following charter boats for your US Virgin Islands yacht charter.
You may choose to sail the U.S. Virgin Islands only or combine the U.S. Virgin Islands and the British Virgin Islands if the yacht is licensed for the BVI. Note that if your yacht charter includes the British Virgin Islands, you will need to have your passport.
Activities | General Information
USVI Yacht Charters
Whether you have a date in mind or just browsing, it's never too early or too late to start planning your US Virgin Islands yacht charter. Please chat, call or contact us through our website with any questions.
Please call us today at 1 (321) 777-1707 or describe Your Vacation Vision to help you plan your fully-crewed private luxury yachting vacation! Inquire as soon as possible about your custom, crewed yacht charter.
You make the memories. We make the arrangements.