While some vacationers want their yacht to be a haven of peace and tranquility, others wish for adventure and adrenaline. Families especially may desire extra amusement for their kids, while fitness enthusiasts might aspire to challenging exercise opportunities. Wherever you're sailing, yacht Charter water toys will bring extra fun and excitement to your trip.
If storage space is a problem, it is sometimes possible to rent water toys daily. In the Med, including Greece, Croatia, Italy, the British Virgin Islands, St. Martin, and Antigua in the Caribbean, companies such as Ocean Premium offer "Water Toys, Anytime Anywhere."
Sea kayaks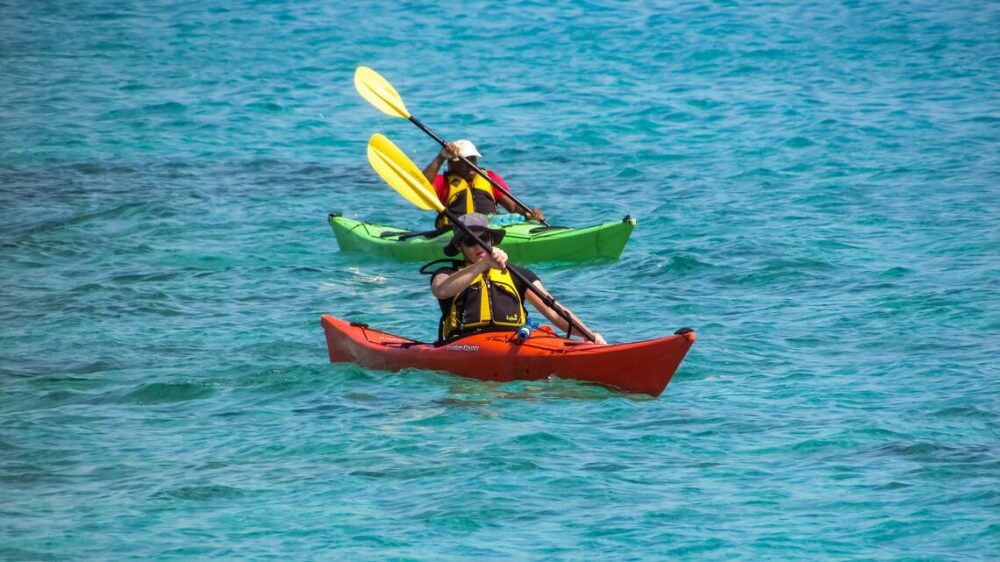 Sea kayaks are classic sailing water toys. Ideal for exploring indented shores, they're easy to paddle, suitable for all ages, and do wonders for your torso. In addition, there are pedal kayaks. They're impressively speedy with a pedal propulsion system and a sit-on-top seat. They also give your legs and lower abdomen a great workout.
Snorkeling and Snuba | Water Toys
Another very accessible activity is snorkeling – seen close-up, the underwater world is mesmerizingly serene. Most boats provide essential snorkeling gear – diving masks with snorkels and pairs of flippers. If you want to go one step further, try snuba, a cross between snorkeling and scuba-diving. It doesn't need a license or bulky air tanks like scuba diving. You breathe through a simple regulator while your air supply floats on the surface. Like this, snuba equipment allows you to stay submerged for longer than snorkeling.
Stand Up Paddleboards (SUPs)
Over the last decade, SUPs have become a must-have for charter guests. Based on the shape of a surfboard, they're used on flat water with a paddle. Like kayaking, SUPs are easy to master, offer excellent exercise and require good balance. For yoga enthusiasts, there are specially designed Yoga SUPs, which are a bit wider. You'll feel incredibly serene and at one with nature, floating on the ocean and doing SUP yoga.
Water Slides | Fun Water Toys
Here's one we all love. When at anchor, an inflatable slide can be attached to the side of the yacht. The length of the slide depends on the size of the vessel. You can slide down into the ocean with a splash from the bow, the stern, the main deck, or the upper deck.
Other Inflatables
Each year, inflatables are becoming bigger and better. Neatly out of the way, towable inflatables float off the stern and are reachable directly from the swim platform. They're ideal for guests who're not used to swimming in the open ocean and need to build up confidence gradually. Popular inflatables include floating mats, floating slides, bouncers (trampolines), and floating assault courses. Using various set-ups or self-floating elements, you can build your aquapark.
Jet-skis and Jetsurf
Jet skis are madly popular, but different countries have laws regarding their use. In some countries, you need to have a license. For example, Greece and Croatia require licenses to operate a jet ski. In others, they're not allowed within 200m of the shore. And often, they're banned from national park waters. And then you have the Jetsurf, half jet-skis, half wakeboard. Designed by Formula 1 engineers, they can reach a top speed of 55 km/hr.
One of the Bahamas and Caribbean Yachts with a large variety of water toys is STAR SHIP 185'.
Efoil boards
Efoils surf above the water and come in various brands, models, and sizes. Among the most popular are Fliteboard and Lift Foil. Battery-powered, and hand-controlled via Bluetooth, you'll feel weightless and agile as you glide over the ocean. Efoils require some skill, and you'll need a crew member to train you how to use them. Riding a classic Fliteboard, you can reach a top speed of 40km/hr. Efoil regulations vary from country to country.
Seabobs
Seabobs have become tremendously popular in recent years and are among the most sought-after sailing water toys. These small hand-held hydrodynamic water scooters tow you through the ocean. And if you hold your breath and point the vehicle downwards, it will take you underwater. Thanks to a safety cut-off feature, a seabob will never go beyond the sport diving limit of 40m. The newest version, the Seabob F5SR, is faster and more manageable than the original, with seven gears and a top speed of 22km/hr.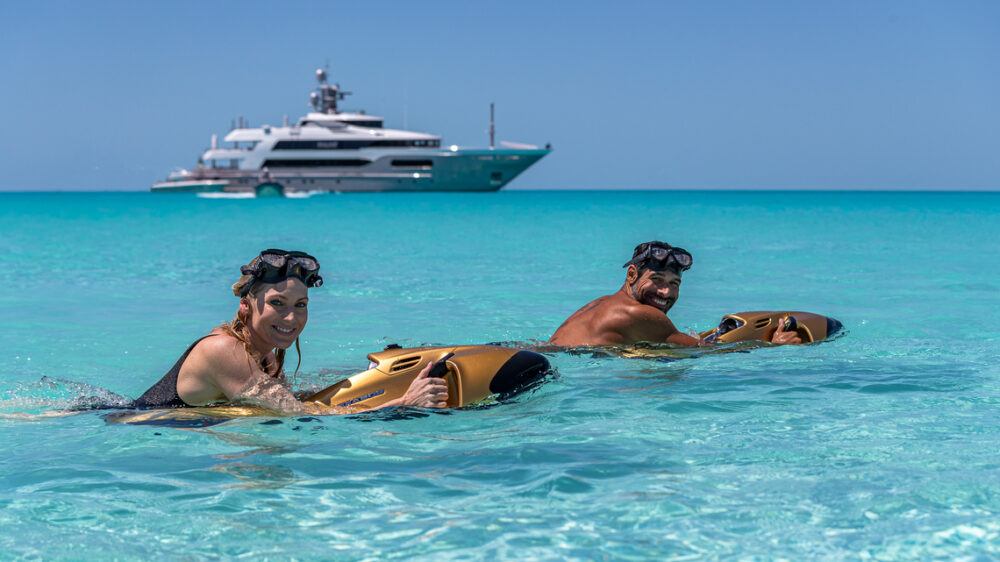 Submarines
Finally, if you want an extreme experience, try renting a private submarine with your yacht charter. The most highly regarded are produced by Triton, such as the Triton 1650/3 Low Profile leisure submersible. The world's lightest and most compact three-person submarine can go down to 500m below the surface.
Swimming Pools
Some yachts, like motoryacht Rocket One, have jellyfish swimming pools. Guests can enjoy the sea free of jellyfish.
Fun new Yacht Charter Water Toys are constantly being created and available.
Please call us today at 1 (321) 777-1707 or describe Your Vacation Vision to help you plan your fully-crewed private luxury yachting vacation! Inquire as soon as possible about your custom, crewed yacht charter.
You make the memories. We make the arrangements.