Motor Yacht Charters 100ft to 149ft Boat Selections!
There are many motor yacht charters 100ft to 149ft from which to choose for your boating holiday. Yachting seasons can loosely be divided into the summer season in the Mediterranean/New England and the Winter season in the Caribbean/Bahamas.
Many motor yachts relocate to the Bahamas for the spring and summer charter seasons; New England for the summer charter season; Florida for charters and annual maintenance; and the Mediterranean for the summer yacht charter season. The Winter season is prime time for yachting in the Caribbean.
The Summer Season | Mediterranean/New England
The summer Mediterranean season starts around April and May, with the height of the Med charter season peaking in June and July.
The fantastic weather during the Mediterranean summer is dry, warm, and sunny. You have lots of places to choose to visit as well. You can people-watch along the French Riviera, rub elbows with celebrities in Monaco, hit the beaches in Italy, island hop in Greece, or explore some of the historical destinations in Croatia. In New England, the weather is warm, and places that close for winter have reopened and welcome visitors.
Beaches and Water Sports
Summer in the Mediterranean — an excellent location for your beach and water sports activities. Use your yacht's kayaks, jet skis, paddle boards, and floating mats, or want to relax on board with occasional jaunts onto a quiet beach? Greece's Navagio beach in Zakynthos (Shipwreck Beach), Zlatni Rat on the island of Brac in Croatia, and Spiaggia Rena Bianca in Sardinia are just a few of the hundreds of beaches awaiting you.
Land-based Fun
The Med's natural beauty cannot be overstated. The Amalfi Coast, Greek Islands, and Croatian hinterland are crisscrossed with walking paths and endless beautiful coastlines. Hillsides dotted with pastel-colored houses, quaint villages, and lively ports await your inspection.
Don't forget about the history and culture onshore too. The Mediterranean is home to many UNESCO World Heritage Sites, like Italy's Cinque Terre or Croatia's old city of Dubrovnik. You will indeed find old ruins, fascinating castles, and medieval fortresses.
As for food, your gourmet chef will create the best meals. However, if you want to indulge in the local scene like a local, there are countless restaurants and taverns to try.
The Winter Yachting Season | Caribbean/Bahamas
Winter usually evokes images of snow-covered landscapes and heavy clothing. But you're surrounded by blue skies and warm waters when you're on a yacht in the Caribbean or Bahamas. The yachting season lasts around six months, usually beginning in December. Christmas and New Year are especially busy yachting times.
In the winter, the Caribbean's usually hot temperatures are milder and touched by gentle sea breezes. The humidity is lower, and there's little rain, so days at the beach or strolling through town are quite pleasant.
Beach and Water Sports
The brilliant white beaches lined with palm trees beckon you to stay awhile. Swim in the turquoise water and peek under the surface with your snorkel gear. Lay your beach towel on Magen's Bay in St. Thomas, explore the Baths on Virgin Gorda in the British Virgin Islands, and beach comb Tobago Cays in St. Vincent and the Grenadines. Have your charter crew set up a beach picnic or barbeque and make some memories with your friends and family.
The Caribbean has more to offer than its brilliant beaches. There are also tropical rain forests, UNESCO World Heritage Sites, walking trails for hiking enthusiasts of all experience levels,
Caribbean Culture
Colorful festivals, warm and welcoming people, delicious local cuisine, and historical sites combine to make the Caribbean a must-visit destination.
The following is a list of Motor Yacht Charters 100ft to 149ft, that are available for charter. A note is that more yachts are available for charter in the Caribbean during winter.
Motor Yacht Charters 100ft to 149ft | Yachts
The following is a list of available motor yacht charters from 100ft to 149ft. Please note that this list is not exhaustive. Please contact us to discuss possible options for your yacht charter vacation.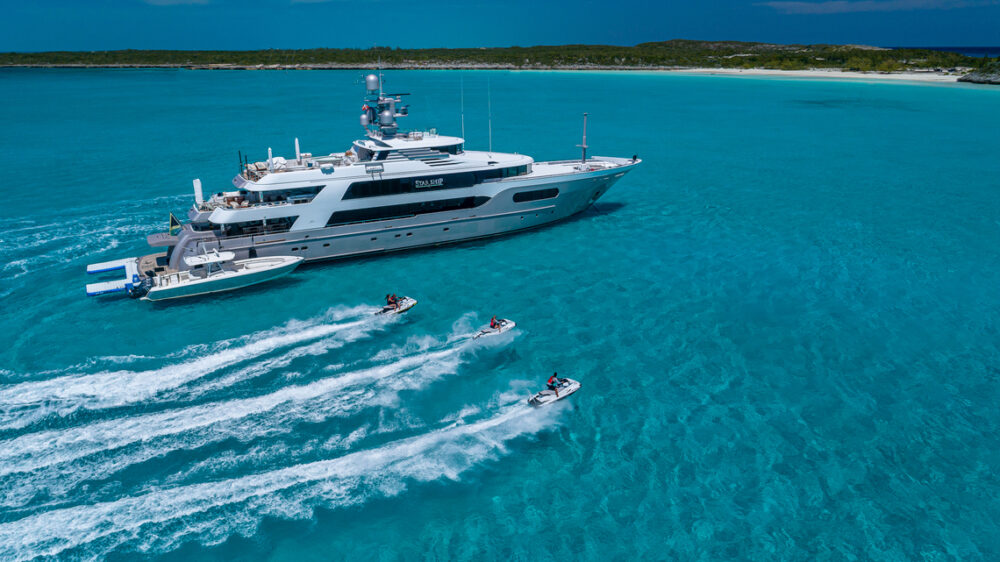 Based on your preferences and group size, we would be happy to recommend the best options for your review. Enjoy a motor yacht charter vacation.
Please call us today at 1 (321) 777-1707 or describe Your Vacation Vision to help you plan your fully-crewed private luxury yachting vacation! Inquire as soon as possible about your custom, crewed yacht charter.
You make the memories. We make the arrangements.