A luxury charter yacht offers a unique experience of opulence, privacy, and freedom. Imagine the sun-kissed waves, the wind in your hair, and the expanse of the open sea. We'll find a unique boat for you whether you want to rent a yacht for a special event or a fantastic vacation.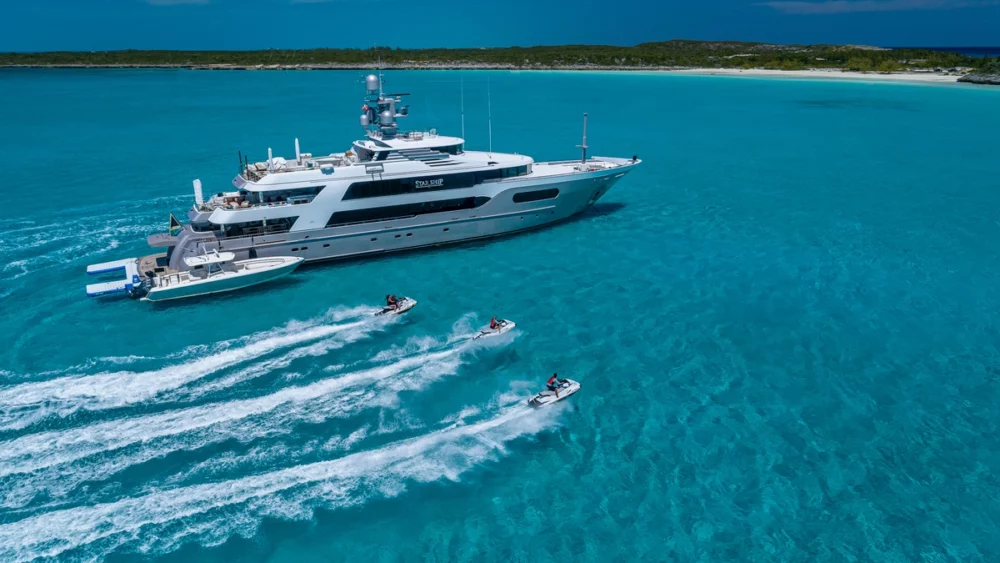 Rent a Yacht: Where Luxury Meets Adventure
Yacht rentals have a captivating appeal. Offering a perfect mix of luxury and adventure that sweeps you away on an extraordinary experience.
Luxury Afloat: Being on a luxury yacht is a very unique experience. These boats have fabulous features like roomy cabins, stylish lounges, and top-notch dining spaces. It's like staying at a fancy hotel but on the waves!
Secluded Escapes: When your yacht gently moves through calm bays or along a scenic coast, you'll feel a deep sense of peace and isolation. It's a world far from the noise of everyday life, a hidden retreat in the vast sea.
Personalized Service: You're not just a passenger on a crewed yacht. A skilled crew, including experienced captains, talented chefs, and attentive staff, takes care of your needs. They ensure your journey is nothing less than first-class, so you can savor every moment.
Unparalleled Views: When you rent a yacht, nature takes the spotlight. With stunning sunsets, pristine beaches, or dramatic coastlines, the yacht gives you an incredible view of the world's natural wonders.
Adventure: Beyond luxury, your yacht is a gateway to thrilling adventures. You can dive into clear waters to explore underwater worlds, discover hidden coves only boats can reach, or sail to new horizons for exciting experiences.
Freedom to Explore: Yacht rentals let you plan your route. You can discover hidden treasures and secret spots that regular travelers can't reach.
Exclusivity and Privacy: Yachts offer a high level of exclusivity and privacy. It's like having your own private world on the water, where you can make special memories with loved ones or host intimate gatherings away from the crowds.
Rent a Yacht to Elevate Your Celebrations
A yacht rental is an unforgettable way to elevate any celebration to the next level. Imagine a milestone birthday on a private yacht surrounded by your closest friends. Or, think about the thrill your high-school graduate will have when jumping the waves on a jet ski. The possibilities for your celebrations are endless.
During our one-on-one consultations, we will help you plan the perfect yacht charter for any occasion.
A Few Yacht Rental FAQs
Here are a few frequently asked questions about renting a yacht. Please see our First Time Yacht Charter Guide for additional information.
Can I afford to rent a yacht?
Renting a yacht is more affordable than you may think. Our experienced charter brokers will help you find the right boat for your group and your budget.
Are there any specials available?
Yes! Check our Special Offers page frequently for the latest specials. Many yachts offer early booking discounts and limited-time offers.
Do I have to have a captain?
Yes, there are bareboat charters available. However, you may prefer to have someone pamper you and not have to worry about the anchor dragging during the night. In addition on a luxury yacht charter, you will enjoy the first-class service and relaxation that comes with a Captain and crew.
What kind of boat will I get?
We offer many yachts, including smaller sailing catamarans, motor yachts, and ultra-opulent mega yachts. We will discuss the many available options during our initial meeting.
At CKIM Group, we invite you to rent a yacht and embark on a journey of luxury, adventure, and unforgettable memories. Are you seeking a day of exploration? Or a venue to celebrate life's milestones or a family vacation? There's a boat ready to make your dreams a reality.
Set sail with us today and chart a course to the yacht experience of a lifetime.
Please call us today at 1 (321) 777-1707 or describe Your Vacation Vision to help you plan your fully-crewed private luxury yachting vacation! Inquire as soon as possible about your custom, crewed yacht charter.
You make the memories. We make the arrangements.