Discover Your Dream: Catamaran Yacht Charters
Are you looking for the perfect catamaran yacht charters for your next vacation? There are many catamaran builders, so choosing one type to charter may be challenging. Below, we've outlined some of the most famous builders behind some of the top charter catamarans. Once you have decided on the yacht you like, your next decision will be where to travel. Don't worry, you don't have to choose just one, you can always take a second trip.
Where Can You Charter a Catamaran?
We specialize in luxury crewed catamaran yacht charters in the Bahamas, US Virgin Islands, British Virgin Islands, Caribbean, New England, Mediterranean, Greece, and Croatia. We will certainly be happy to help you find the best yacht for you and your group.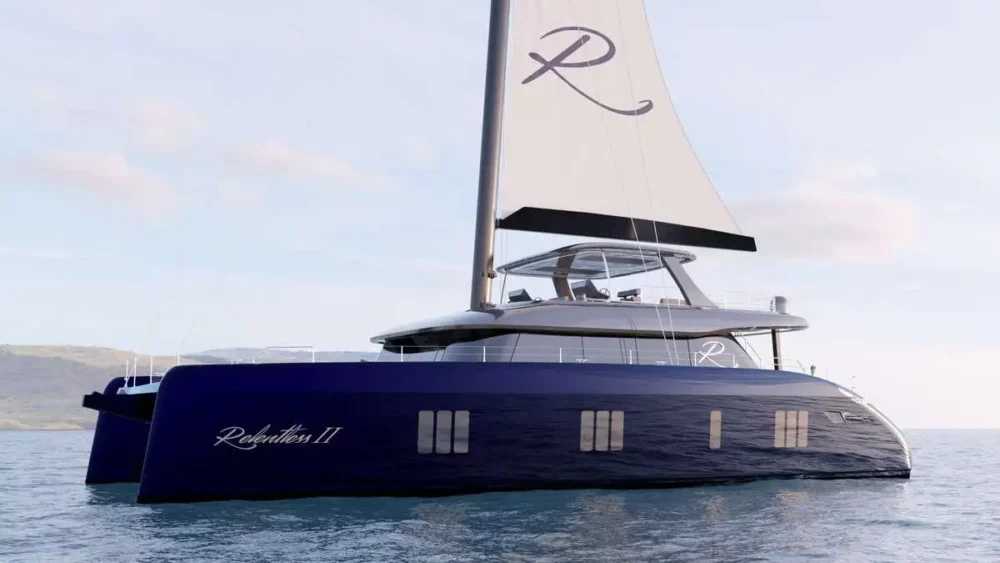 Catamarans Yacht Charter | Builders
The most popular charter catamarans are built by Lagoon, Sunreef, Privilege, Fountaine Pajot, Leopard, Silhouette, and Royal Cape. Generally, all of these builders make excellent catamarans. However, there are differences that you may want to consider when deciding on a yacht. For more information on recommended catamarans, please visit our Greek catamarans post.
Lagoon
Lagoon has the most models and the most catamarans for charter. These range from Lagoon 44 to Lagoon 74, with many different floor plans. Guest accommodations range from six in three cabins to twelve guests in six cabins. Guests enjoy a covered deck cockpit area, a flybridge with a 360-degree view, and the forward deck area with a trampoline.
Popular Caribbean Lagoon 62 catamarans are Nomada, Foxy Lady, Mahasattva, Heavenly and SIP SIP. Another great boat is, A3 a Lagoon 56. Lagoon Catamaran also has power catamarans, such as FRENCHWEST, based in St. Martin. In addition, Lagoon has 77ft sailing catamarans. One of these TELLSTAR is now TWIN FLAME 77, based in the Virgin Islands.
Sunreef
Sunreef catamarans combine fine craftsmanship and innovative design. Every catamaran built by Sunreef Yachts is unique. Some Sunreef catamarans for charter include CHE, a 113-foot sailing catamaran; ORION, a 74-foot sailing catamaran; and SINATA, a 60-foot sailing catamaran. Sunreef has built one of the most luxurious 80-ft catamarans sailing the British Virgin Islands. It is Relentless II.
Privilege
Privilege models can differ in size and length from 43 feet to 75 feet. They are very comfortable and roomy, perfect for chartering the islands. Segundo Viento a new Allure 64, MATAU and FELICIA are a few examples of Privilege catamarans. Privilege has been building luxury power catamarans since 1989, and has grown to become one of the most respected and renowned yacht builders in the world.
With a passion for innovation and commitment to delivering quality vessels, they have crafted some of the most beautiful and livable power catamarans on the market. Privilege catamarans are designed to provide both comfort and stability, making them ideal for extended cruising.
Fountaine Pajot
Fountaine Pajot makes a range of sailing catamarans designed with remarkable living space and superb levels of comfort and performance. The French shipyard is considered to be one of the world's leading power catamaran yacht builders. Founded in 1976, this well-respected builder offers sailing catamarans and power catamarans ranging from 42 feet to over 100 feet in length. Take a look at BLACK TORTUGA and AETHER.
Leopard
Leopard Yachts began life in South Africa in 1991 and has since become a major player in the luxury yacht market. These catamarans offer sleek styling, excellent performance, and outstanding craftsmanship. In addition to making power catamarans, they also produce a range of sailing catamarans, from the entry-level Leopard 38 to the flagship 50 catamarans. Spacious layouts, stability, comfort, and airy living spaces make Leopard catamarans a good choice for your charter.
Silhouette
Matrix Yachts creates the Silhouette 760 catamaran. The luxury catamaran yacht builder is based in the Netherlands and specializes in building large yachts. Founded in 2004, they have since become one of the leading power catamaran builders in the world. Matrix Yachts utilize the latest technology and innovative design to create high-quality, seaworthy vessels. Their yachts range from 45 to 75 feet in length and feature luxurious interiors, large open spaces, and plenty of storage. This family-owned business is passionate about building stylish, luxurious sailing catamarans—three Silhouette catamarans to check out Tranquility, KINGS RANSOM, and ZINGARA.
Royal Cape
Royal Cape catamarans have style and space as well as many safety features. Solid safety rails with uncluttered and safe decks include side and aft entry. BAREFEET RETREAT and MANNA showcase the Royal Cape features.
As you can see, there are many excellent options from which to choose. Whether you are interested in chartering a Lagoon, a Leopard, or anything in between, let us help you plan your catamaran yacht charter.
Please call us today at 1 (321) 777-1707 or describe Your Vacation Vision to help you plan your fully-crewed private luxury yachting vacation! Inquire as soon as possible about your custom, crewed yacht charter.
You make the memories. We make the arrangements.