First-Time Yacht Charter Guide Overview
How to Charter a Yacht
Whether you've chartered before or are new to luxury yacht chartering, our First Time Yacht Charter Guide can help you. It is packed with FAQs, a boat comparison guide, experiences, and infographics; it's a great way to learn about chartering.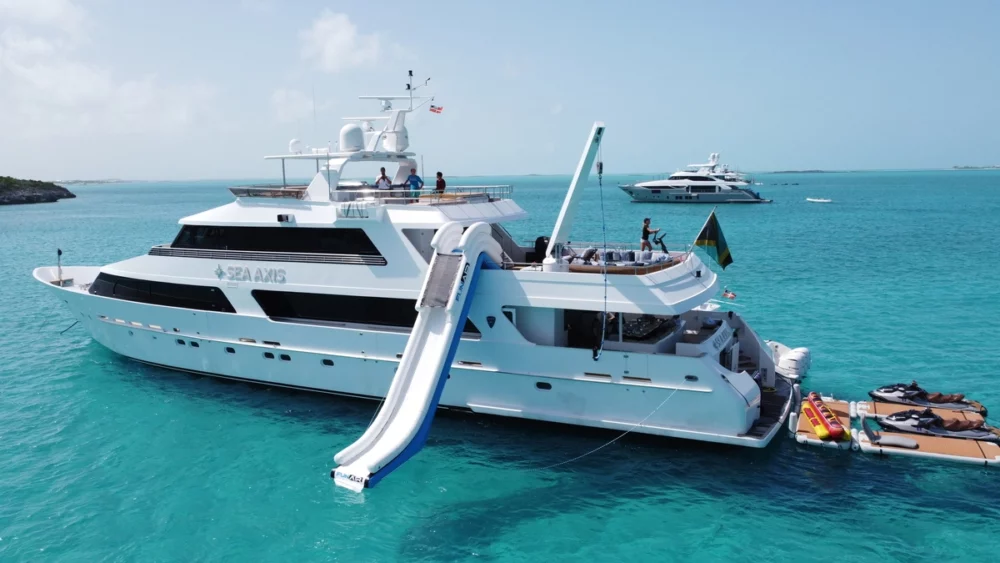 Please get started by viewing our yacht charter booking journey below.
Your Yacht Charter Booking Journey​
Preliminary Planning
Describe Your Vacation Vision. Think about your dream yacht charter vacation.
Where would you like to charter? There are many wonderful destinations, such as:

The Bahamas
The Caribbean
Greece
Croatia
Italy
French Riviera
Spain

When would you like to charter?
Are your dates firm, or are they flexible?
Are you celebrating a special occasion? Yacht charter vacations are perfect for:

milestone birthdays
anniversaries
honeymoons
sale of a company
any special occasion

Who will be traveling with you?

Number of guests
Ages of guests
Number of children or teens and their ages
Is it a family or a group of friends?

Charter cost range? Please include the low and high ends of your budget. Things to consider include the following:

The yacht type, size, number of guests
The charter destination.

Will you be traveling low, high, or peak season?
Weekly charter rates can range from $20,000 to $200,000+.
Some yachts are plus all expenses, while others have inclusive rates.
Gratuities and taxes are additional costs.

Activities and interests? Include information about what you and your group want to do and see.

Kite Surfing
Sightseeing
History and museums
Shopping
Dining
Nightlife

What is the Group's charter history? First time or some experience?
What type of yacht do you prefer? Click on the links below to learn more about each type of yacht.
What Happens Next in the Booking Process?
Your broker checks the availability of yachts in the destination you prefer.
The broker sends you a proposal with a selection of available yachts during your desired travel dates.
Review the yacht options, then select 2 to 3 yachts you prefer.
Discuss these options with your broker. The broker is familiar with the yachts and the crews and will direct you to the yacht best suited to you and your group.
Select the yacht that you like best.
The broker prepares the yacht charter contract for your review.
All parties sign the contract.
Pay the first deposit with signing.
Complete Guest Manifest. Include the names of all guests and their contact information.
CKIM sends you a Travel Insurance quote. Travel insurance is highly recommended.
Preparing For Your Yacht Charter Vacation
Complete preference forms. Everyone in the group fills out a preference form that details their likes, dislikes, interests, allergies, or medical information.
Introductory call with the Captain. You'll feel at ease speaking to the captain and establishing a relationship. This will also give the captain an idea of your needs and expectations. You can discuss your itinerary and any other concerns.
Receive the Axus Travel App link. This app lets you have your itinerary at your fingertips throughout your journey.
Pre-departure call with CKIM 7-10 days before the trip. Discuss any last-minute questions and confirm all plans, including airline and hotel reservations and transfers.
Arrival at the Port of Embarkation
Meet your yacht's Captain at the port of embarkation.
Introduction to your crew and yacht. Your crew will show you to your staterooms, give you a tour of the boat, and make sure you are comfortable.
Safety briefing. A safety briefing is required. The captain will explain the use of life jackets and other pertinent information.
Welcome Activities. Enjoy your first lunch on board.
What To Expect Onboard Your Charter Yacht?
Daily briefings with Captain. Each day you will discuss the sailing area, including the weather, moorings and anchorages, and must-see attractions. The captain and crew have extensive knowledge about your destination and can suggest restaurants and attractions worth visiting.
Receive check-in from CKIM Group. Take this opportunity to let us know how your vacation is going. Is everything just the way you imagined, or is there something we can do to make your experience even better?
Post Yacht Charter Trip
Settlement of APA balance, if applicable. The advance provisioning allowance estimates expenses that may arise during your yacht charter, such as mooring fees. Any unused funds are returned to you at the end of the voyage. You must cover what is missing if you spent more than your APA.
Payment of customary tips. Tips are generally 10% to 15% of the charter cost and are presented to the Captain, who will then divide the tip among the crew.
Farewell to Captain and crew. Make sure you take photos with the captain and crew!
Receive and complete your trip survey. Let us know what you liked and did not like.
A debrief call with CKIM Group is scheduled at your convenience.
Plan your next yacht charter vacation. You may want to travel on the same yacht again or venture to a different location. One thing is certain. After your vacation, you will wonder why you hadn't chartered before!
First-Time Yacht Charter Guide Resources | How to Charter a Yacht
FAQs – Click to discover the answers to the most frequently asked questions about chartering a luxury yacht.
Destinations. Click to find out the spectacular destinations you can explore.
Yacht Experiences. Learn about yacht charter experiences and benefits such as wellness, gastronomy, and history.
Why Choose Us? | First Time Yacht Charter Guide
History. All about us.
Click to see a yacht charter list. Take a look and discover the incredible selection of yachts available.
Please call us today at 1 (321) 777-1707 or describe Your Vacation Vision to help you plan your fully-crewed private luxury yachting vacation! Inquire as soon as possible about your custom, crewed yacht charter.
You make the memories. We make the arrangements.