Frequently Asked Questions: Luxury Yacht Charters
FAQs (Frequently Asked Questions) for your luxury yacht charters. All you need to know about chartering a yacht.
FAQs Luxury Yacht Charters | The Basics
What is a private yacht charter?
A private yacht charter combines the best features of a cruise ship and a luxury resort. Travel to a different destination each day with a high degree of pampering and personal attention. Say goodbye to crowds, waiting in lines, and fixed itineraries. Your private yacht has a dedicated crew, various amenities, water toys to enjoy at will, and a tender to take you ashore whenever you please.
How do I get started?
There are a few necessary parameters to consider. For example, what type of boat, your destination, the time of year, and who will accompany you. The questions below can help guide your thought process, and your CKIM yacht charter broker will assist in asking the right questions and providing the expertise to design the perfect experience for you.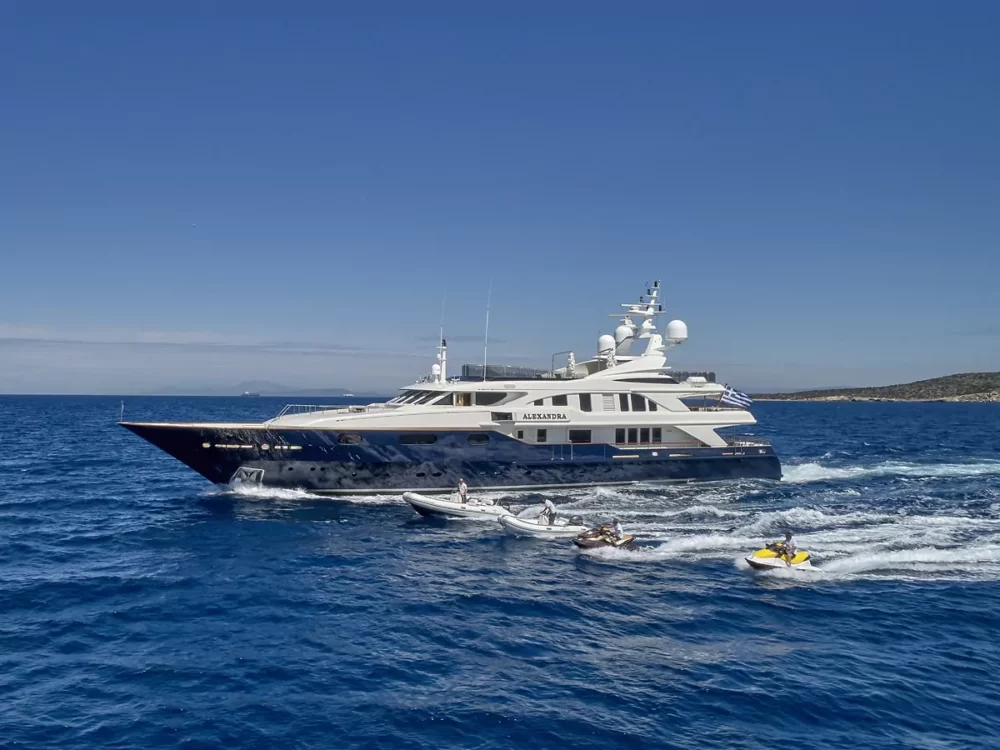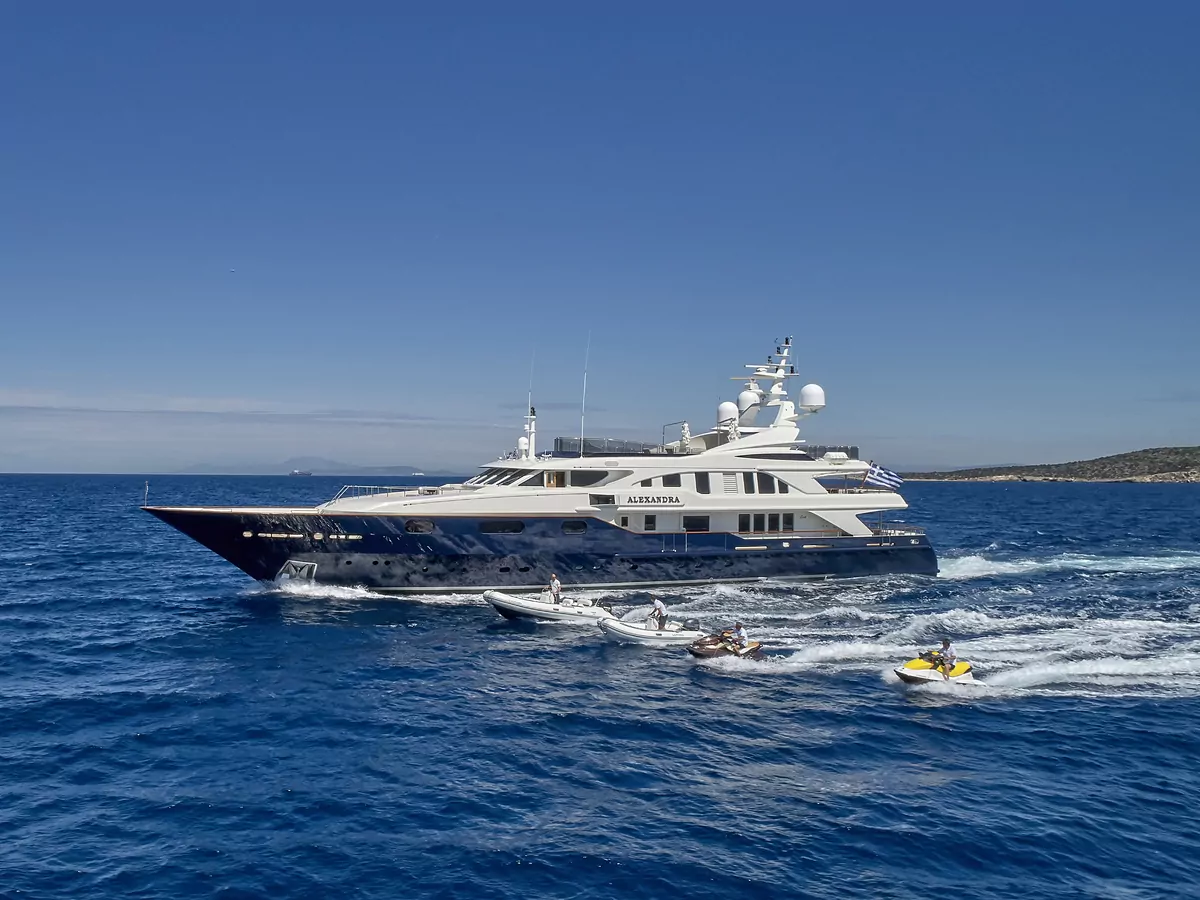 Can I afford a yachting vacation?
One of the first FAQs about luxury yacht charters is their affordability. Yes, you can afford a yachting vacation. Prices for private yacht chartering vary remarkably based on factors such as:
The type of charter yacht
The size of the charter yacht
The number of guests in your group
The location of the yacht charter destination
The rates may also differ from the low-season and high-peak seasons
What types of boats are available for a yacht charter?
The types of yachts available for charter are:
Are there high and low seasons for a yacht charter?
Yes, there are, depending on the time of the year and the yacht charter destination.
Mediterranean seasons are:
High Season: June – August and special events
Low Season: April – May, and September – October
Caribbean seasons for most motor yachts with the plus- expenses rates:
High Season: Christmas and New Year's Holiday period and some holidays.
Low Season: All other months.
Caribbean seasons for inclusive charters:
High Season: Christmas and New Year's holiday period. There is a minimum charter period required and a holiday surcharge.
Low Season: All other times of the year, when the standard rate is charged based on the number of guests for the charter.
Bahamas seasons:
High Season: Christmas and New Year's holiday period and some holidays.
Low Season: All other months
North American Seasons:
High-Season for Florida: Christmas and New Year's holiday period and some holidays.
Low-Season: All other months.
FAQs Luxury Yacht Charters | Destinations
What are some yacht charter destinations I can choose to charter?
Luxury yacht charters' FAQs often include destinations. Would you like to experience sunny beaches and crystal-clear waters in the Bahamas or the Caribbean? Or, perhaps you would like to visit the Eastern or Western Mediterranean, steeped in history and culture.
However, you may instead want to see the Pacific Northwest or New England with its scenery and culture. Or a more far-flung destination in the Pacific or the Indian Ocean–the world is your playground when it comes to yacht chartering. Where you cruise will depend on when you charter, the experience you wish to have, the type of boat, and its availability.
The Caribbean
The Bahamas – A destination for the group seeking quieter anchorages, water sports, fishing, and beautiful warm water away from the crowds.
The Caribbean – Year-round good weather with three popular yacht charter destinations:
The British Virgin Islands – Excellent option for the non-sailor and those new to yachting. Shorter sailing distances, beautiful beaches, marinas, restaurants, and some shopping.
The U.S. Virgin Islands – Luxury sailing close to home, without a passport for American citizens. St. Thomas,
St. Martin – Enjoy the blend of international cuisines ashore in St. Martin, St. Barths, and Anguilla. These three islands have more excellent dining restaurants than anywhere else in the Caribbean. Combined with beautiful white sand beaches, water sports, and shopping.
St. Vincent and The Grenadines – Longer sails for the sailing yachts, constant winds for the kiters during the winter, colorful locally made boats, beautiful beaches, the Tobago Cays, and the vibrant Caribbean culture.
North America
Florida – Year-round yacht charter destination in South Florida and the Florida Keys. Fishing, water sports, the dining experience ashore, and shopping.
New England – From May until September, the yacht charter season hums. July – September is the busy period and the warmest weather.
Alaska and The Pacific Northwest – Summertime is the season here. Fishing, shore excursions, hiking, and glaciers are a few of the highlights in this area. Desolation Sound is a natural wonder to behold.
Mexico – Sea of Cortez – the perfect spot for fishing, whale watching, and water sports. Yucatan Peninsula mixes culture with tons of nightlife and watersports activities. The Yucatan is also known for the Basking Whale Shark, a fascinating large spotted shark that takes in food through a suction motion when opening its expansive mouth.
The Mediterranean
Choices and more choices. Summer is the season from April until October.
Croatia: The hottest spot for a yacht charter in the Mediterranean. Many islands, beautiful scenery, local wines, and historical sites like Dubrovnik and its walled old town.
Greece – History, beautiful scenery, Santorini, Mykonos the party island, Rhodes and so many other unique isles, historical sites, cuisine, and people.
French Riviera – To see and be seen. The vibe here is unbelievable. Restaurants, beaches, shopping, marinas, nightclubs, and live music on the beach. Cannes, Monaco, St. Tropez, and the islands.
Italian Riviera – From May to October, it is from San Remo along the coast with Portofino, Santa Margherita Ligure, Cinque Terre, and more. Cruise an outstanding area with colorful Italian scenery. Villages on the hillside are out of a storybook.
Southern Italy and Sicily – The Amalfi Coast, Capri, Naples, and the islands. You can spend more than 14 nights cruising this area.
Turkey – The Turkish Riviera of Marmaris, Bodrum, and the coast. Turkish cuisine is outstanding, along with the hospitality of the people.
Central America
Costa Rica – A paradise for action and adventure enthusiasts, from surfing to fishing, diving and more. Inland, go hiking, ziplining, or tour the numerous volcanoes, 6 of which are still active.
Panama – Situated between North and South America, Panama is justly named as the Crossroads of the Americas. Panama is known for its nature-rich and accessible rainforests and spectacular mountains and highlands.
Belize – Swim with colorful sea life along the Western Hemisphere's largest barrier reef. Explore the fascinating mysteries of the Mayan culture, touring Mayan archaeological sites – the largest concentration throughout South and Central America. There are endless possibilities for your Belize luxury yacht charter vacation.
Ecuador – Ecuador's Galapagos Islands comprise of 61 volcanic islands of divine beauty that stretch along the equator in the Pacific Ocean. With a Galapagos Islands yacht charter, you'll embark on an unforgettable journey through this unique and fascinating ecosystem.
Chile & Patagonia – A yacht charter in southern Chile will transport you to the incredible area known as Patagonia, one of the world's most interesting and fragile ecosystems. The region, straddling Chile and Argentina, features fjords, rivers, and unbelievably colored lakes. These waterways culminate in the world-famous glaciers and mountains of Patagonia's breathtaking national parks.
South Pacific
Papua New Guinea – A land full of intrigue and mystery. The wildlife and nature is perhaps as rich and unique as the tribal culture that still exists in the dense forests land. Incredible hikes can be arranged in the mountainous interior, while reef marine life can be explored along the coast. Just north of Australia and bordering the Soloman Islands, Papua New Guinea can be combined with these equally exciting destinations.
Fiji – The timeless pace of the Fijian culture means that travelers can escape the hustle and bustle of modern life and slow down to a simpler world. Fiji is the perfect destination for many travelers, whether it's a romantic getaway, a fairy tale honeymoon, or even a family vacation adventure filled with excitement and relaxation.
Australia – Sailing or cruising the islands of Australia is one of the most memorable holidays you will ever have. It is perfect for couples, families, or groups of friends just wanting to get away from the daily grind. Outdoor adventure, sophisticated leisure, and everything exciting under the sun and out at sea await. Take a luxury yacht charter vacation that is like no other.
New Zealand – The most popular sailing area in New Zealand is a 170-mile stretch of coastline extending north from the main city of Auckland, with the Bay of Islands lying in the center. This area is rich in both European and Maori history. Capt. Cook anchored here and named the bay; the first white missionaries also chose the Bay of Islands as their home base.
French Polynesia – Tahiti, the word brings visions of an island paradise, with 118 islands, some with high, rugged mountain peaks, coral reefs, turquoise lagoons, white sand, and palm-fringed beaches. Also, each island paradise has something for everyone.
Asia
Thailand – Frenetic and bustling cities like Bangkok and Chang Mai starkly contrast Thailand's serene and beautiful islands and beaches. Whether you want to try water sports in Krabi, snorkel the reefs in Koh Phi Phi or party in Phuket, it's possible in Thailand.
Maldives – With over 1k islands in the Indian Ocean, the Maldives offer gorgeous beaches and marine life. Delicious cuisine can be found in the capital city of Male, while far-flung islands provide untouched beaches, caves, and warm waters to explore.
Africa
Seychelles – This paradise, comprised of 115 mostly uninhabited islands, is located off the coast of Africa. Mahé is the main island. Victoria is the capital city where you'll find most of the islands' cultural and eco-tourism hotspots, restaurants, bars, cafés, and walking trails.
Red Sea – Anyone looking for adventure will love the water sports and exciting land activities available on the Red Sea. Linking Africa to Asia, the Red Sea has a diverse topography and ancient cultures to explore. Go off-roading, horseback riding, or explore the desert on camelback. This unforgettable journey can also include modern restaurants, spas, and city trips.
Northern Europe
Norway – Norway has a long seafaring tradition. The coast is beautiful, with many islands, islets, inlets, and fjords that cut into the mainland. You can visit the Sørlandets Museum in Kristiansand, which displays Norwegian art from 1800 to today. Or, go explore Mount Floyen where you'll get incredible views of Bergen and the surrounding area.
Sweden- Sandwiched between two important bodies of water, The North Sea and The Baltic, Sweden is a magnificently alluring Northern Europe yacht charter destination. Inland, explore the wild forests to catch a glimpse of bears, wolves, moose and if you're lucky, a rare lynx.
United Kingdom
The coast stretching from Cornwall to London affords yachters the chance to see windswept beaches, charming villages, and historic sites. Stop in Cowes to visit the Royal London Yacht Club, and of course cruise up the Hamble River to London.
FAQs Luxury Yacht Charters | Booking, Rates, Misc.
What are the primary types of charter rates; Are meals and drinks included in the yacht charter fee?
The following are charter rate options for your charter vacation, depending on the yacht and sailing region:
Inclusive charter rate:
An Inclusive charter includes daily breakfast, lunch, dinner, and the ship's bar. Not included are vintage wines, champagne, dockage, and communication. Water toys and all onboard amenities are in the charter fee. The British Virgin Islands cruising taxes and fees are sometimes in the inclusive charter rate.
Caribbean Terms:
The "Inclusive rate" except for the ship's bar and beverages. Government Taxes and fees may be an extra charge in both cases.
Plus all expenses (APA – Advance Provisioning Allowance):
The expenses incurred for providing for the guests' charter. An APA (Advance Provisioning Allowance) of between 20 – 35% depending on the yacht, is collected to cover fuel costs for the main engines, generators, food, drinks, communications, dockage, harbor fees, and government fees.
Government Taxes:
There may be Value Added Tax (VAT) in addition to the charter fee and APA, depending on the location of the charter. The percentage varies by country. We, your charter broker, will advise you of the current rate. The rate can change without notice.
What is the Booking Process, or how do I book my yacht charter?
After discussing your vacation plans with us, we will present you with the boat options based on your dates, yacht charter destination, type of boat, and size for your group. We will answer your questions. After you have selected your boat, the following steps are below. For more information, please see our First Time Yacht Charter Guide.
Complete the paperwork we will send you consisting of the following:
Charter summary
Your yacht charter agreement
Travel insurance quote – we will need everyone's date of birth and the different households.
Depending on when your charter is scheduled, you would need to wire or send CKIM Group Inc. either the required deposit or full payment stated in the charter agreement. Charters are not confirmed until payments are received. The bank details are in the charter summary and contract.
We will email you the Preference Forms (DossKit) link for your careful completion. This form will have your food, drink, activity, passport information, shoe size, food intolerances, and allergy information. Your crew needs to know what is important to you and as much information as possible to begin planning your menu and itinerary.
Before you arrive at your yacht, the crew will contact you to discuss your vacation plans and the preferences detailed on the Preference Form.
Once onboard your yacht, the captain will conduct an orientation and safety briefing before departing on your vacation. During the cruise, it is critical to communicate with the captain and crew with any questions or requests. They are available and will assist you with arrangements. Your captain's primary role is the safety of guests, crew, and the yacht; he will always consider this.
How will I communicate my needs to the crew?
The chefs and crews on board your luxury yacht charter want nothing more than for your dream vacation to become a reality. They will work very hard to ensure your needs are satisfied and your expectations are surpassed.
The captain and chef use the Dosskit (Preference Form) as a vital tool to plan and prepare for your vacation. It's a great idea to sit down with your guests to review any dietary restrictions or favorites they may have. You can also indicate what type of activities you wish to enjoy. Don't be shy–the more detail and information you include, the better.
It is beneficial for the crew to understand what you would like to gain from your experience onboard.
Are you hoping to rest and rejuvenate?
Try a new water sport?
Explore a new area?
How long would you like to charter?
The Dosskit (Preference Form) is your opportunity to let the crew know.
One of the many benefits of a luxury yacht charter is having a chef. Based on your dietary needs, be it gluten-free, plant-based, low-carb, or anything, the chef will plan meals to your liking based on your requests if there is a particular brand or label of the food, wine, or liquor you like. At the same time, on your charter, the Preference Form is your chance to specify those wishes.
If, after completing your preference sheet, you decide there is something more the crew might need to know (special occasions, changes in activities), contact us, and we will be happy to communicate your needs to the yacht crew.
Before arrival, your captain and/or chef will contact you to discuss your preferences and vacation plans.
What activities would be available on my Yacht Charter?
Based on your yacht and destination, there is a myriad of activities and water sports available to do, such as:
Scuba diving
Kayaking
Snorkeling
Water-skiing
Fishing
Wakeboarding
Windsurfing
Jet-skiing
Stand-up paddleboarding
You will also have many opportunities to visit ashore and participate in the on-shore side activities.
What level of service can I expect?
Your professional crew is proactive and will handle all your luxury yacht charter details. You can relax and unwind. The chef will plan each meal based on your specific preferences. Your captain will guide you to your preferred destination- the quietest beaches, the secluded anchorages, or the liveliest entertainment spots.
What type of clothing should I pack?
Unsurprisingly, one of the FAQs for luxury yacht charters is what to pack. Your cruising area will largely determine the type of clothing you want to bring due to the various climates. For instance, cruising through New England, you may need a sweater or windbreaker as the evening can be crisp. If you're traveling through the Caribbean, the temperature can be warm year-round, but ladies might especially appreciate a wrap or shawl, as the evening breeze can be fantastic.
Regardless of your cruising area, resort casual is usually the comfortable attire unless you have planned a formal evening with the crew or on-shore dining.
Bathing suits, shorts, and casual beach attire are undoubtedly the order of the day on deck. Wear aquatic shoes for beach combing. Finally, guarding against the sun is vital. So, pack caps or wide-brimmed hats and loose-fitting cotton cover-ups.
What is the APA (Advance Provisioning Allowance)?
An Advance Provisioning Allowance is pre-paid expense for the operating cost of the yacht while on your charter. It is usually between 20 – 35% of the weekly charter rate, depending on the type of boat. It is pre-paid in addition to the weekly charter rate and VAT to cover the cost of the following:
Fuel for the main engines, generators, tenders, motorized water toys, b. For food and drinks for your charter,
Port fees, harbor fees, marina dues,
Customs clearance,
Personal laundry,
Communications.
Consumables for the charter party.
Any shore excursions and transfers arranged by the yacht for the guests.
During your charter, you can view the APA expenses with the captain. When your cruise ends, the captain will determine if you owe monies or are due a refund. Some APA statements are more detailed than others. Reviewing the details and requesting receipts if there are questions is essential.
FAQs Luxury Yacht Charters | Travel Insurance
Do I need Travel Protection?
We recommend that you protect your vacation investment against various possible losses over which you have no control by purchasing travel protection. We will provide travel protection quotes based on the households on the charter and each person's date of birth. It is necessary to send us this information.
Please Note: To be eligible for the waiver of pre-existing medical condition exclusion, the protection plan must be purchased within 15 days (Travel Basic) or 21 days (Travel Select) from when you make your initial trip deposit. However, the plan can be purchased anytime before departure.
The product descriptions are only summaries and may be changed without notice. The full coverage terms and details, including limitations and exclusions, are contained in the insurance policy.
Why should I consider Charterer's Liability Insurance?
When chartering a yacht, it is essential to know that boats do not (usually) cover the liability of a charterer or his/her guests. The yacht's insurance covers the liability of the owner and crew. Suppose a charterer causes damage to the boat or a third party. In that case, the vessel's policy does not protect the charterer's assets, and damages for which the charterer is responsible are not limited. Despite what the charter contract says, a charter's financial responsibility is NOT limited by the terms of the agreement.
A charter contract does NOT prevent insurance companies or third parties from exercising their rights against the charterer. The charterer can either answer the suits personally or purchase a Charterer's Liability policy.
Can I be added to the vessel's insurance as an additional insured?
The answer is, more than likely, no. There could be a cost to add you to the yacht's policy. And you, the charterer, would "share" the liability limit with the vessel's owner.
How can I protect myself while on the charter?
You may purchase Charterer's Liability insurance which covers the legal liability of charterers and guests during the charter. We recommend you consult a marine insurance specialist of your choice for this specialized form of insurance.
Book a Caribbean Sailing Charter for a big and large group sailing adventure. For additional luxury yacht charters FAQs please call 321-777-1707.
Please call us today at 1 (321) 777-1707 or describe Your Vacation Vision to help you plan your fully-crewed private luxury yachting vacation! Inquire as soon as possible about your custom, crewed yacht charter.
You make the memories. We make the arrangements.