Turkey is one of the most beautiful and richly diversified nations in the world, straddling Europe and Asia. The people are welcoming, the food is amazing, and the beaches are incredible. Turkey offers multiple locations that are ideal for yacht charters. From Marmaris, which has become known as the party capital of Turkey, to the stunning south coast of Lycia, there are plenty of places to visit during your luxury yacht charter in Turkey. Whether you are looking to relax on a secluded beach or party with other vacationers, Turkey has something to offer everyone.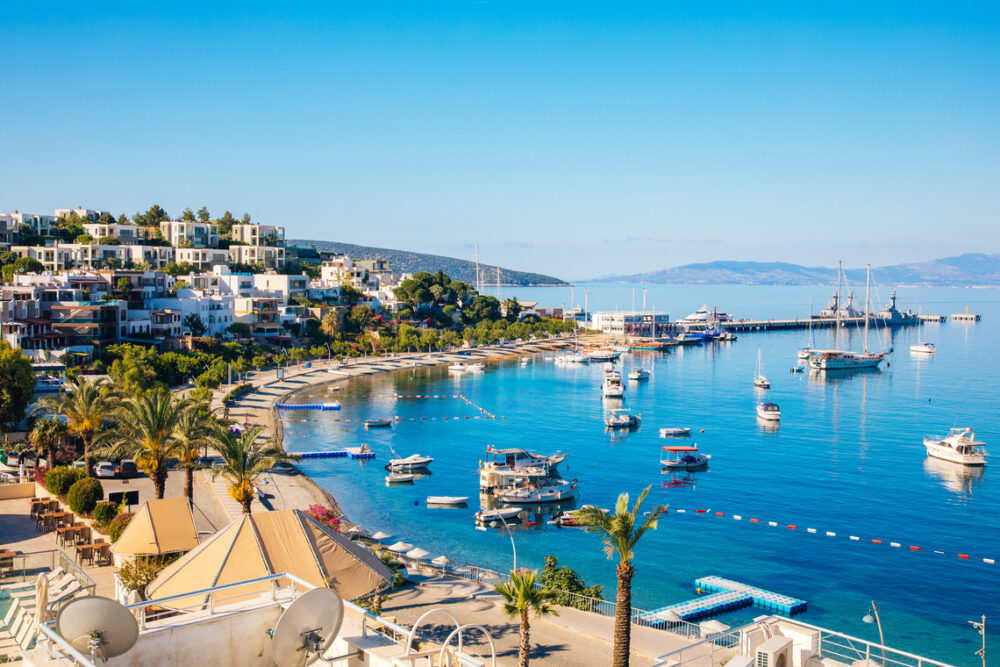 Turkish Riviera Yachts
The coast of southern Turkey boasts some of the most stunning beaches and yacht charter possibilities anywhere on earth. If you're looking for a luxurious yacht charter along with family-friendly excursions and excellent dining, look no further than Turkish Riviera yachts. Let's take a closer look at what types of yachts you can charter in Turkey.
Gulets are traditional wooden yachts that date back to ancient times. They were once used for fishing, but today, these Turkish boats are one of the most sought-after yacht charter options along with their speedier counterparts, catamarans. Gulets offer lots of space for you and your family to move around on deck and below deck.
Sailboats are another good option, especially for those who enjoy the traditional boating experience. There's nothing like the wind in your hair and the ocean spray drifting past you. Although there is less space below deck on a sailboat, it is still a great choice for families and groups of friends. Motor sailers are another possibility. They combine the speed of a motor yacht with the option of cruising under sail.
Motor Yachts are another option for your exclusive yacht charter in Turkey. Like Gulets, they have more space and amenities than sailboats. If you want a luxury yacht charter with large indoor spaces, then motor yachts are a great choice.
Turkish Riviera Weather
When planning a trip to the Turkish Riviera, it's important to know what the weather will be like during your stay. The Mediterranean Sea is famous for its beautiful, hot, and sunny weather year-round. However, if you plan to travel here in the winter or fall months (when much of Europe experiences colder temperatures), you may want to bring a sweater or light jacket for the occasional cooler evening. In general, May through September is the peak season for tourism along the Turkish Riviera. However, April can also be quite nice with moderate temperatures (especially along southern beaches) and little rain.
Must-See Locations on the Turkish Riviera
The Turkish Riviera is an extensive stretch of coastline along the Aegean Sea. It's pretty close to Istanbul and features some of the most beautiful scenery you'll find anywhere in Turkey. The southwestern coast of Anatolia — from Tekirova to Kekova — features some truly jaw-dropping vistas. You'll see dramatic landscapes and mountains with crystal-clear waters around them that look like paintings on postcards. Check out some of our Turkey itineraries to get an idea of what's in store for you on your exclusive yacht charter.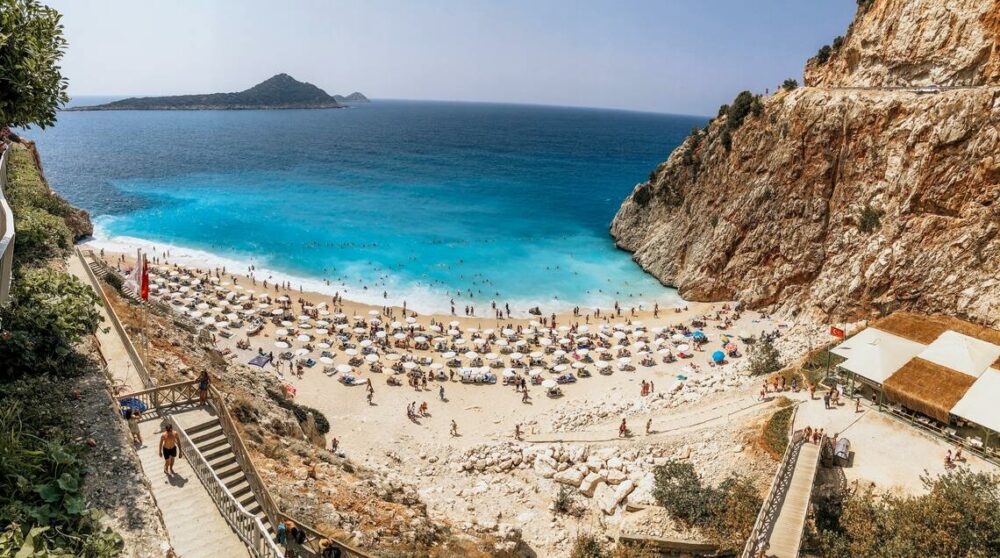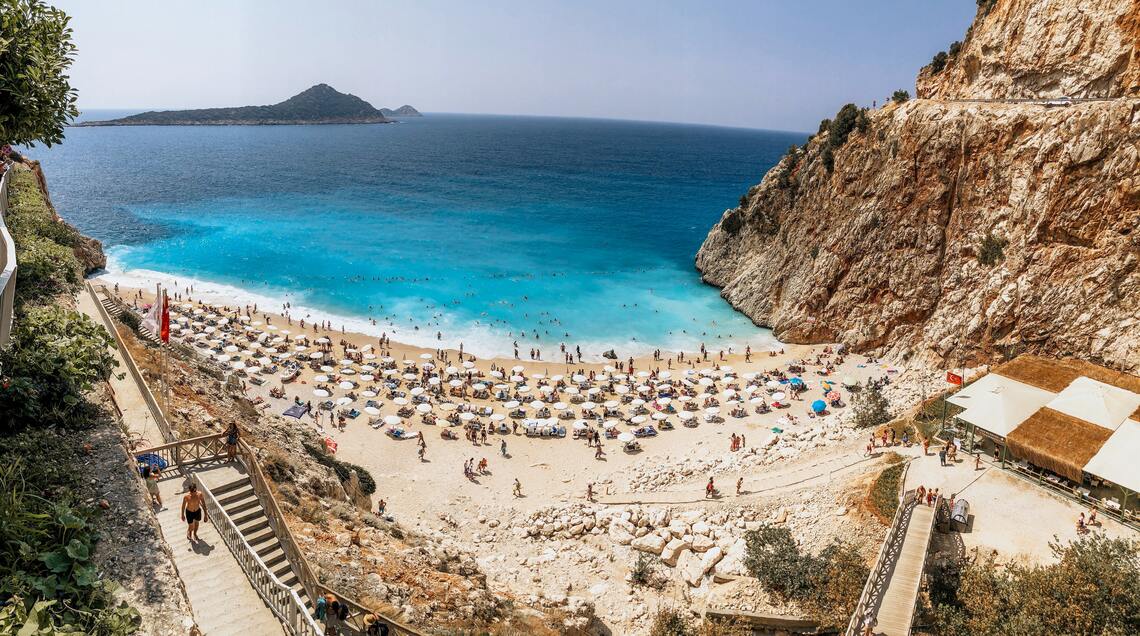 If you're looking for an active holiday, then Bodrum is the place to go. Not only are there plenty of activities here; but it's also one of the top destinations for sailing in all of Turkey. Visit ancient sites such as Knidos (one of many places where you can spot dolphins), ancient ruins such as Pergamum, or manmade landmarks such as Troy. The peninsula between Fethiye and Antalya (which includes Alanya) offers great beaches and excellent diving opportunities. Of course, much of what makes Antalya so popular are its golf courses which will give even avid golfers their money's worth. Kayakoy Beach is secluded but near enough to attractions like Kalkan Castle or Pamukkale.
Things To Do on Turkey's Beaches
There's no shortage of water-sports options around Fethiye, from deep-sea fishing to snorkeling. Of course, if you prefer to spend your time enjoying more relaxing activities, then sunbathing on one of Turkey's beaches is an option too! The turquoise waters are crystal clear, making them perfect for swimming. A trip to one of these Turkish beaches is guaranteed to be one that you won't forget!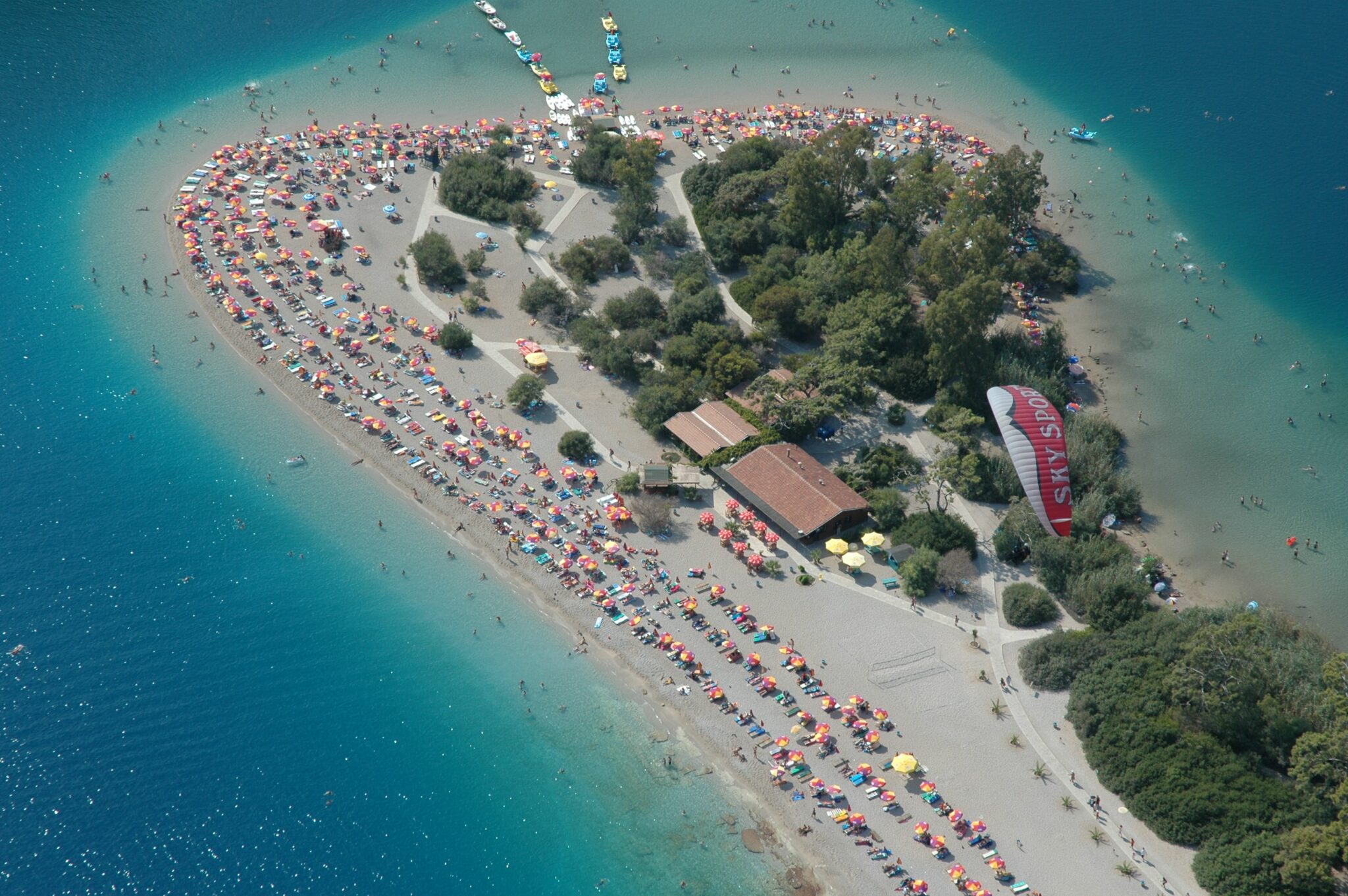 If you're interested in booking your own luxury yacht charter in Turkey, contact us today. Please call 321-777-1707.
Please call us today at 1 (321) 777-1707 or describe Your Vacation Vision to help you plan your fully-crewed private luxury yachting vacation! Inquire as soon as possible about your custom, crewed yacht charter.
You make the memories. We make the arrangements.