Greek Exclusive Yacht Charters are one of the most luxurious ways to vacation in Greece. This is because Greek yacht charters are offered on motor yachts, sailing catamarans, sailboats, and motor sailers.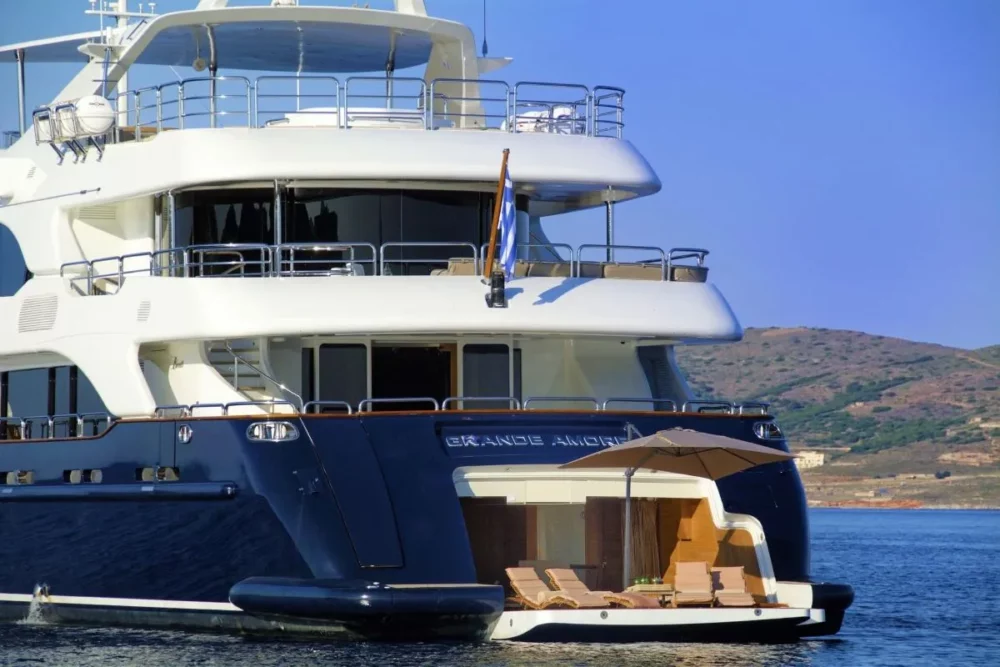 Moreover, each has its unique style and amenities onboard. Each Greek Exclusive Yacht Charter offers you the opportunity to explore the beautiful country of Greece while experiencing an extremely comfortable way to do so!
What Type of Boat Should I Charter?

Being an island country with over 6,000 islands and islets, Greece can be considered a true floating paradise. Choosing the Greek Islands for your next sailing vacation is excellent, as many types of private yachts are available to accommodate any needs you may have.
Whether it's a bareboat charter or one featuring crewed service, you'll find luxury crewed yacht charters that meet every need imaginable. You can enjoy a plethora of luxurious motor yachts from 50 – 300 feet in length. In addition to sailboats, motor sailers and catamarans that comfortably sleep up to ten people in style.
The best way to experience Greece: When you're looking for a luxury yacht charter, your choice of boat is perhaps your most important decision—after all, it will be your home away from home. For example, suppose you're traveling with friends or family and want an intimate setting that allows everyone on board to interact with each other. In that case, sailing catamarans might be best for you.
Sailing Catamarans
Sailing catamarans offer roomy deck space, allowing guests to lounge in style while enjoying peaceful views of Greece's beautiful coastline. If privacy is more your thing but also keeping in mind how you'll feel while aboard one during stormy weather conditions and under sail, then sailboats or motor yachts are another great way to go
Motor-Sailers
Motor sailers are great for exploring Greece's beautiful coastline. Some motor sailers can accommodate up to 20 passengers and come with a crew of 4 or more (captain, cook, deckhand, and steward). Unlike a classic sailing yacht charter in Greece, motor-sailers are more of an inclusive type of Greek yacht charter.
For example, guests choose Half-Board or Full-Board meal options, including drinks with meals and snacks. These boats offer large deck areas and assorted water toys.
Motor Yacht
A motor yacht charter is a popular choice for those visiting Greece. The more popular destinations include Corfu in the Ionian Islands, Mykonos, Santorini, and Paros in the Cyclades. Each destination is unique, but all are very special in their way and offer something different to see and do. A Greek exclusive yacht charter lets you explore at your own pace, make your plans, and enjoy sunsets from every cove.
Motor Yacht TOY is an excellent representation of a Greek Exclusive Yacht Charter, with an excellent crew maintaining the yacht at a high level.
Trip Tips for Greek Exclusive Yacht Charters
When you're in the process of organizing your exclusive yacht charter in Greece, there are a few key things to consider.
Start With Our Charter Brokers
Begin your journey by engaging in a comprehensive dialogue with your dedicated charter broker. Our expertise lies in transforming your envisioned voyage into a meticulously designed itinerary, tailor-made to align seamlessly with your distinct preferences and captivating interests.
For example, if you're drawn to the allure of ancient ruins, we can chart a course that includes visits to historical sites like the Acropolis in Athens or the archaeological wonders of Delos.
If you're seeking serene beaches and tranquil coves, we'll navigate towards hidden gems like Navagio Beach on Zakynthos or the tranquil shores of Folegandros. No matter your desires, we aim to craft an itinerary that unveils the Greece you've dreamt of exploring, ensuring each day on board reflects your unique voyage vision.
Remember to be Flexible for your Greek Exclusive Yacht Charters
Remember that flexibility is a key player in your yachting adventure. The ever-changing sailing conditions can influence the path you take, adding an element of unpredictability. This unpredictability isn't bad. In fact, it can infuse your journey with excitement and unexpected discoveries.
Throughout your trip, your captain is your dependable weather and navigation authority. Sharing weather forecasts and outlining the day's proposed plans ensures you know what lies ahead. This ongoing communication fosters confidence and allows you to relax, appreciating each moment's uniqueness and spontaneity.
Consider Your Budget
An important aspect to remember is that expenses in Greece, particularly for items like fuel and alcohol, could be higher than what you might be accustomed to in the USA. It's wise to consider this when you're working on your budgeting and planning for the trip.
By factoring in these potential cost differences, you can ensure that your budget aligns with the realities of the Greek experience. That way, you can make the most of your yacht charter without any unexpected financial surprises.
Communicate with Your Crew
Additionally, it's good to know that Greeks generally have their meals later in the evening. However, if you and your group prefer to dine a bit earlier, don't hesitate to communicate this to your crew. They're there to accommodate your preferences and create the best dining experience for everyone on board.
The same communication applies to any aspect of your charter. Your crew is there for you!
By considering these aspects, you can make the most of your Greek yacht charter vacation, ensuring a memorable and enjoyable voyage through the captivating Mediterranean waters.
Greek Exclusive Yacht Charters | Itineraries
It's time to visit Greece! Here are some of our sample itineraries.
Sailing the SPORADES for weekly cruises.
Greek Exclusive Yacht Charters in Cyclades, Sporades, and Saronic.
Please call us today at 1 (321) 777-1707 or describe Your Vacation Vision to help you plan your fully-crewed private luxury yachting vacation! Inquire as soon as possible about your custom, crewed yacht charter.
You make the memories. We make the arrangements.