Cyclades Islands Yacht Charters
Your Cyclades Islands yacht charter will visit some of the most beautiful islands in Greece. The Islands are one of the island groups in the Aegean Sea, southeast of mainland Greece. Naxos is the largest island, and Ermoupoli (meaning "the city of Hermes") on Syros is the capital town and administrative center. In addition, the islands are bound by the Sea of Crete to the south.
Some of the world's most beautiful and famous islands are in the Cyclades Islands. The Cyclades Islands translated in English to: "circular islands," forming a circle around the sacred island of Delos. According to Greek mythology, Poseidon (God of the Sea) was furious at the Cyclades' nymphs and turned them into islands.
Cyclades Islands
The Cyclades Island Chain Overview
The major ones encompass about 220 islands: Amorgos, Anafi, Antiparos, Delos, Ios, Kea, Kimolos, Kythnos, Milos, Mykonos, Naxos, Paros, Folegandros, Serifos, Sifnos, Sikinos, Tinos and Thira (Santorini). In addition, many minor islands belong to this group of islands, like Donousa, Eschati, Gyaros, Irakleia, Koufonisia, Makronisos, and Schoinousa. Interestingly, most of the smaller islands are uninhabited. Motor Yacht Tropicana is one of the popular yachts sailing the Cyclades.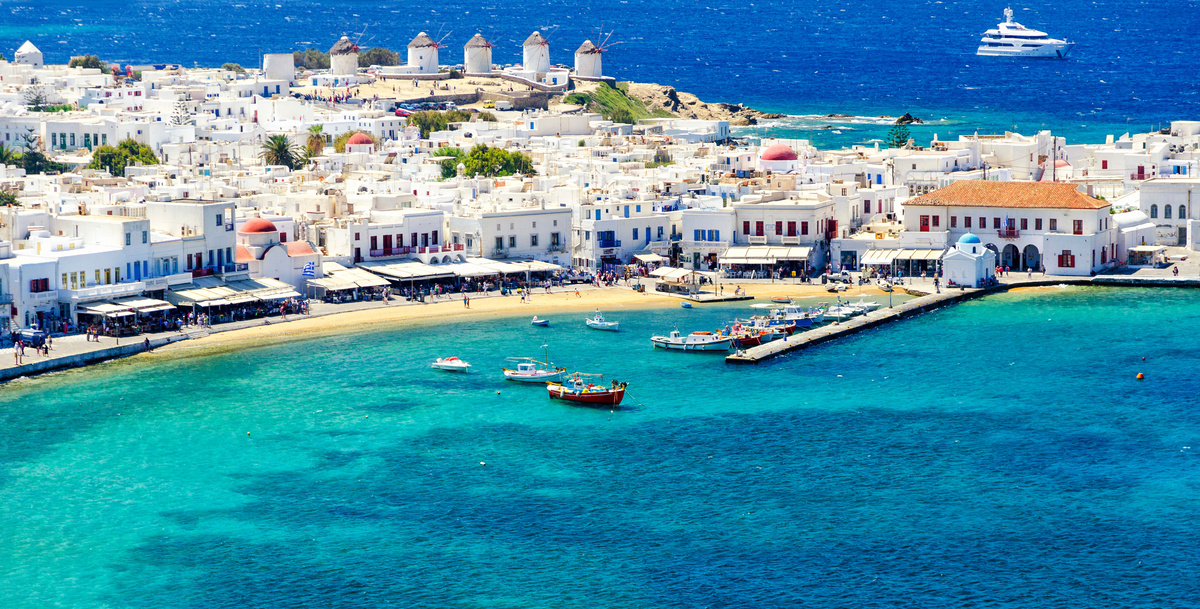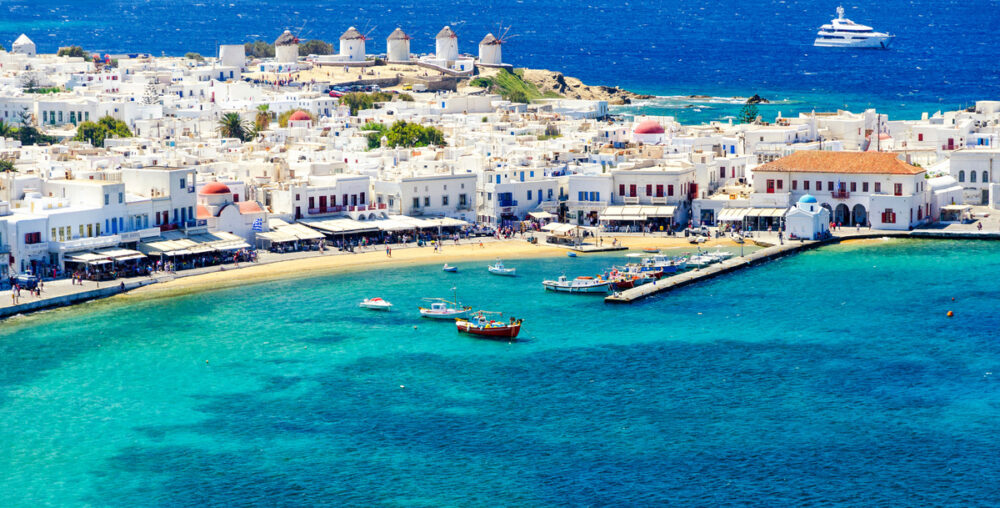 With glorious splendid sandy beaches and crystal-clear turquoise blue waters, it's not hard to see the appeal of the Cyclades. Beauty is everywhere, from the white-washed houses with blue accents to the traditional lifestyle. In addition, the warm and hospitable inhabitants contrast the barren landscapes of isolated chapels and windmills. Together, these elements attract millions of visitors worldwide each year in the quest to find paradise on earth.
Andros is the northernmost island of the group, Tinos is the religious center, and Mykonos is the favorite holiday destination. Interestingly, Cousteau looked for the lost city of Atlantis on Santorini. What's more, this precious gem of the Aegean is, in fact, a group of islands in the southernmost part of the Cyclades.
Motor yachts, catamarans, and sailing yachts are available for your Cyclades Islands yacht charter in Greece.
You make the memories. We'll make the arrangements.
Please contact us at 1 (321) 777-1707 or complete our contact form to start planning your yacht charter vacation! It's never too early, or too late to inquire about your bespoke private yacht charter.
You make the memories. We make the arrangements.