Greek luxury yacht BLADE-6 is a 92.6-foot Sunseeker motor yacht. Fully equipped and refit in 2022, BLADE-6 is an outstanding yacht offering charters throughout the Greek Islands. With stabilizers at anchor and underway, a range of water toys to enjoy.
In addition to a modern, understated interior, you'll feel like royalty aboard this beautiful boat. Surrounded by beautiful views and warm breezes, imagining a more relaxing vacation is hard. In prime, like-new condition, she is ready to show you what it's like to experience a private yacht charter in the Mediterranean.
The Yacht BLADE-6
There are spaces for relaxing, sunbathing, and socializing with your friends and family on deck. Dine alfresco or enjoy a refreshing drink while watching the sunset. Stay connected with a 4G Wi-Fi network throughout the yacht. There's also an extensive music and DVD library in the salon and the cabins for your entertainment.
Accommodations
Make yourself comfortable in one of four luxurious staterooms. Up to eight guests can choose from a master suite, a VIP double cabin, and two twin staterooms. All staterooms have private ensuite bathrooms as well as showers and air-conditioning. Contemporary decor features rich woods, complemented by comfortable seating and luxurious bedding.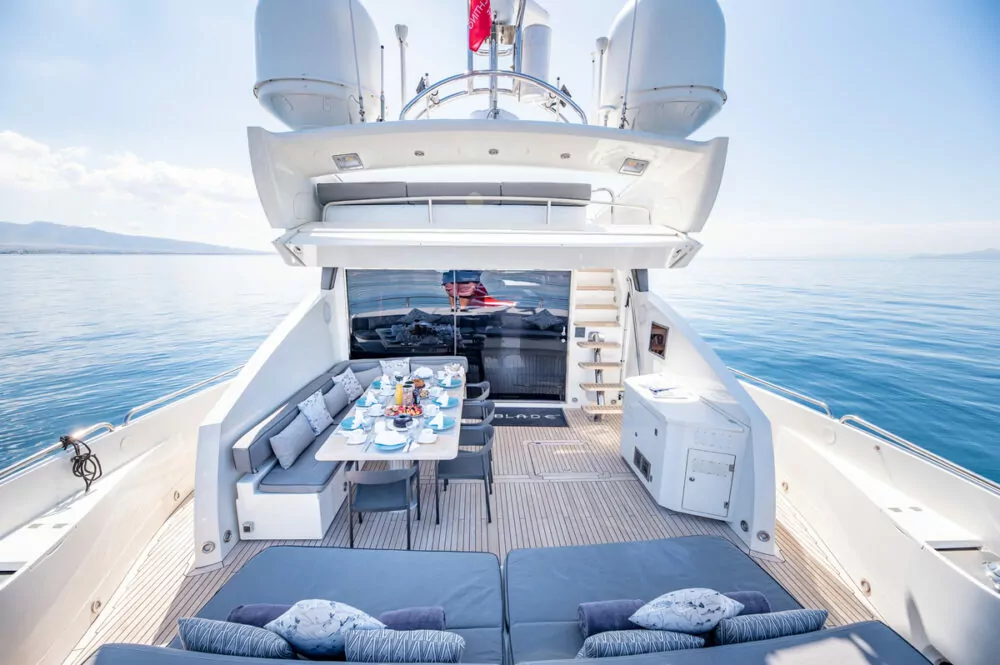 Greek Luxury Yacht BLADE-6 | Water Toys and Amenities
When you aren't exploring the towns and villages of the Greek Islands like Mykonos or Paros, make use of BLADE-6's fabulous assortment of water toys, including:
Tenders + ToysVIPER rib Tender 5,2m with an 80HP outboard engine
Water skis for adults and children
Four iAqua Sea dart Max+
1 x Kayak
Stand-up Paddleboards, (2)
Towable Banana
Inflatable Sofa
Towable Donut
Wakeboard
Snorkeling Equipment
Greek Luxury Yacht BLADE-6 | Crew
BLADE 6 has a professional, dedicated four-member crew. The captain and chef are highlighted below.
Captain Ioannis Bexix
Captain Ioannis Bexis boasts a remarkable 14-year tenure at sea. He is an alumnus of the Merchant Marine Academy of Aspropirgos. He also holds Ship Security, Firefighting, Lifesaving, and Medical care certifications.
His maritime career began as a Chief Officer in 2009, where he navigated yachts of up to 60 meters. In 2017, he ascended to the position of Captain, expertly handling yachts measuring up to 35 meters.
Ioannis is not only a seasoned mariner but also a proficient diver and a specialist in the art of fishing. With Captain Ioannis at the helm, you can trust that he and his crew are unwaveringly committed to ensuring you a safe and delightful voyage.
Chef Elissavet Mitilinaiou | Motor Yacht Blade 6
Her dedication to honing her skills has shaped Elissavet's culinary journey. She actively participated in seminars at Delta and OAED schools, delving into the art of Culinary Arts and the tourism industry. She has also accomplished Hotel Cycle and Silver Service courses through IAMI, expanding her expertise.
For the past three years, Elissavet has been an integral member CAN'T REMEMBER. Her culinary voyage began at the age of 17, working in a charming restaurant near the historic castle of Rethimno. Afterward, she embarked on a culinary odyssey, gracing the kitchens of various restaurants across Greece.
The Greek Islands
Cruise through the deep blue waters and visit quaint, unspoiled islands brimming with natural beauty. During the day, go to a sun-washed beach and enjoy a lively tavern in town at night. We will customize an itinerary for you and your group based on your interests and desires.
Here are just a few of the highlights to see in the Greek Islands:
Santorini
Santorini is a postcard-perfect destination known for its iconic white-washed buildings, dramatic cliffs, and stunning sunsets. Certainly, don't miss the charming villages of Oia and Fira and the unique beaches with black volcanic sands.
Mykonos
This cosmopolitan island is famous for its lively nightlife, beautiful beaches, and picturesque windmills. In addition to sightseeing, Mykonos Town offers shopping opportunities at many boutique shops.
Rhodes
Rhodes has a well-preserved medieval Old Town, a UNESCO World Heritage Site. Explore ancient ruins or visit the Palace of the Grand Master. You could also spend the day on the island's sandy beaches.
Corfu
With its lush green landscapes and Venetian-influenced architecture, Corfu is a captivating island in the Ionian Sea. Take your time and enjoy activities such as discovering the charming Old Town, relaxing on pristine beaches, and exploring the historic forts. You will also want to taste the local delicacies at one of Corfu's small taverns.
Naxos
This large and diverse island offers a mix of beautiful beaches, ancient ruins, and traditional villages. Hike to the summit of Mount Zeus for panoramic views.
Paros
Paros is famous for its charming villages, such as Naoussa and Parikia, as well as its excellent water sports opportunities and picturesque beaches like Golden Beach.
Zakynthos
Famous for the stunning Navagio Beach with its shipwreck and crystal-clear waters, Zakynthos is a haven for beach lovers and nature enthusiasts. While on Zakynthos, be certain to take a photo of the shipwreck.
Milos
Known for its unique lunar landscapes and hidden coves, Milos is a lesser-known gem in the Cyclades. Explore the colorful fishing villages and relax on pristine beaches like Sarakiniko.
Please call us today at 1 (321) 777-1707 or describe Your Vacation Vision to help you plan your fully-crewed private luxury yachting vacation! Inquire as soon as possible about your custom, crewed yacht charter.
You make the memories. We make the arrangements.