Paros
Paros is among the most popular islands of the Cyclades. Paros Island is located in the heart of the Aegean Sea and is ideal for young people, romantic couples, and families. The traditional Parian villages, particularly Naoussa, Parikia, and Lefkes, are perfect samples of Cycladic architecture. Iconic whitewashed sugar-cube houses, paved streets, and blue-domed churches make fantastic backdrops for unforgettable photos.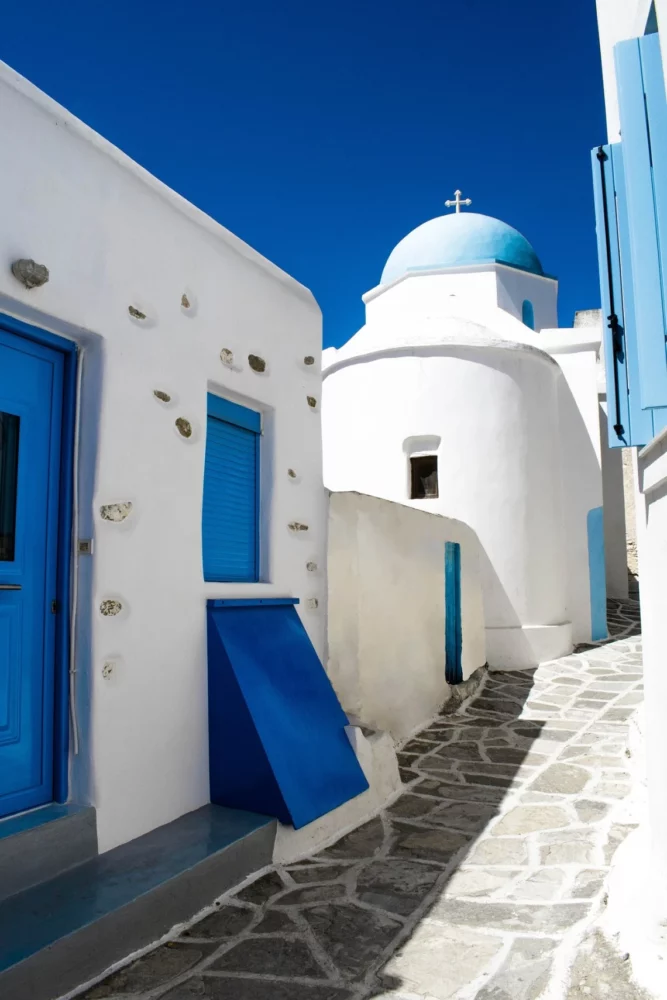 Historically, Paros was known for its beautiful white marble. This gave rise to the term "Parian" to describe marble or china of similar qualities. The island has many abandoned marble quarries and mines. Now it's a popular tourism destination.
Places to see in Paros
The small island of Antiparos, with brilliant white sandy beaches, a relaxing atmosphere, and Cycladic architecture. Since Antiparos is close to Paros, it's a nice day trip.
Parikia, the bayside capital, is a boating and transportation hub for the Cyclades region. This quaint city is also known as Paros City. Here you can find lots of labyrinth-like narrow alleys, the remains of an old Venetian castle, an Orthodox Church, cozy cafés, shops, and restaurants.
Panagia Ekatontapiliani, a landmark Byzantine church from the 4th century AD.
The north coast's Kolimbithres. At this beach, naturally sculpted rocks form swimming coves.
The villages of Paros. Parikia and Naoussa are the most visited villages. They are famous for their traditional atmosphere with sugar cube houses and small churches. The inland villages of Lefkes, Marpissa, and Prodromos are equally charming.
The Archaeological Museum of Paros. The museum has exhibits from the island's monuments, such as the Sanctuary of Asklepios, Pythios Apollonas, and Delion.
The marble quarries at Maráthi. The famous Parian marble was once extracted from these quarries. They were operated from the 3rd millennium BC to the 19th century. You can still visit the well-preserved mining galleries and the remains of 19th-century industrial buildings.
Things to do
Windsurf. The beaches on the southeastern side, such as Golden Beach and New Golden Beach, are famous for windsurfing and kitesurfing.
Dine.
Go to the beach. Golden Beach is one of the best beaches in Paros. Santa Maria Beach in Plastira Bay is a long coastline with two sandy beaches that offer a beautiful view of Naxos island. Visit New Golden Beach, one of the best locations in the Mediterranean, for water sports and windsurfing. It's within 22 kilometers of Parikia.
Scuba dive. Many dive shops offer courses for all levels. They also organize diving trips to islets of the Aegean Sea, reefs, and old wrecks.
Paros | Gastronomy
Parian cuisine is rich in fish, vegetables, salads, and legumes. Meat is secondary. The food is cooked in olive oil and accompanied by local wine. There's a great variety of cooking methods and imaginative combinations of ingredients.
Mushrooms are also a favorite. Mushrooms, considered the poor man's meat, are eaten fried or grilled and always drizzled with lemon.
Please call us today at 1 (321) 777-1707 or describe Your Vacation Vision to help you plan your fully-crewed private luxury yachting vacation! Inquire as soon as possible about your custom, crewed yacht charter.
You make the memories. We make the arrangements.