Although we spend the majority of our time on land, seventy-one percent of the earth is, in fact, water. Why limit yourself to solid ground when endless miles of oceans, lagoons, and underwater curiosities are waiting to be uncovered?
With the comfort, safety, and unmatched access of a private luxury yacht, you can head offshore and make your wildest sea dreams a reality. Remote islands, historic shipwrecks, and perfect wind conditions await all divers, kiteboarders, snorkelers, and adventurers. Where exactly? Please follow along as we share our top 5 water sports yacht charter destinations.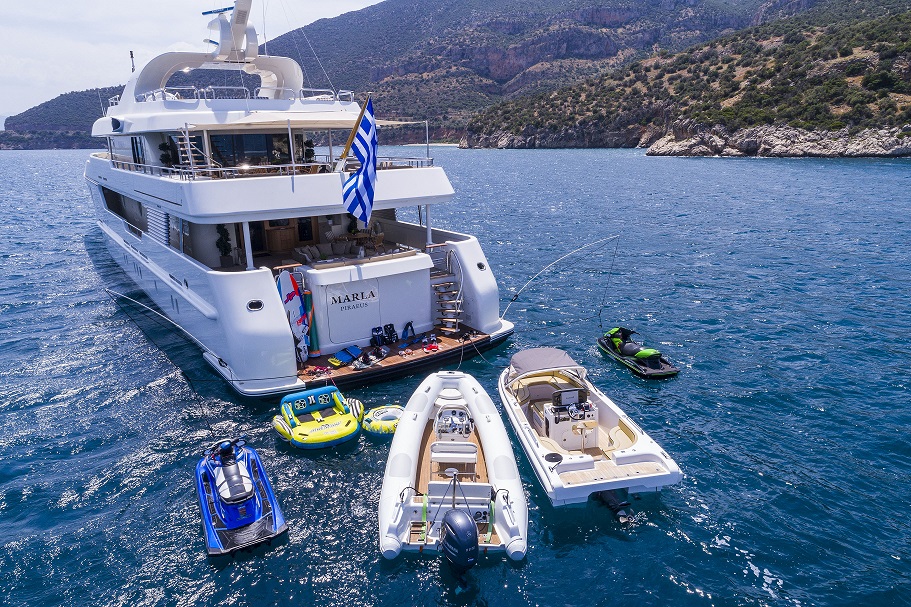 1. Bahamas
The Bahamas' turquoise waters and white sands make it one of the most stunning places in the Western Hemisphere and the world. Comprised of 16 major islands, over 700 small islands, and thousands of cays, the archipelago is perfect for water exploration.
The island of Andros, one of the greenest and wild, is perfect for anyone interested in swimming, snorkeling, and diving the reefs and mangroves. Andros also features incredible Blue Holes or underwater caves for adventure-seeking scuba divers.
With over 175 inland holes and 50 off the coast, there are countless places to view these natural wonders. If you're keener on fishing, Andros and the Biminis also have top-notch deep-sea fishing and more informal fly fishing activities.
Compass Cay in the Exumas chain of the Bahamas provides even more water activities, including swimming with the sharks. The Bimini islands, however, offer the chance to snorkel or dive into the SS Sapona Shipwreck of 1926. In addition, the Berry Islands are perfect for parasailing, sport fishing, and snorkeling with sea turtles. Jet skiing is also possible in approved locations.
Don't forget, the Bahamas are less than 50 miles off the Florida coast, easily reached from Miami and South Florida cities. For more inspiration, visit our Bahamas yacht charters.
2. Greece
Greece is one of the most ideal yacht charter destinations – for a good reason. You can't experience a few things while sailing the ancient archipelago. While it would be sufficient to sail Greece's diverse groups of islands, soaking in the culture, architecture, and food, there's even more fun.
The inviting island of Naxos is in a prime position for wind sports, with both kite and windsurfing spots in abundance across the island. Korfos beach, in famed Mykonos, joins Naxos as another Cyclades Island perfect for cruising the air-waves. Paros Island and its gorgeous beaches attract wind and kite surfing enthusiasts, featuring postcard views of its iconic blue-domed buildings.
Scuba divers will also love the Cyclades Islands, especially the shipwrecks and reefs around Mykonos. Leros, in the eastern Dodecanese Islands, also offers numerous WWII shipwrecks and reefs to explore without the crowds. Nearby Kos Island is another excellent scuba spot and a destination for windsurfing.
Standup paddleboarding and kayaking can be found throughout the island chains, as well as snorkeling, so everyone can enjoy their time on the water. Greece is bound to delight you, no matter what type of luxury yacht charter you want. Visit our Greece yacht charters to find out more.
3. Croatia
Every region of Croatia has something distinctly unique and alluring. Whether it be the historic vineyards of northern Croatia's Istrian Peninsula, or the medieval coastal cities like Dubrovnik, Croatia will captivate you.
In Central Croatia, water sports lovers will bask in the blue waters and ideal conditions for many sea activities. The Dalmatian coast, particularly the islands south of Split, offers an abundance of hidden coves and remote wrecks, only accessed by boat. On the island of Hvar, you can scuba by day and enjoy the wine and energy of the old town by night.
On Brac, try your hand windsurfing at the Golden Horn in Bol, the country's best windsurfing and kitesurfing destination. Next, head to wild Vis, where experienced divers can visit a WWII shipwreck off the former naval base.
The Southern Dalmatian Islands showcase even more of Croatia's allure. On the island of Mljet, kayak the saltwater lakes, or swim into the tunnel of Odysseus Cave. In the channel between the Pljesac Peninsula and the island of Korcula, you can also windsurf below cliffs blanketed by vineyards. While there, you can also partake in numerous fishing trips, from leisurely to extreme.
With 3,600+ miles of coastline, Croatia's water sports yacht charter possibilities range far beyond what's covered. Head to our Croatia yacht charters to plan your next trip.
4. Galápagos Islands
The UNESCO Galápagos Islands of Ecuador will transport you deep into a mysterious ecosystem far from what you've likely seen before. Avid scuba divers need not look further for your bucket-list yacht charter destination.
Offshore from Floreana Island, the Devil's Crown, a former underwater volcanic cone, is one of the locations bound to leave you speechless. Experienced scuba divers can witness formidable sharks lurking deep below the surface, while snorkelers can enjoy fish and sea life at the surface.
Other popular water sports include sea kayaking, notably around San Cristobal Island. With approved operator tours, you can see iguanas, exotic birds, sea lions, turtles, and more from your kayak's serenity.
You can also enjoy excellent surfing on San Cristobal Island or Santa Cruz Islands. Haven't surfed before? Don't worry; stand-up paddleboarding on Santa Cruz gives you the same views without the intensity and sore muscles. Find out more about Galápagos Islands water sports yacht charters here.
5. U.S. Virgin Islands
The U.S. Virgin Islands combine beautiful beaches with plenty of active water sports opportunities. St. Thomas and St. John have high-octane adventures like kiteboarding, windsurfing, wakeboarding, and surfing. Jet skies are also permitted in certain areas. The USVI is undoubtedly a top water sports yacht charter destination.
Perhaps most interestingly, the U.S. Virgin Islands have dozens of great scuba sites, ranging from beginner to advanced. Countless dive companies and related businesses offer all you need to learn, explore and make the most of your diving days.
More seasoned divers can head to St. Croix for dramatic wall diving at Salt River Canyon or Carval Rock. You're likely to run into an octopus, squid, nurse sharks, and fluorescent schools of fish.
Between St. John and St. Thomas, beginners will be impressed by Cow and Calf, an area of tunnels, canyons, and arches to explore. Eagle Shoals off of eastern St. John is another bright spot (literally) for beginners to find their sea legs.
Excellent snorkeling can also be found at St. Croix's Rainbow Beach, and kayaking is available near Christiansted. Stand-up paddleboarding is also available for those apt to test their balance. Last but not least, the USVI has numerous fishing trips and locations to bring home the big catch.
There's no denying the unparalleled access to a private luxury yacht. Don't delay your next epic experience. Contact us and start planning your water sports yacht charter today!
Please call us today at 1 (321) 777-1707 or describe Your Vacation Vision to help you plan your fully-crewed private luxury yachting vacation! Inquire as soon as possible about your custom, crewed yacht charter.
You make the memories. We make the arrangements.