Istria
Istria is a large green peninsula located at the head of the Adriatic, between the Gulf of Trieste and the Kvarner Gulf. Its chief city, the ancient port of Pula, sits on the peninsula's tip. You can sail up the sunny west coast to Istria's most popular seaside destinations, Rovinj and Porec.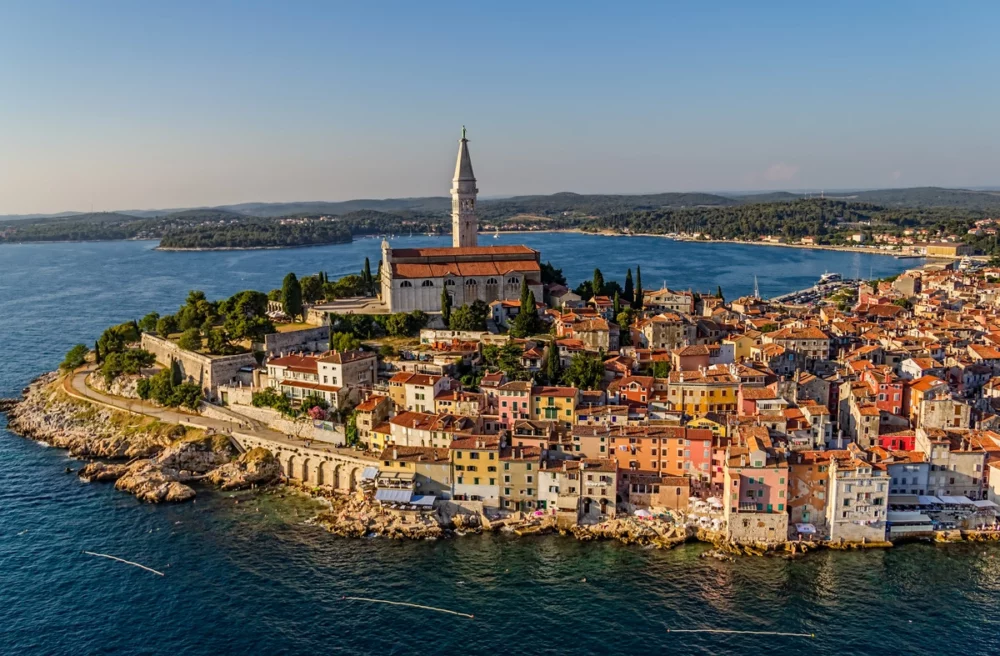 During your trip, explore Inland Istria, a rural region of medieval-walled hilltowns, fertile vineyards, and olive groves. In addition, be sure to sample Istria's gourmet specialty, truffles.
Why Istria for Your Yacht Charter?
Are you dreaming of a luxurious getaway this summer? Look no further than an Istria yacht charter! Located in the northern part of the Adriatic Sea, Istria is an ideal destination for a summer escape. From its crystal clear waters to its stunningly beautiful coastline, there are plenty of reasons why an Istria yacht charter should be your next summer vacation. Here are reasons to book an Istria yacht charter.
The Location
Istria is a peninsula located in the northern Adriatic Sea, off the coast of Croatia. It is the largest peninsula in the Adriatic, offering stunning views and a pristine coastline.
Istria is an excellent location for a luxury yacht charter because it's relatively close to many international airports and major cities like Venice, Trieste, and Milan. Moreover, Istria offers a variety of natural attractions such as forests, mountains, and beaches.
The coastal towns of Rovinj, Pula, and Porec are all popular stops for yacht charters in Istria. These towns have various marinas, shops, and restaurants.
Rovinj. Colorful houses crowd the seafront of this lovely fishing village. The steeple of St. Euphemia dominates the skyline (see the photo above). Lone Bay is a pebble beach in the south of the old town.
Pula. This seafront city on the tip of the Istrian Peninsula has a protected harbor, beach-lined coast, and Roman ruins.
Poreč. Resort town on the coast. The 6th-century Euphrasian Basilica complex in the historic old town is a must-see. The coastline offers numerous beaches for swimming and water sports.
The Climate
Istria enjoys a pleasant Mediterranean climate with warm summers and mild winters. It typically has more than 2,500 hours of sunshine each year, making it an ideal holiday destination all year round. In the summer months, temperatures reach an average of 80°F.
The Activities
If you are looking for an action-packed holiday, a yacht charter to the Istrian Peninsula is perfect. A few things to do include:
Scuba diving. Istria has fantastic diving spots. Scuba divers can explore underwater caves, shipwrecks, and other exciting sites.
If you're a fan of fishing, you'll be spoilt for choice in Istria as the area is abundant with fish such as bass, mackerel, sea bream, and tuna.
Cycling, hiking, birdwatching, and horse riding.
Explore the local culture; Istria is full of quaint little towns and villages where you can wander around cobbled streets and visit ancient churches.
The Food
Istria is a paradise for foodies. The region offers something for every palate with an abundance of seafood, locally sourced ingredients, and traditional recipes.
Fresh-caught fish and seafood dominate the menu, with dishes like calamari, scampi, sea bass, mussels, and more. There are delicious dishes featuring Istrian pršut (cured ham) and homemade sausages for meat lovers. Vegetarians can also find plenty of options here.
Nearby Italy has greatly influenced Istria's cuisine, so you can expect to find many kinds of pasta and pizzas. And don't forget the famous Istrian truffles – the world's finest!
Some local dishes you should try are Fuzi (Istrian ravioli), Jota (a traditional bean and sauerkraut stew), and Fuži s tartufima (homemade noodles with truffles). Of course, no meal in Istria would be complete without sampling the region's delicious wines. You'll find plenty of variety, from robust reds to crisp whites.
Istria | Things to do
Explore Rovinj. Head to the old town and walk the cobblestone streets, photograph the colorful houses, and browse one of the many art galleries.
Go truffle hunting. Istria offers many truffle hunting tours where you can walk through quiet forests and find these hidden delicacies.
Hit the beach. Porton Biondi Beach in Rovinj has a fantastic view of the old town.
Play tennis. Tennis is very popular in Istria. The region has more than 400 tennis courts available all year long.
Horseback ride.
Marinas
ACI Marina Rovinj. A luxury marina overlooks the old town of Rovinj. It has 196 wet berths for vessels of an average length of 17 meters.
Please call us today at 1 (321) 777-1707 or describe Your Vacation Vision to help you plan your fully-crewed private luxury yachting vacation! Inquire as soon as possible about your custom, crewed yacht charter.
You make the memories. We make the arrangements.