Rabac
Rabac is a cheerful seaside resort on Istria's east coast, overlooking Kvarner Bay. Moreover, it is twinned with the nearby medieval hilltop town of Labin. Rabac started as a simple fishing village, but nowadays, it is a modest tourist destination with big modern resort hotels. Several of these are all-inclusive and cater specifically to families with kids. The hotels and pebble beaches are connected to the old village by a boardwalk.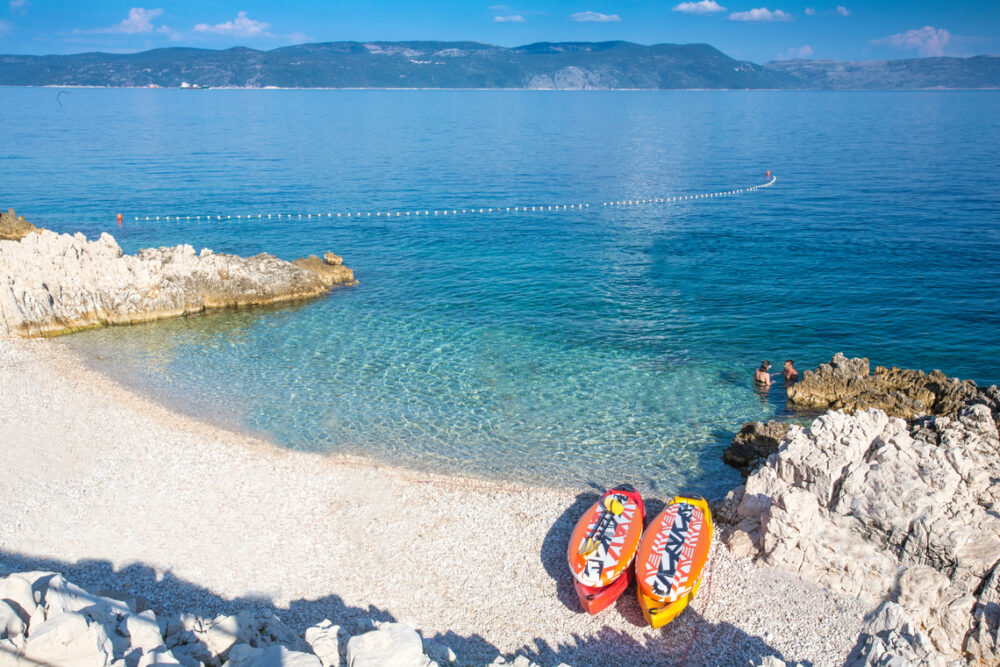 Climate
Rabac has a temperate climate with hot summers and some rainfall in all months although it rains more in the winter. The average sea temperature ranges between 61 °F in winter and 81 °F in summer. May, June, September, and October are most likely to have good weather with average temperatures between 68°F and 79°F.
Rabac & Labin – Things to See and Do
Hike up to Labin, following the lovely two-mile Sentona Trail.
Wander through Labin's medieval cobbled alleys, and see the Venetian-era loggia, the ruined fortress, and the old church.
Go horseback riding.
Join a sea kayaking tour with Rabac-based Four Elements.
Go scuba diving with Girandella Diving.
Visit Dubrova Sculpture Park, near Labin, to see over 70 works in stone.
Dine on local specialties such as seafood, truffles, and homemade pasta at Nostromo in Rabac.
Shop for handmade local pottery at Merania.
Tour a coal mine at Narodni muzej. The town of Labin was built on top of a coal mine. This small museum includes a tour of a reconstructed mine.
Gastronomy
Discover the unique flavors of the Labin area at any time of year with authentic dishes prepared according to time-honored recipes. Fresh vegetables such as wild asparagus and mushrooms, shrimp and seafood directly from the Kvarner Bay, truffles from Čepić fields, and many other native dishes can be found here.
Of course, you must sample the local cheeses, olive oil, and wine!
Marinas and Anchorages
Rabac harbor provides anchorages and berths in the port.
Please contact us at 1 (321) 777-1707 or complete our contact form to start planning your yacht charter vacation! It's never too early, or too late to inquire about your bespoke private yacht charter.
You make the memories. We make the arrangements.