Kea | An Idyllic Greek Island
Just an hour from Athens, the island of Kea is an idyllic slice of genuine Greece. Discover rugged terrain and beaches, daytime cafes, and nighttime bars. Its proximity to Athens has made it a popular Cycladic island for weekend trips for Athenians. Many Athenians own homes on this island exclusively for weekend trips during the summer.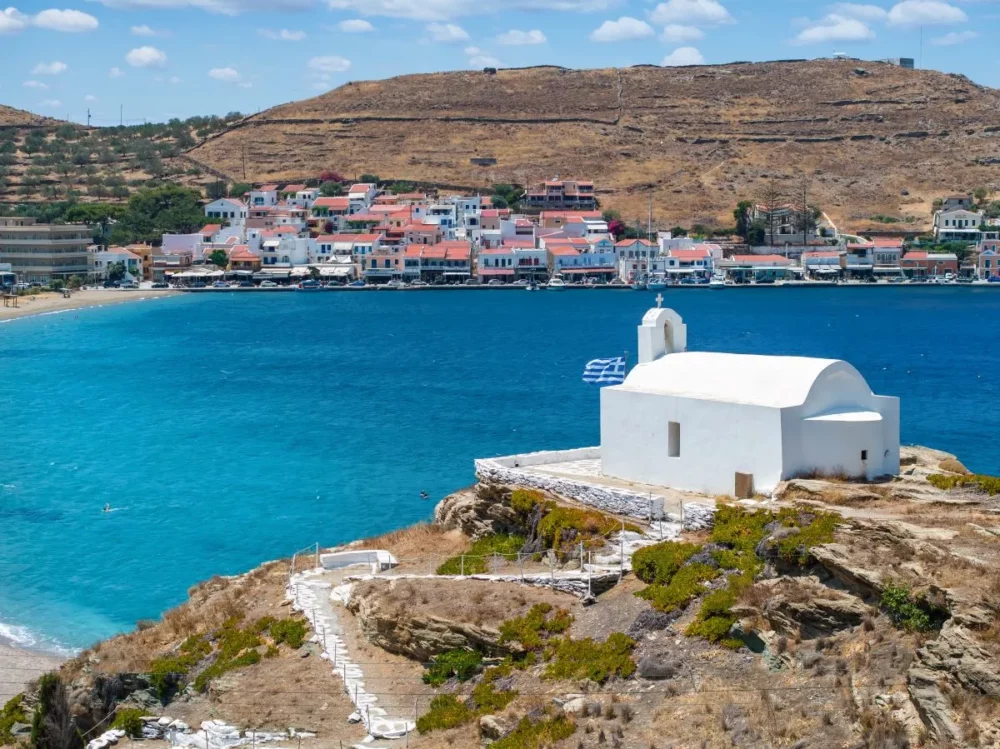 Places to see on Kea
The Caves. The two most significant caves of Kea are Trypospilies in Kalamos and the cave of Saint Timotheus in Aghios Panteleimon. It is said that Saint Timothy once lived as a recluse in the cave.
Royal Oak Forest. This forest is a unique phenomenon for the Cyclades' dry climate. In fact, it is the largest oak forest in the Cyclades.
Ancient Karthea. This important archeological site is on the southeastern side of Kea.
Stone Lion of Kea. This statue represents a mythical lion that almost destroyed the island. It is remarkable not only for its relatively good condition but also for its cheerful smile.
The Settlement of Agia Irini. One of the most important ancient cultural centers. Excavations have revealed many art objects like potters, clay ovens, and jars.
The 18th-century Monastery of Panagia Kastriani. The monastery is dedicated to the patron saint of Kea. This most important religious monument sits on top of an imposing hill.
Watermills and Windmills. Prior to World War II, Kea was home to nearly 30 windmills. Today, however, only a few remain. Be sure to visit The Stone Windmill in Pisses.
Things to do on Kea
Shop for unique souvenirs such as locally-crafted carved woods and handmade pottery.
Birdwatch. The Royal Oak Forest of Kea is home to thousands of migratory and native birds.
Hike. The island has an extensive network of well-marked hiking trails.
Off-Road. Rent a jeep and follow the dirt roads to explore this mysterious island.
Scuba dive. The coastline of Kea and the strait between Kea and Makronissos have many good dive sites and shipwrecks to explore. A dive center at Koundouraki Beach has scheduled snorkeling and dive trips.
Beaches on Kea
Kea has beautiful beaches, each offering its unique experience. Here's a list of some of the noteworthy beaches on Kea and what they have to offer:
Gialiskari Beach
Gialiskari is a sandy beach with crystal-clear waters. It's a popular spot for swimming and snorkeling. The beach has a taverna where you can enjoy fresh seafood and Greek cuisine.
Koundouros Beach
This beach has calm, shallow waters, making it family-friendly. There are a few beach bars offering refreshments and sunbeds for rent. It's also a great place for water sports, such as windsurfing and paddleboarding.
Spathi Beach
One of the most beautiful beaches on Kea, Spathi is a secluded, pebble-strewn bay with clear blue waters. It's perfect for those seeking tranquility and natural beauty. Be sure to bring your own supplies as there are no facilities on this remote beach.
Xyla Beach
Located on the northeastern coast, Xyla is a long, sandy beach with calm waters suitable for swimming and relaxation. There's a beach bar providing snacks and refreshments.
Otzias Beach
A family-friendly beach with shallow waters, Otzias is in a picturesque bay. It offers sunbeds and umbrellas for rent, making it convenient for a full day at the beach. A couple of tavernas along the shore serve delicious Greek dishes.
Korissia Beach
Korissia is a convenient option for those arriving by yacht. It's a sandy beach with shallow waters and various facilities, including restaurants, cafes, and shops.
Koundouraki Beach
Accessible by boat or by taking a short hike, Koundouraki is a private cove with pristine waters and natural beauty. It's an excellent choice for nature lovers and adventurers.
Kakia Thalassa Beach
This remote beach has a wild and rugged landscape. It's an ideal place for those seeking solitude and a pristine natural environment.
Liparo Beach
Located near Pisses Beach, Liparo is a small, secluded cove with pebbles and clear waters. It's an excellent spot for snorkeling and exploring underwater life.
Kea | Climate
Kea has a comfortable climate that is usually mild and dry. Summer, just like in most Greek islands, is warm and sunny. Temperatures range from 25º C to 30º C.
Kea | Gastronomy
You'll find many local delicacies at tavernas and restaurants. Try traditional dishes like Paspala, a pork dish, sausages, delightful cheeses, wine, and delicious sweets made of honey. Other dishes include Loza, a typical mezze of the Cyclades with corned pork. Since olive trees are plentiful on the island, you'll find that many dishes include olives and olive oil.
Also, try Ksino and Kopanisti, local types of cheese with distinctive flavors. Or, taste Tsigara, a traditional dish based on pork with fat. For dessert, order tsigaropita, the original pie of Kea made with tsigara, eggs, milk, anise, and sesame.
Please call us today at 1 (321) 777-1707 or describe Your Vacation Vision to help you plan your fully-crewed private luxury yachting vacation! Inquire as soon as possible about your custom, crewed yacht charter.
You make the memories. We make the arrangements.