The Cyclades epitomize the beauty of the Greek islands – rocky outcrops with whitewashed villages, sandy beaches, and endless blue seascapes. But with some 220 islands and islets, they cover an area too vast to explore all in one go. So for Greek yacht charter vacations, they're often divided into North Cyclades and South Cyclades. Now let's explore by sailing the North Cyclades islands of Greece.
Most people planning a one-week trip around the North Cyclades want to include cosmopolitan Mykonos with its glamorous nightlife. But there's plenty more to do and see here. We set sail from Athens for a Greek yacht charter vacation, with scuba diving, hiking, castles, caves, and gourmet dining. This itinerary can be combined with Sailing the South Cyclades, connecting at Paros.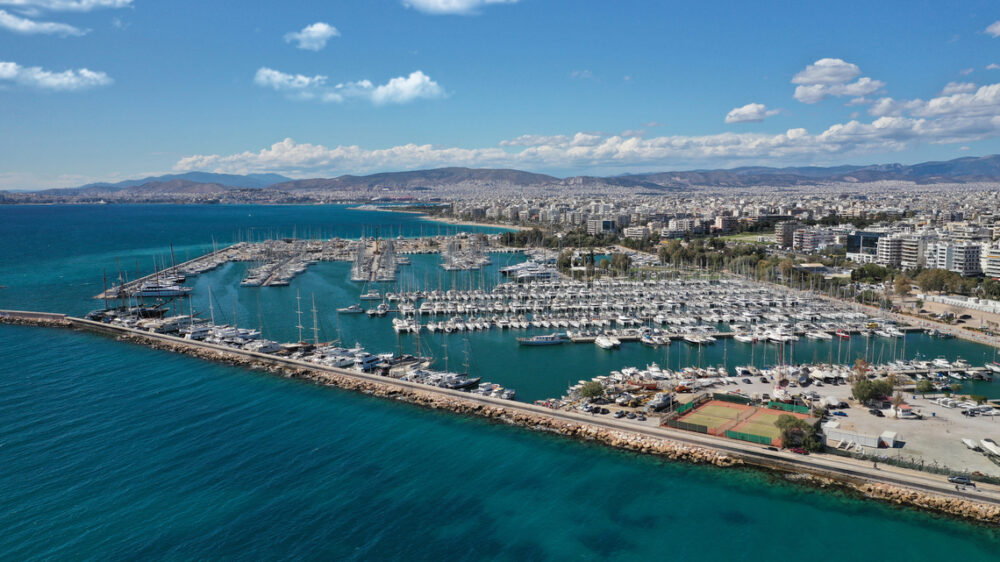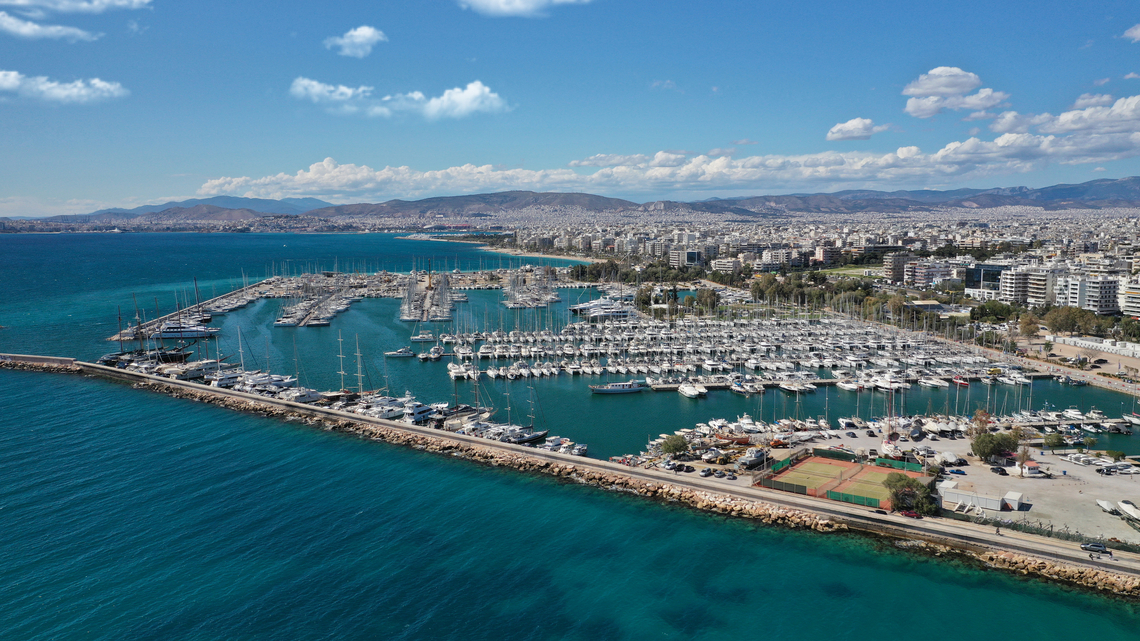 Cape Sounio
We set sail late afternoon from Alimos marina, on the Athens coast, and headed to Sounio. Here, we dropped anchor below the 5th-century BC Temple of Poseidon. It was built in honor of the god of the sea and looks stunning, floodlit after dark. Over dinner at a waterside taverna, we raised our glasses to Poseidon. Certainly, it seemed a fitting way to begin our Greek sailing adventure.
Kea
The next morning we sailed to Kea and moored up in the fishing village of Vourkari. Sitting in the wide sheltered bay of Agios Nikolaos, in medieval times it was a pirate lair. As experienced divers, we'd planned a scuba diving trip with Kea Divers to investigate the HMS Britannica at 120 meters. She sank in 1916 and lies largely intact – in fact, she was a sister ship to the Titanic. After a fascinating dive, we feasted at Aristos on their renowned lobster pasta.
Mykonos and Delos
Of course, everyone raves about Mykonos and its hedonistic nightlife. And that's where we were heading. But trendy Mykonos Town gets very crowded in summer. So we put down anchor in Mykonos' most sheltered bay, Ornos, then took a taxi into town. A warren of whitewashed cubic buildings and cobbled alleys, it's packed with chic bars, restaurants, and boutiques. And lots of glamorous sun-tanned party people from around the globe. Inevitably, we ended up dancing at after-hours Cavo Paradiso – they have magical lighting and a superb sound system. As we watched the sunrise over the Aegean, we were proud to have partied from dusk to dawn, Mykonos-style.
Back to the boat, we slept until noon. Meanwhile, our skipper had already set sail. We awoke, cruising past the tiny islet of Delos, with its Unesco-listed temples and proud stone lions. The ancients believed Delos to be the birthplace of Apollo (god of the sun) and Artemis (goddess of the moon). As a result, it was regarded as sacred.
Paros
Subsequently, we arrived in Parikia on Paros in the early evening. It's a huddle of whitewashed Cycladic buildings, built below a centuries-old castle. The next morning, we visited the extraordinary Panagia Ekatontapiliani (Church of a Hundred Doors), dating back to the 4th-century.
Sifnos
Our next stop, Sifnos, is a raw and rugged gem, known for its authentic rustic cuisine. There's no mass tourism here, and most visitors arrive as we did, by sailing boat. Luckily it was calm, so we could drop anchor in Kastro, on the east coast. We walked up the steep winding road to Apollonia and bought traditional hand-painted ceramic dishes from Podotas pottery. For dinner, we ordered Sifnos' signature dish, revithada (chickpea soup) at an informal open-air taverna.
Kythnos
Our final full day saw us sail to Kythnos, another lesser-known island full of surprises. We moored up in Merihas and hiked up to Dryopida for syrupy homemade baklava and gritty Greek coffee. Then we visited the Katafyki Cave, beautifully lit and adorned with stalactites and stalagmites. Dinner was superb fresh grilled fish on the quayside at Ostria in Merihas, with live music. The next morning, we rose before sunrise, for an early departure back to Athens. We had truly wonderful memories to take home from sailing the North Cyclades Islands on our Greek yacht charter vacation.
See also Sailing the South Cyclades.
Please call us today at 1 (321) 777-1707 or describe Your Vacation Vision to help you plan your fully-crewed private luxury yachting vacation! Inquire as soon as possible about your custom, crewed yacht charter.
You make the memories. We make the arrangements.