Traditional whitewashed villages draped with bougainvillea, sandy beaches, and the glistening blue Aegean – this is the Cyclades. But some 220 islands and islets cover an area too vast to explore in one go. So, for Greek yacht charter vacations, choose between the North Cyclades and the South Cyclades. Sailing the South Cyclades of Greece provides insights into these islands.
For many visitors, Santorini, with clifftop Fira and Oia overlooking the caldera, is the highlight of sailing the South Cyclades. But there's plenty more to do and see on a one-week adventure. Here we depart from Paros for a Greek Yacht Charter Vacation, with wine tasting, hiking, churches, monasteries, and gourmet dining. You can also combine this itinerary with Sailing the North Cyclades, connecting at Paros.
Paros
Paros is the best starting point for a Greek yacht charter vacation in the south Cyclades. Well connected to Athens by plane and fast catamaran, it's a popular yacht charter base. We joined our yacht and skipper in Parikia on Paros in the afternoon and then sailed up to Naoussa. Dinner was a feast of divine seafood risotto and pasta dishes at the waterside restaurant, Mario.
Sailing the South Cyclades of Greece | Ano Koufonisi
The next morning, we sailed down the channel between Paros and Naxos. It's renowned for strong, gusty winds, but we were lucky to find just a gentle breeze carrying us south.
We moored up at Ano Koufonisi, one of the twin islets that make up Koufonisia (population 400). With a white sand sea bed, the water here is a stunning turquoise, ideal for bathing. We walked the entire perimeter of Koufonisi, stopping several times to swim, then had supper overlooking the fishing harbor.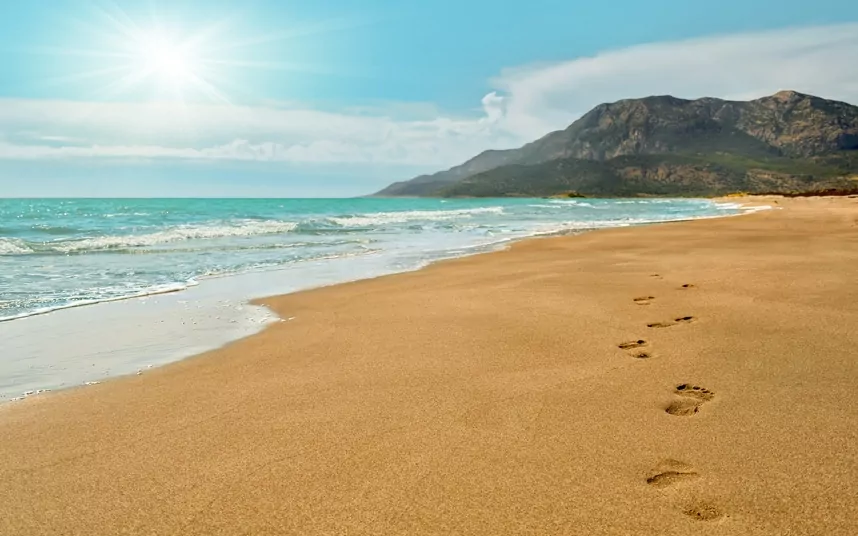 Amorgos
There are some Cycladic Islands I always love to return to, and Amorgos is one of them. It's just a short sail from Koufonisi to Katapola port on Amorgos. We followed a marked hiking path from the port to Chora, Amorgos' capital, with whitewashed houses and cobbled alleys.
Then, we continued on a second path to visit the cliffside monastery of Panagia Hozoviotissa. Afterward, we returned to Chora for dinner at Kastanis Taverna – stuffed zucchini, local cheeses, and hot, fragrant rakomelo. Amorgos' potent specialty is raki, warmed with cinnamon, cloves, and honey.
Sailing the South Cyclades of Greece | Santorini
We had an early start and a long voyage down to Santorini the next day. Sailing through the caldera, created by a volcanic explosion 3800 years ago, was a mighty impressive experience. The plummeting black cliffs, topped by the whitewashed towns of Fira and Oia, appear like something from a dream.
We moored up in the Vlychada marina and then took a taxi to Oia to watch the renowned sunset. After that, it was a gourmet dinner at 1800, where we also got to sample Santorini's Asyrtiko and Nykteri white wines.
Sailing the South Cyclades of Greece | Folegandros
The following afternoon, we arrived at Folegandros and moored up in Karavostasi port. Many people rave about Santorini, but I believe Folegandros' Chora is possibly the loveliest town in the Cyclades. Built upon the edge of a 200-meter cliff, it's a maze of whitewashed houses and stone-paved alleys.
It includes the 13th-century Venetian Kastro (castle), with medieval dwellings within its walls. From Chora, a footpath zig-zags up to the hillside church of Panagia, built on the site of an ancient temple. The views from here are truly spectacular. We closed the evening with supper at To Goupi, an informal ouzeri serving tasty appetizers in Chora.
Anti-Paros
At sunrise, we set sail for tiny Anti-Paros for our final night. We dined at Kalokeri, an open-air eatery several blocks from the port. The next morning, we disembarked at Parikia on Paros, from whence we had set sail on our Greek Yacht Charter Vacation.
See also Sailing the North Cyclades.
Please call us today at 1 (321) 777-1707 or describe Your Vacation Vision to help you plan your fully-crewed private luxury yachting vacation! Inquire as soon as possible about your custom, crewed yacht charter.
You make the memories. We make the arrangements.