Folegandros
Folegandros Island, named after the son of King Minos, has only about 765 inhabitants and three villages. A paved road connects Chora, Karavostasis, and Ano Meria. You will immediately notice the endless series of white walls built over the centuries by locals to establish terraces on the sunny slopes.
Cruising to Folegandros or from the island, you will pass Sikinos before arriving at Ios.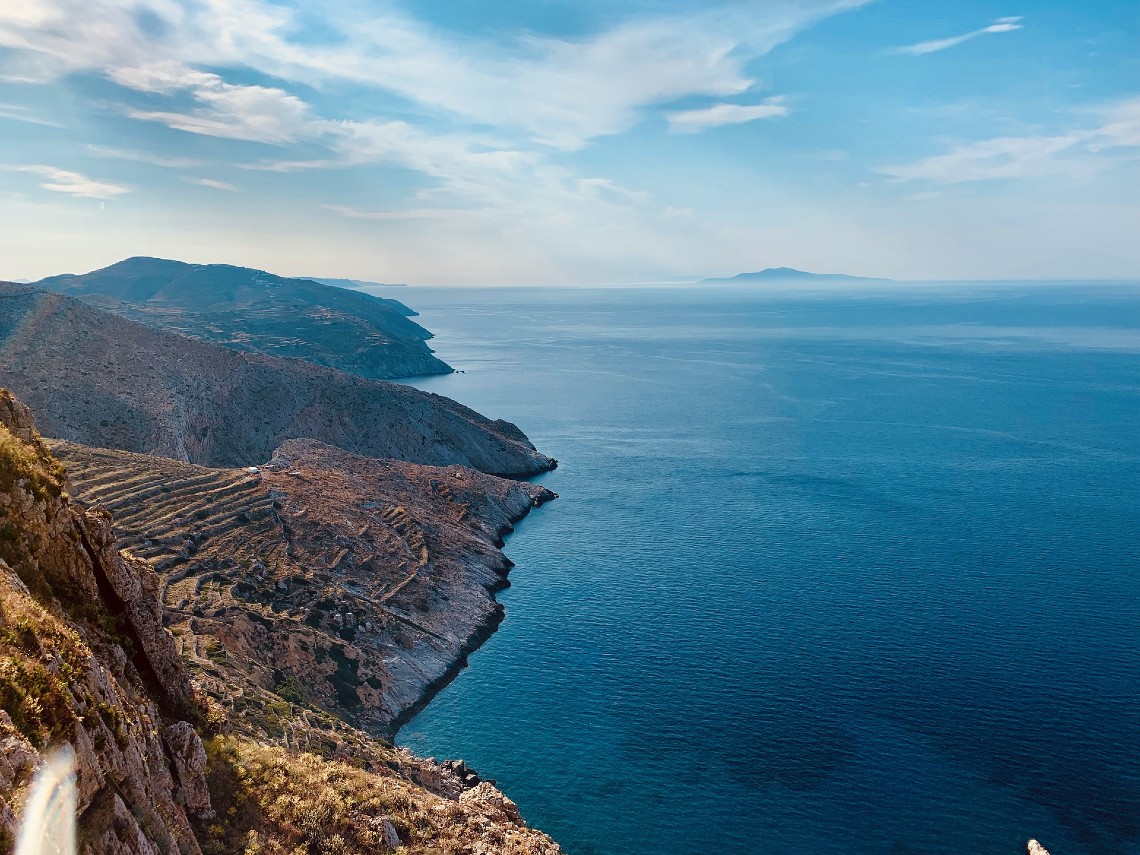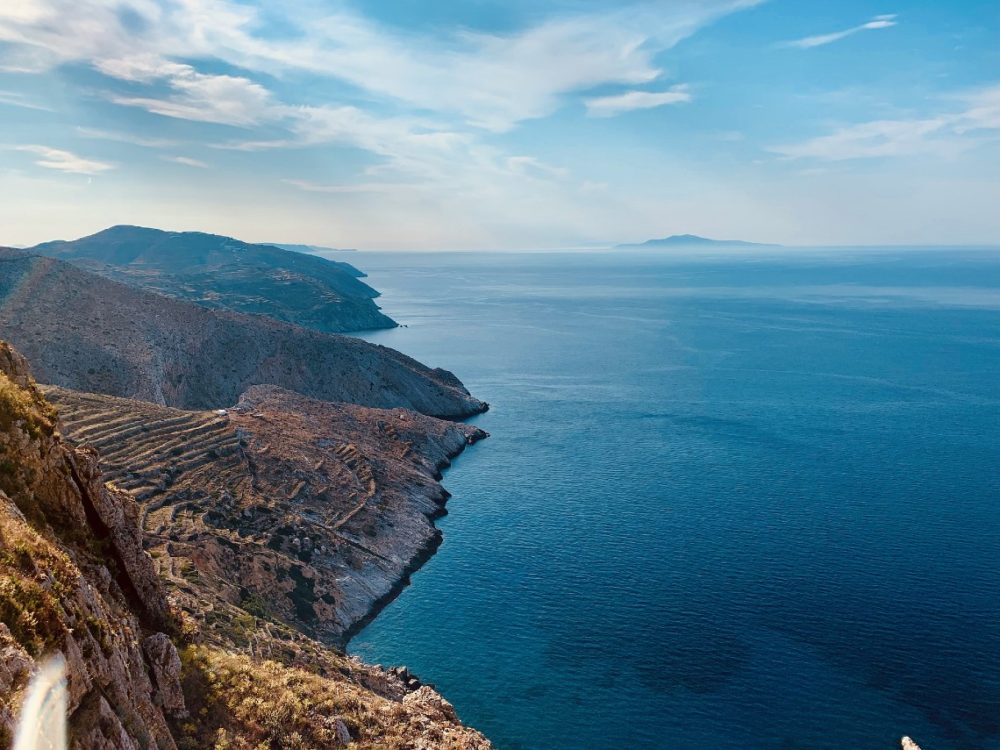 Places to see:
The impressive Kastro, the Venetian quarter, is the oldest spot in Chora, the island's capital.
Karavostasis, a harbor village. Here you will find good-quality bakeries and tavernas and small shops and restaurants.
Ano Mera is a picturesque village surrounded by lush green fields. This village has only about 350 inhabitants, proud to preserve their age-old traditions and heritage.
Ecological and Folk-Art Museum in Ano Mera.
Chrysospilia is a unique natural monument. However, what makes Chrysospilia a unique monument of world cultural heritage is the number of ancient names that cover its walls and ceiling. This 4th century BC graffiti belongs to teenagers who came here from all parts of Greece and left traces of their visit.
Panagia Church. This church, dedicated to the Assumption of the Virgin Mary, was constructed on the ruins of an ancient temple. Marble parts of this temple were used as a building material for the church.
Things to do in Folegandros:
Swim. Most beaches on Folegandros are calm and uncrowded. Swimming is a favorite pastime on this island.
Scuba dive. The cave of Georgitsis, the reefs of Agios Ioannis and Serfiotiko, and the ocean floor of Agios Georgios, Livadi, and Vorina are favorite dive sites. There is a dive center in Chora.
Hike. One popular route starts around the area of Kastro in Chora, passes by the chapel of Pantanassa, the chapel of Agios Savvas, and continues to the churches of Stavros and Christos. From there, the path descends to the bay of Fira and Agali.
Go to one of Folegandros' Beaches. Katergo, Agali, clothing-optional Agios Nikolaos, Livadi, family-friendly Karavostasis beach, and Agios Georgios beach. Although many beaches are difficult to reach, it's worth the effort once you reach the sand.
Climate:
The island has a Mediterranean climate. The summers are warm and dry, and the temperature is cold in the winter. The average annual temperature for Folegandros is 21° C, with about 297 mm of rain in a year.
Folegandros Gastronomy Experience:
Seaside taverns serve fish dishes that include oysters, mussels, octopuses, and squids. Moreover, you can buy fish and ask the restaurant's chef to cook it.
Try local foods such as souroto (white goat cheese), rakomelo (raki with honey), kalasouna (souroto cheese pie with onions), and matsata (homemade pasta with rabbit or rooster). You'll find most restaurants, cozy cafes, and taverns in Chora. Check out local favorites such as Chrysospēliá, Zefiros Anemos, and To Goupi.
Our friendly and reliable reservations team at CKIM Group can customize crewed yacht charter for you and your loved ones. Contact us today!
Please contact us at 1 (321) 777-1707 or complete our contact form to start planning your yacht charter vacation! It's never too early, or too late to inquire about your bespoke private yacht charter.
You make the memories. We make the arrangements.