Action-Packed Holiday | Rhodes to Rhodes Itinerary
Stunning islands, beautiful beaches, and balmy nights await you on your Rhodes to Rhodes Itinerary. Your Captain will coordinate the final route, tailor-made to your preferences and the weather conditions at the time you travel.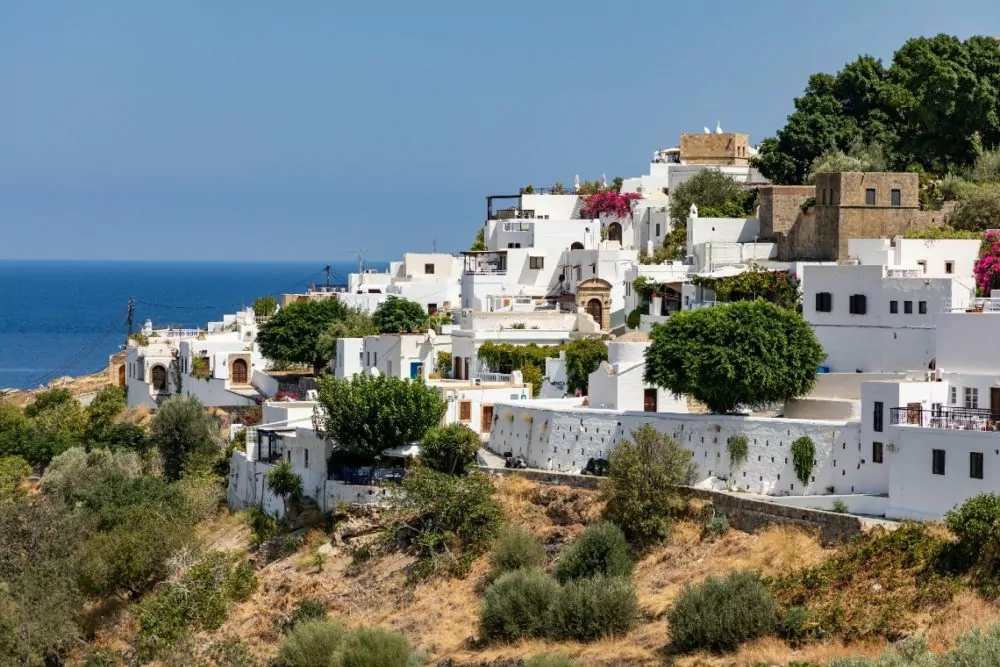 Before You Start Your Rhodes to Rhodes Itinerary
A journey from Rhodes to Rhodes will fill you with rich history, stunning landscapes, and Greek warm-heartedness. Before setting off on your island-hopping itinerary, there are a few things to consider for a smooth and enjoyable trip.
Understanding the Weather
The islands, including Rhodes, enjoy hot, dry summers and mild, rainy winters. The peak travel period is from June to September. During this time, the daily highs are around 90°F. That's perfect for beach activities in your Rhodes to Rhodes itinerary.
However, strong Meltemi winds can occasionally sweep across the Aegean during the summer. These winds can affect sea conditions, so staying updated with weather forecasts and travel advisories is wise.
Packing Essentials in Your Rhodes to Rhodes Itinerary
Here's a packing checklist to consider for your Rhodes to Rhodes itinerary:
Light and Breathable Clothing: Pack comfortable summer attire, including lightweight shirts, shorts, dresses, and swimsuits. Also, don't forget a sun hat and sunglasses for sun protection.
Sturdy Footwear: Comfortable walking shoes are a must, especially if you plan to explore historic sites or hike. A pair of sandals or flip-flops for the beach is also essential.
Sunscreen and Skincare: The sun can be intense. So, you need to pack sunscreen, lip balm with SPF, and after-sun lotion to protect your skin.
Travel Adapters and Electronics: Bring power adapters and chargers for your devices. Also, bring a power bank for on-the-go charging.
Travel Documents: Above all, don't forget your passport, visa (if required), travel insurance documents, and a printed copy of your itinerary.
Swim Gear: Many of the islands offer fantastic snorkeling opportunities. So, pack snorkeling gear if you enjoy underwater exploration.
Light Rain Gear: While rain is infrequent in the summer, bringing a compact rain jacket or umbrella is a good idea.
Cash and Cards: Have a mix of cash (Euros) and credit/debit cards for convenience during your travel. ATM machines are widely available.
Medications: Bring any necessary prescription medications.
Day 1 | Begin Rhodes to Rhodes Itinerary
Welcome to Rhodes, Greece, the capital of the Dodecanese. This island is ideal for those who want to relax and also those looking for an action-packed holiday. With its bright green hills, rich green valleys, and a stretch of golden beaches, Rhodes is truly an extraordinary place.
Before boarding your yacht to begin your Rhodes to Rhodes itinerary, spend some time exploring this exciting city. Visit the Archaeological Museum of Rhodes. Rent a car and visit the historic village of Lindos with its sandy beaches, or explore the Old Town of Rhodes. You may also want to explore the area by taking a hop-on hop-off bus.
Sights to See in Rhodes
The Acropolis of Lindos is an awe-inspiring sight, which stands 116 meters above sea level. Its grandeur and majestic fortress walls provide a breathtaking backdrop to the town below.
The Palace of the Grand Master of the Knights of Rhodes also built a medieval castle in the town.
The Street of the Knights is also one of the most popular destinations in Rhodes. The ancient cobblestone street takes visitors back to medieval times. It is one of the best-preserved medieval streets in Europe.
Along the street, you will find seven inns. They represent the seven countries from which the Knights of the Order of St. John. They came from England, Germany, Italy, France, Aragon, Provence, and Auvergne were the countries.
Anthony Quinn Bay
A must-see attraction is Anthony Quinn Bay, which is on the eastern side of the island. The cove is world famous for its warm clean waters and unique landscape. Locals named it after the famous Mexican actor. Anthony Quinn came to Greece in the 1960s to film the movie "The Guns of Navarone."
A spectacular sight is the diminutive St. Paul's Bay. Rocks enclose the Lindos beach almost entirely, with just the smallest of gaps for boats to come in and out of.
Tsambika Beach is another crowd-drawer on the island. It lies on the eastern coast just 26km from Rhodes town. The beach got its name from a small monastery called the Virgin of Tsambika. The monastery lies 340 meters up a hill.
You will also not want to miss enjoying the warm waters of Elli Beach. It is the closest beach to Rhodes town located between the area of Mandraki and Rhodes aquarium. It is one of the most popular beaches in the region. Famed British novelist Lawrence Durell even described it as the most beautiful beach in the Mediterranean.
Rhodes highlights:
Rhodes Old Town
Mandraki
Lindos
Beaches
Castles
Kamiros
Valley of the Butterflies
Kallithea Springs
Tsambika Monastery
Seven Springs/Epta Piges
Museum of Rhodes
Day 2 | Tilos (37nm)
Have breakfast on board as you arrive in secluded Tilos as part of your Rhodes to Rhodes itinerary. Tilos is still untouched by mass tourism and has a beautiful, unspoiled charm.
Start your trip to Rhodes by exploring the villages in the island port of Livadia and Mikro Chorio. The latter is an abandoned, mysterious town.
After exploring the villages, head to the beach. The beaches are secluded and private.
Tilos highlights:
The entire island is an ecological park.
Four hundred species of flowers and herbs germinate here.
You'll find here numerous species of rare birds (Bonelli's eagle, hawks, nightingales, goldfinches, herons, bee-eaters, and more.
Tilos is the last known home of the dwarf elephants, extinct for 4,000 years.
The island is famous for its cuisine, especially the famed goat meat baked in oven with potatoes.
Day 3 | Astypalaia (45nm)
Day three of your Rhodes to Rhodes itinerary takes you to this butterfly-shaped island. Certainly, a must-visit during your stay in Rhodes is the capital of Chora. Moreover, this is one of the most picturesque Aegean towns. There, you may enjoy activities such as:
Highlights:
Swimming at the beaches such as Agios Konstantinos, Vatses, Plakes, Kaminakia, Agios Giannis, Panormos, Pachia Ammos, Pera Gialos, and Livadia
Climbing to "Ftera" terrain that involves 20 climbing routes
Mountaineering
Mountain biking
Hiking
Spearfishing
Scuba diving
Taste local foods such as tangerines and honey. You may also want to try pougia (cheesepie with honey). Or arantista (lentils cooked with shredded dough), goat stuffed with rice, and fresh fish.
Day 4 | Santorini (38nm)
Beautiful Santorini welcomes you on day four of your Rhodes to Rhodes itinerary. Expect crowds here when you visit on a day trip. However, your Captain can find the least populated areas for you.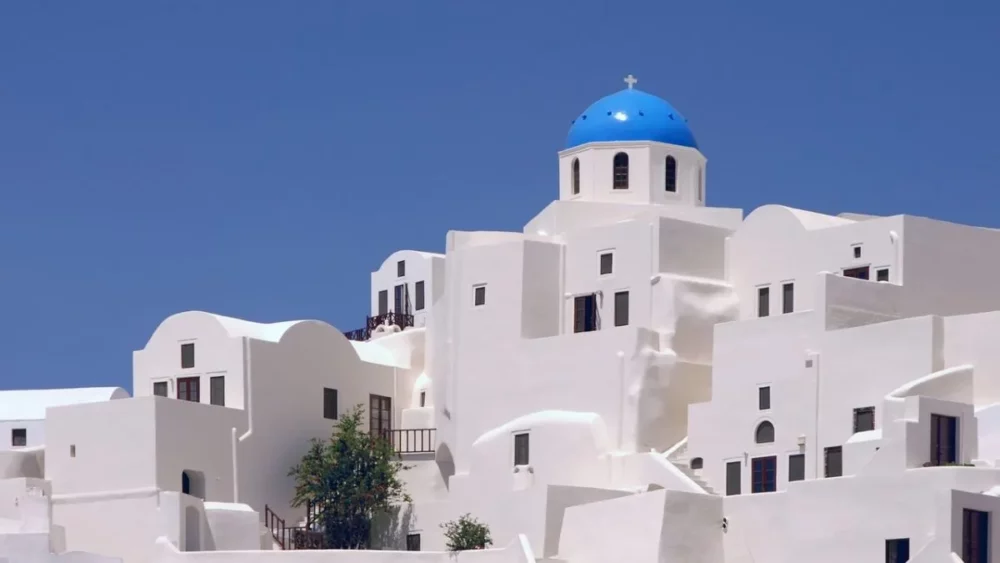 Santorini highlights:
Wine tour
Sunsets or volcano cruise at Oia
Hiking from Fira to Oia
Swimming at some of the best beaches, such as Amoudi Bay, White Beach, and Mesa Pigadia Beach
Visiting the prehistoric ruins of Akrotiri
Exploring the vibrant nightlife
Shopping in Fira
Taking a Greek cooking class and wine tour
Day 5 | Folegandros (30nm)
Remote Folegandros has a ruggedly wild coastline with sugar-cube white houses perched on the cliffside. Endless white beaches are perfect for a day of relaxation—one of the highlights of your Rhodes to Rhodes Itinerary.
Try homemade dishes and local delicacies. For example, try "matsáta" (handmade noodles with rooster or rabbit) or sourotó (white goat cheese). You may also want to sample "rakómelo" (raki with honey), the famous spirit of the island.
You may also want to walk along the coast or visit one (or more) of the following places:
Folegandros highlights:
Ano Meria settlement
Folk Museum of the village
Chrysospillia (aka Golden Cave) set on a steep high rock
Beaches such as Hohlídia, Vitzetzo, Latinaki, Pountáki and Livadi.
Day 6 | Milos (27nm)
Today, you'll arrive at Milos, a volcanic island filled with colorful landscapes and unusual rock formations. Particularly worth noting is the fact that archeologists discovered the famous Venus de Milo (now in the Louvre) in the area. There are more than 70 fabulous beaches on the island and its offshore islets. You may also want to have a beach day or choose from various activities in your Rhodes to Rhodes itinerary.
Milos highlights:
Go kayaking.
Take a half-day walk and see the island's geology and volcanic origin.
Visit the Milos Mining Museum
See one of the many fantastic beaches.
Day 7 | Polyaigos / Kimolos (25nm)
Arrive in Polyaigos/Kimolos. These islands are close to one another, so you and your Captain can choose where to spend the day. Polýaigos, part of the community of Kimolos, would be a quieter option. Moreover, Kimolos offers a lot of sightseeing options in your itinerary.
Kimolos' silvery-grey rocks stand in beautiful contrast to the azure sea surrounding this lovely island. Chorio is the island's main town. Remarkably, the typical Greek island whitewash, domed roofs, and bright blue doors adorn Chorio's homes.
Polyaigos and Kimolos places to see and things to do:
Churches: There are over 80 small churches in Chorio to explore.
The Museum: It showcases the history of Kimolos.
Folk and Maritime Museum: It has a wide array of cultural artifacts related to the heritage and history of Kimolos.
The port town of Psathi: It has a tiny beach to the right of the port.
Goupa near Psathi: It is a small fishing port on the coast below Chorio. While there, you'll find excellent fishing and snorkeling spots.
Day 8 | Ios (33nm)
The stunning island of Ios is another part of your Rhodes to Rhodes itinerary. During Day 8 of your journey, you'll discover idyllic beaches, vibrant bars, exquisite dining options, and breathtaking coastal landscapes.
Ios highlights:
Take a ride on an ATV to explore the area.
Visit Homer's Tomb.
Hike one of 10 trails that crisscross the island.
Meet people from other countries on a bar crawl. The island has six bars, and this tour takes you to them.
Visit the beach. Some of the most stunning beaches are on Ios. Certainly worth visiting is Mylopotas Beach. This famous beach in Ios regularly ranks in polls as one of the "Top 10 Beaches in Europe."
Day 9 | Amorgos (35nm)
The island has clear blue waters, mysterious caves, scenic landscapes, and secluded beaches. Amorgos is a true gem of the Cyclades in your Rhodes to Rhodes itinerary.
In particular, the Monastery of Hozoviotissa is a must-see. This whitewashed beauty rises 300 meters above the sea on a cliffside. It overlooks the Aegean Sea and offers breathtaking views to the east.
Amorgos highlights:
Agia Anna Beach
Kalotaritisas Bay
Village of Tholaria
Windmills
Youkali Amorgos Restaurant
Day 10 | Kos (50nm)
Prepare for an authentic experience of Greek tradition and local culture today as part of your Rhodes to Rhodes itinerary. For instance, Kos Island, the birthplace of Hippocrates, offers a blend of historical landmarks, sandy beaches, and natural wonders.
There's so much to see on Kos Island.
Kos highlights:
Tree of Hippocrates
Roman Odeon
Ancient Agora
Kos Museum
Mastihari Beach for fishing
Tiqaki Beach for swimming
Marmari Beach for surfing
Day 11 | Symi (45nm)
Your itinerary takes you today to mountainous Symi, a large yet uncrowded island. You can also visit settlements such as Gialos, the old village of Horio, and Pedi. In addition, the small beaches and lovely coves grace this island, and a monastery sits at Panormitis near the southern tip.
Symi highlights and activities:
Climbing the 500 steps to the village of Horio
Visiting the Museum
Visiting the Moni Taxiarhou Mihail Panormiti Monastery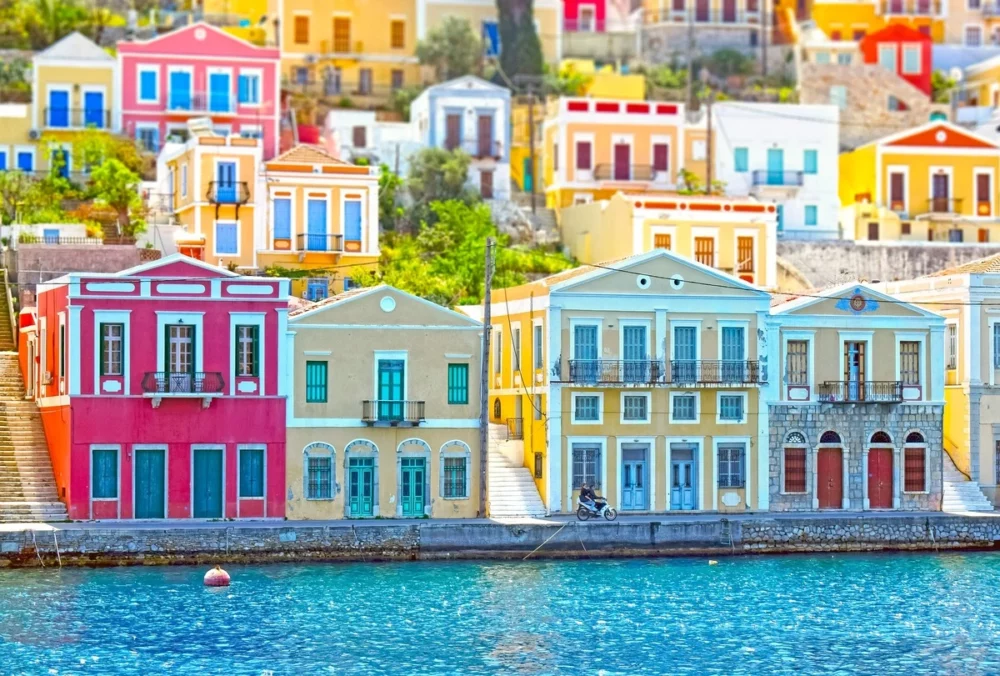 Day 12 | Rhodes (20 nm)
Arrive back in Rhodes to cap your Rhodes to Rhodes Itinerary.
Please call us today at 1 (321) 777-1707 or describe Your Vacation Vision to help you plan your fully-crewed private luxury yachting vacation! Inquire as soon as possible about your custom, crewed yacht charter.
You make the memories. We make the arrangements.