Rhodes to Rhodes Itinerary
Stunning islands, exquisite beaches, and balmy nights await you on a Rhodes to Rhodes Itinerary. Please note that this is only a sample. The final route will be coordinated with your Captain, tailor-made to your preferences and the weather conditions at the time you travel.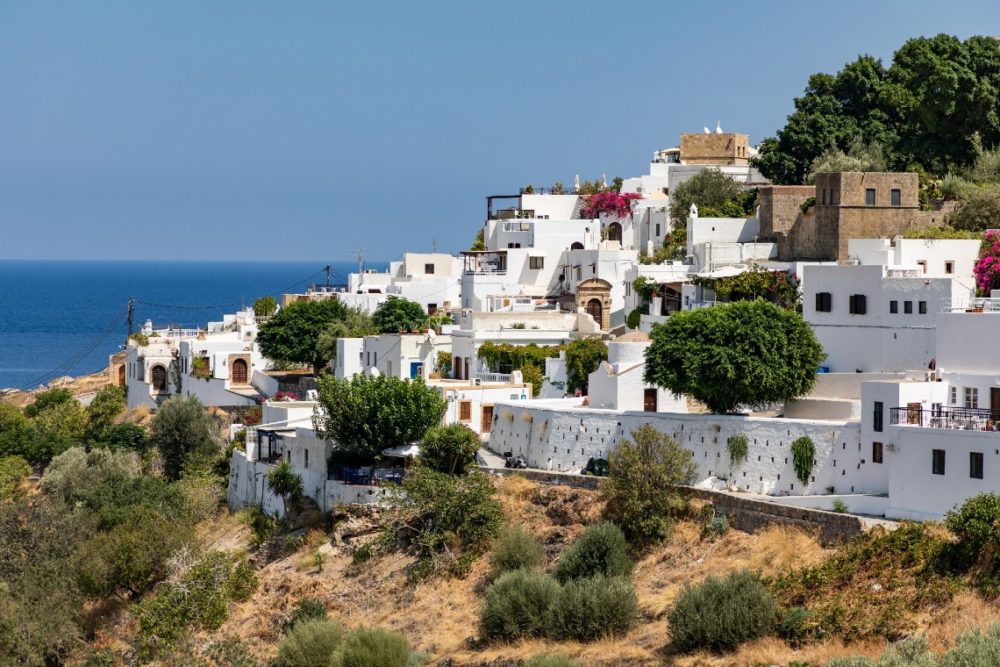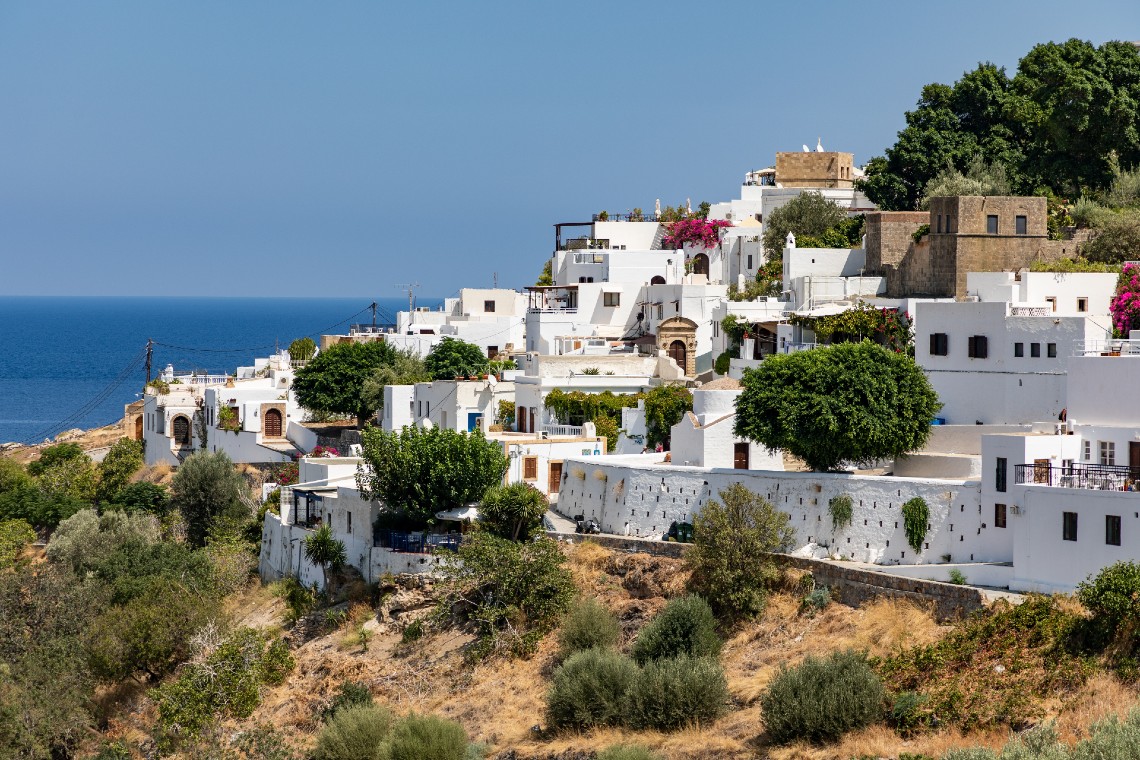 Day 1 | Begin Rhodes to Rhodes Itinerary
Welcome to Rhodes, the capital of the Dodecanese. This island is ideal for those who want to relax and those looking for an action-packed holiday. With its bright green hills, rich green valleys, and uninterrupted line of golden beaches, Rhodes is truly an extraordinary place.
Before boarding your yacht, spend some time exploring this exciting city. Visit the richly historic Village of Lindos with its sandy beaches or explore the Old Town of Rhodes.
Rhodes highlights:
The Medieval City of Rhodes
Mandraki
Lindos
Beaches
Castles
Kamiros
Valley of the Butterflies
Kallithea Springs
Tsambika Monastery
Seven Springs/Epta Piges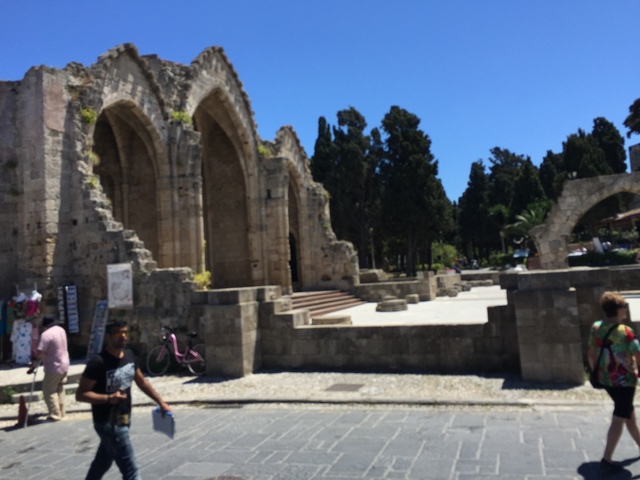 Day 2 | Tilos (37nm)
Have breakfast on board as you arrive in secluded Tilos. Tilos is still untouched by mass tourism and has a beautiful unspoiled charm.
Start the day exploring the villages of Livadia, the island's port, and Mikro Chorio, an abandoned, mysterious town.
After exploring the villages, head to the beach. The beaches are secluded and private; some are natural and can be easily accessed on foot or by the small local bus.
Tilos highlights:
The entire island is an ecological park.
Four hundred species of flowers and herbs germinate here.
Birding. Numerous species of rare birds (Bonelli's eagle, hawks, nightingales, goldfinches, herons, bee-eaters, and more.
Last known home of the dwarf elephants, extinct for 4000 years.
Its cuisine, especially the famed goat meat baked in the oven with potatoes.
Day 3 | Astypalaia (45nm)
Day three takes you to the butterfly-shaped island of Astypalaia. A must-see is the capital of Chora. This is the port and one of the most picturesque Aegean towns. You may enjoy activities such as:
Astypalaia highlights:
Swimming at the beaches: Agios Konstantinos, Vatses, Plakes, Kaminakia, Agios Giannis, Panormos, Pachia Ammos, Pera Gialos, and Livadia
Climbing to "Ftera" terrain that involves 20 climbing routes
Mountaineering
Mountain biking
Hiking
Spearfishing
Scuba diving
Taste the local products, including tangerines and honey, pougia (cheesepie with honey), arantista (lentils cooked with shredded dough), goat stuffed with rice, and fresh fish.
Day 4 | Santorini (38nm)
Beautiful Santorini welcomes you on day four. This popular holiday destination can get quite crowded, but you can work with your Captain to find the best (and least populated) areas.
Santorini highlights:
Wine tour
Sunsets at Oia. Or volcano cruise
Hiking from Fira to Oia
Swimming at one of the best beaches, such as Amoudi Bay, White beach, and Mesa Pigadia Beach
Visiting the Archaeological prehistoric ruins of Akrotiri
Exploring the vibrant nightlife
Shopping in Fira
Taking a Greek cooking class and wine tour
Day 5 | Folegandros (30nm)
Remote Folegandros has a ruggedly wild coastline dotted with sugar-cube white houses perched on the cliff-side. Endless white beaches are perfect for a day of relaxation—one of the highlights of this sample Rhodes to Rhodes Itinerary.
Taste homemade dishes and local delicacies, such as "matsáta" (handmade noodles with rooster or rabbit), sourotó (white goat cheese), and drink "rakómelo" (raki with honey) the famous spirit of the island.
You may want to walk along the coast or visit one (or more) of the following places:
Folegandros highlights:
Ano Meria settlement
Folk Museum of the village
Chrysospillia (aka Golden Cave) set on a steep high rock
Beaches such as Hohlídia, Vitzétzo, Latináki, Pountáki and Livádi.
Day 6: Milos (27nm)
Today you'll arrive at Milos, a volcanic island filled with colorful landscapes and unusual rock formations. The famous Venus de Milo (now in the Louvre) was discovered here. There are more than 70 fabulous beaches on the island and its offshore islets. You may want to have a beach day or choose from various activities.
Milos highlights:
Explore the coastline in a kayak.
Take a half-day geo walk and see the island's geology and volcanic origin.
Visit the Milos Mining Museum
See one of the many fantastic beaches.
Day 7 | Polyaigos / Kimolos (25nm)
Arrive in Polyaigos/Kimolos. These islands are close to one another, so you and your Captain can choose where to spend the day. Uninhabited Polýaigos, part of the community of Kimolos, would be a quieter option, and Kimolos provides more sightseeing.
Kimolos' silvery-grey rocks stand in beautiful contrast to the azure sea surrounding this lovely island. Chorio is the main town. Chorio's homes are covered with the typical Greek island whitewash, domed roofs, and bright blue doors.
Polyaigos and Kimolos places to see and things to do:
Churches. There are over 80 small churches in Chorio to explore.
Archaeological Museum, which showcases the history of Kimolos.
Folk and Maritime Museum. The museum has a wide array of cultural artifacts related to the heritage and history of Kimolos.
The port town of Psathi. It has a tiny beach to the right of the port. You can swim and relax in the sun, visit the small souvenir shops near the port, or have coffee and drinks at the little tavernas.
Goupa is located near Psathi. It is a small fishing port on the coast below Chorio, where there are excellent fishing and snorkeling.
Day 8 | Ios (33nm)
When you think the Greek Islands cannot get any more beautiful, you arrive at Ios. Idyllic beaches, cool bars, fine dining, and breathtaking beaches await you on day eight.
Ios highlights:
Taking an ATV ride.
Visiting Homers Tomb.
Hiking one of ten trails that criss-cross the island
Meeting people from all over the world on a bar crawl. There are six bars on the island, and this tour takes you to them.
Hitting the beach. Some of the most stunning beaches are on Ios. Mylopotas Beach, the most popular beach in Ios, regularly ranks in polls as one of the "Top 10 Beaches in Europe".
Day 9 | Amorgos (35nm)
Clear blue waters, mysterious caves, scenic landscapes, and secluded beaches. All come together to create Amorgos, a true gem of the Cyclades.
The Monastery of Hozoviotissa is a must-see. This whitewashed beauty is perched 300 meters above the sea on a cliffside. It overlooks the Aegean Sea and offers breathtaking views to the east.
Amorgos highlights:
Agia Anna Beach
Kalotaritisas Bay
Village of Tholaria
Windmills
Youkali Amorgos Restaurant
Day 10 | Kos (50nm)
Get ready for a genuine taste of Greek tradition and local culture today. Kos island, the home of Hippocrates, combines historical monuments, sandy beaches, and natural beauties to make an unforgettable stop on your journey.
There's so much to see on Kos Island.
Kos highlights:
Tree of Hippocrates
Roman Odeon (Amphitheater)
Ancient Agora
Kos Museum
Mastihari Beach for fishing
Tiqaki Beach for swimming
Marmari Beach for surfing
Day 11 | Symi (45nm)
Mountainous Symi island is large yet uncrowded. Several settlements are Gialos, the old village of Horio, and Pedi. Small beaches and lovely coves grace this island, and a monastery sits at Panormitis near the southern tip.
Symi highlights and activities:
Climbing the 500 steps to the village of Horio
Investigating the archaeological museum
Visiting the Moni Taxiarhou Mihail Panormiti Monastery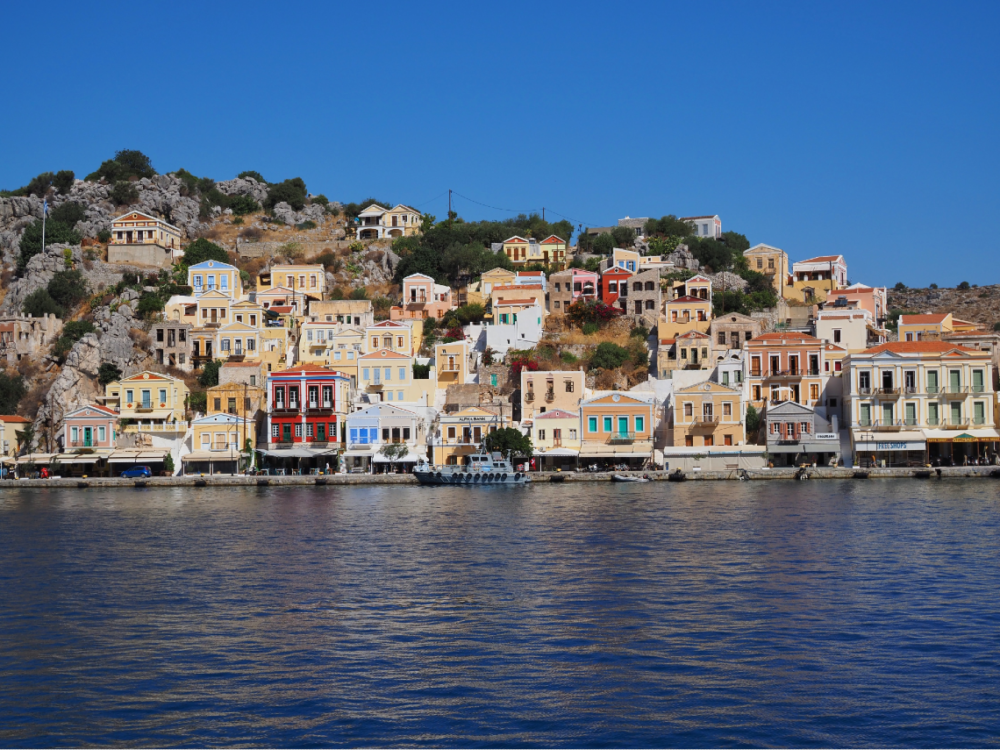 Day 12 | Rhodes (20 nm)
Arrive back in Rhodes to end your Rhodes to Rhodes Itinerary.
Please call us today at 1 (321) 777-1707 or describe Your Vacation Vision to help you plan your fully-crewed private luxury yachting vacation! Inquire as soon as possible about your custom, crewed yacht charter.
You make the memories. We make the arrangements.