Rhodes
Rhodes is the largest of the Dodecanese Islands, with over 50,000 inhabitants, and is this island group's historical capital. Rhodes has so much to see, and you may want to spend several days here. However, Rhodes is still a destination worth exploring if you have only a little time.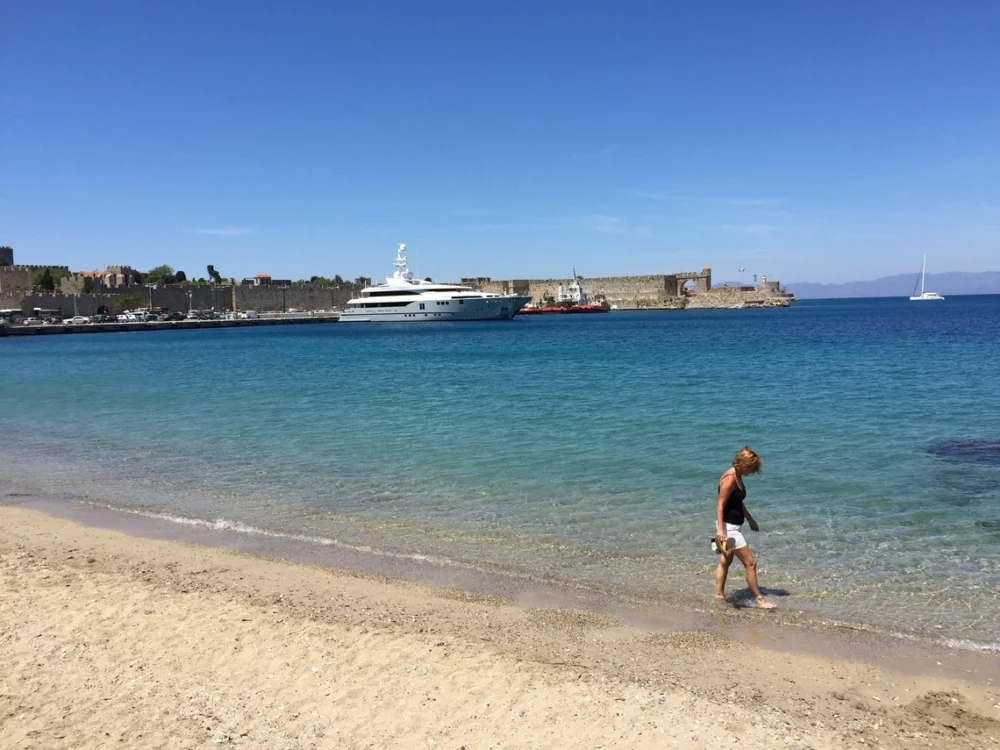 Climate
Rhodes is a warm destination with over 300 days of sunshine yearly. The Mediterranean climate produces mild and rainy winters and hot and sunny summers. The average temperature in January and February is 12 °C and in August is 27 °C.
Places to see
Rhodes Town. The town consists of two parts: the Old City, a medieval city, and the New City. Strong walls surround the Old City. It is one of the most significant and best-preserved Medieval settlements in Europe. Special and inspiring.
Medieval Town. This old town showcases 2400 years of history inside its 4-kilometer-long imposing walls. The most famous road within the walls of Old Town is the cobblestoned Street of the Knights, restored to show what it looked like during the Middle Ages.
Mosque of Suleiman the Magnificent.
Evangelismos Church, the Town Hall, and the National Theater are worth a visit.
Rodini Park, with its beautiful flora and fauna, is said to be the site of the famous School of Rhetoric, where prominent Greeks and Romans from Julius Cesar to Cicero and Pompey to Brutus studied.
Acropolis of Rhodes.
The Aquarium. An excellent place to see many of the marine species living in the Aegean.
The Castle of Kritinia. Now the original medieval castle ruins are on a hill approximately 131 meters above the village of Kritinia.
The Castle of Monolithos in the village of Monolithos is on top of a vast 300-foot rock standing above the village.
Great Hammam of Rhodes is one of the few remaining Turkish baths in the Medieval Town of Rhodes.
Jewish Museum of Rhodes.
Lindos Acropolis.
The monastery of Panagia Tsambika. The old monastery is on top of a hill with a gorgeous view of the sea and the surrounding area, while the new monastery, which works today, is on the road that connects Archangelos to Rhodes Town.
Springs of Kallithea.
Things to do
Windsurf, Kitesurf: Avid surfers head to Prassonissi on the island's south side, where a long narrow spit of land connects Prassonissi with Rhodes.
Scuba dive: Many dive centers on the island offer courses and organized dive trips to old wrecks.
Hike: Ample hiking trails on the island lead to green valleys, mountainous villages, medieval castles, and secluded beaches.
Swim: Rhodes has various beaches, from sandy to rocky.
Yoga Retreat and Cooking lessons: Offered in Teologos. Cooking lessons with hands-on experience or taking a yoga course to revive the spirits.
Shop and dine. In addition to many tavernas, restaurants, and nightclubs, there is an open-air theater near Arionos Square where regular folklore dances take place every summer.
Gastronomy
While in Rhodes, try appetizers such as pitaroudia (fried chickpea balls with chopped mint, onions, and tomato).
As for the main dish, have stew made with wild greens (vlita), purslane, stuffed vegetables, or oven-baked kolokoudi (pumpkin). If you're feeling adventurous, try karavolous (snails cooked in tomato sauce with onions, cumin, or oatmeal).
For dessert, try mantinades (a small, fried, thin piece of dough soaked in honey and rose water and sprinkled with crushed almonds) or tachinopita (little baked pies).
Last but not least, local cheese pairs nicely with white Moschato wine renowned from ancient times, the Athiri and Mandilaria (known as Amorgiano on the island).
Please call us today at 1 (321) 777-1707 or describe Your Vacation Vision to help you plan your fully-crewed private luxury yachting vacation! Inquire as soon as possible about your custom, crewed yacht charter.
You make the memories. We make the arrangements.