Dodecanese Islands Yacht Charters | Aegean Elegance
The Dodecanese Islands are a breathtaking archipelago located in the southeastern Aegean Sea. The group of 15 more significant plus 150 smaller Greek islands generally defines the eastern limit of the Sea of Crete. Dodecanese Islands yacht charters are a fantastic way to see a lesser-known side of Greece.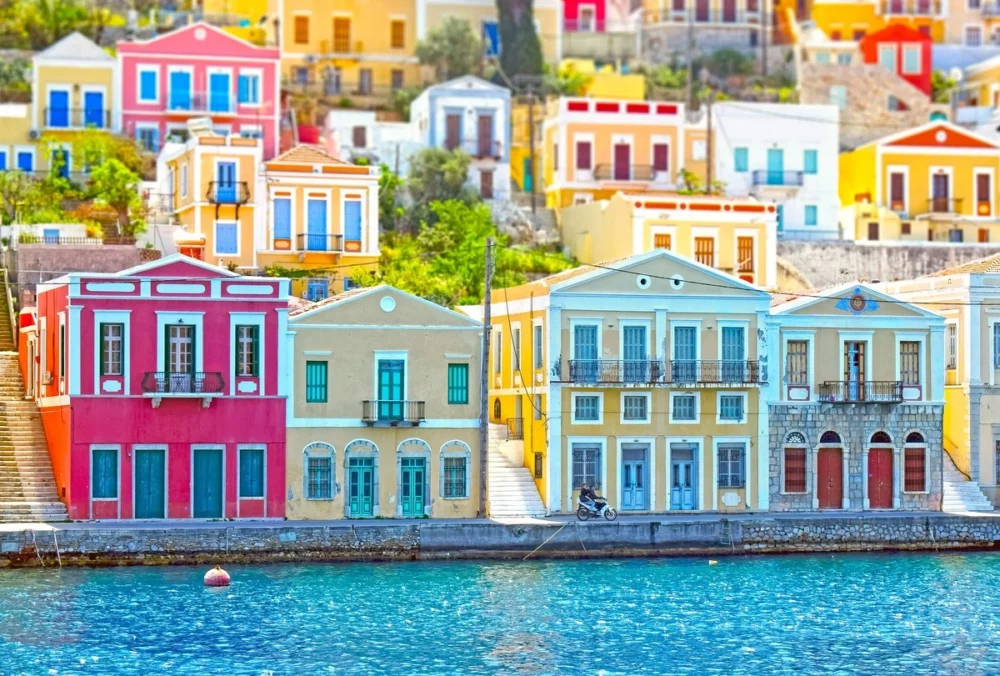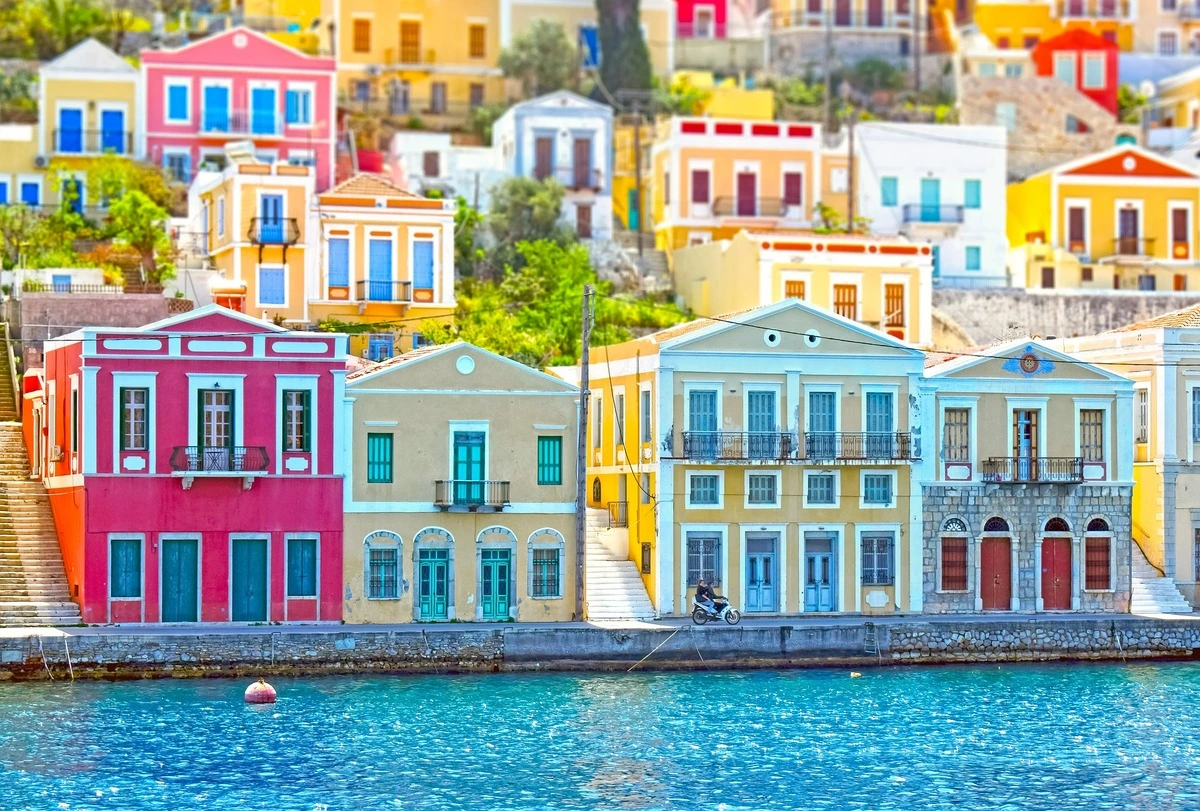 The Islands
Agathonisi
Known as the "island of kindness," this northernmost Dodecanese island is a quiet, non-touristy destination.
"The Butterfly of the Aegean," Astypalea greets you with uncrowded beaches and a peaceful atmosphere.
Chalki
A relaxed, friendly island. Inhabited since prehistoric times, Chalki got its name from the island's copper mines. (Chalkos is the Greek word for copper.) Take a stroll and see the Windmills of Chalki or the many churches and monasteries on the island.
Known for sponge harvesting, Kalymnos is a great destination for activity-seekers. The island's landscape makes it perfect for rock climbers, and the ocean floor is littered with shipwrecks, great for scuba divers. There are also relaxing beaches and quaint villages if you prefer to take it easy.
Karpathos
Second largest of the Dodecanese islands. Discover Karpathos, a hidden gem of an island in the Dodecanese. This island is authentically Greek, with friendly people and legendary festivals,
Kasos
The impressive Kasos, the southernmost island in the Aegean Sea, is well worth visiting. During the Easter holiday, celebrate traditions passed down from generation to generation and taste mouthwatering local treats.
Kos
The third largest of the Dodecanese Group, the island of Kos, is just four miles from the coast of Turkey. Visit the beaches, villages, and ancient ruins. After a day of exploring, enjoy the nightlife in Kos town.
Leipsoi
In Greek mythology, the island where Odysseus was shipwrecked and held by Nymph Calypso. This lesser-known destination is fantastic for relaxing in nature, away from the hustle and bustle of more popular islands.
Leros
A mountainous island with a rugged coastline. Browse Panteli, Aghia Marina, Lakki, and Plantanos shops, or stop by the free historical museum.
Nisyros
Quiet, peaceful Nisyros is a wonderful island for total relaxation. Non-touristy, secluded beaches are perfect for an afternoon picnic. Walk on one of the island's many old footpaths that lead to interesting villages and fantastic sea views.
Patmos
Patmos Island is also known as the "island of the Apocalypse," as John the Apostle wrote the Book of Revelation while exiled here. If you visit on Easter Sunday, you will hear the Gospel in seven languages.
Rhodes
Rhodes has been the area's dominant island since antiquity and is one of the Dodecanese Islands where you may want to stay for more than a day. Long stretches of coastline, archaeological sites, quaint villages, and a beautiful medieval city are just a few things to explore.
Symi Island is home to one of the largest neoclassical towns in Greece. While visiting, see the Byzantine Museum and the Folk Art Museum.
Enjoy stunning views, a tranquil port, and beautiful seaside hikes. Also, be sure to taste the Symi shrimp. They are delicious fried!
Mountainous Tilos is known for its lush vegetation and natural beauty. It's home to many rare species of birds and hundreds of flowers and herbs. Visit the lovely villages, sandy beaches, and interesting hiking trails. Since the terrain can be uneven, wear sturdy walking shoes if you venture out on the trails.
Kastellorizo
A stunning island, home to the Blue Cave, Kastellorizo is at the easternmost end of Greece, close to the Turkish coast. You'll want to take many photos of the pretty little harbor here, with its vividly colored houses and nearby Kastello Rosso, built by the Knights of St John.
Other islands in the chain include Alimia, Arkoi, Chalki, Farmakonisi, Gyali, Kinaros, Levitha, Marathos, Nimos, Pserimos, Saria, Strongyli, Syrna, and Telendos.
Climate
The Dodecanese Islands group have a typically Mediterranean climate with hot, dry summers and mild winters. The temperatures range from the low 20's (Celsius) in winter to the mid-30s in summer. The Dodecanese Islands experience a dry and sunny climate during the summer, with only occasional rainfall.
The best time to visit the Dodecanese Islands is during the summer months of June through August. This is when temperatures are at their warmest, and beaches are at their most inviting. During this time of year, visitors can expect plenty of sunshine and mild temperatures during the day, with balmy evenings that are perfect for exploring the island towns and villages.
Places to see on Dodecanese Islands Yacht Charters
Anthony Quinn Bay. This bay offers a picturesque pebble beach, a dramatic coastal rock formation with underwater reefs teeming with fish. The shallow emerald-green water is perfect for swimming.
Tsambika Beach. A popular stop that is well-served by beach bars and eateries. With a shallow seabed and calm waters, Tsambika Beach is a great swimming spot, especially for families with young children.
Visit the Asklepion archeological site in Kos. The Asklepion was a medical center and a place of worship for the ancient Greek god of medicine, Asclepius. This is also where Hippocrates founded his medical school.
Acropolis of Lindos. The Acropolis of Lindos is arguably Rhodes' most impressive and important archaeological site. It is a must-see for history lovers.
Things to do on Dodecanese Islands Yacht Charters
Browse the local markets and sample some of the region's unique flavors and specialties, such as honey and wine.
Get up close with some adorable animals. The Rose Farm in Rhodes is a unique attraction where you can interact with various animals, including lemurs, ponies, camels, and kangaroos.
Enjoy the traditional music and dance. No matter what time of year you visit, there is certain to be a festival or celebration.
Take in the view from the Monolithos Castle in Rhodes.
Go to the beach on Symi Island.
Windsurf. Windsurfing is very popular in Prassonissi, the southernmost part of Rhodes that gets very windy. Other great places for windsurfing in Rhodes are Theologos, Ialyssos, Ixia, and Paradisi.
Rock Climb. Kalymnos is the most popular spot for rock climbing in Greece. Huge limestone rock escarpments on its western side draw climbers worldwide.
Scuba Dive. The Cave of Seal is one of the most spectacular dives in the Dodecanese Islands. Found off Rhodes Island, divers enter the cave to discover families of seals that greet and interact with you.
Kos Island also has interesting scuba dive sites, incredible rock formations, and many Mediterranean creatures. Since scuba diving is a popular activity in the Dodecanese, you will find many dive shops where you can rent equipment or join an organized dive.
Gastronomy
The flavors of the Dodecanese islands burst with freshness. Dining in the Dodecanese brings you close to unique Mediterranean food traditions and fascinating regional dishes. Each island claims its food traditions, but the cuisine has a few things in common.
Seafood has a starring role on many of the islands, including Kalymnos, where you'll find sun-dried fish.
Meats like goat and lamb are also enjoyed, often stuffed and roasted in a wood-fired oven.
Restaurants
Thalatta Fine Dining Restaurant in Lindos offers traditional recipes that have been updated with the creative inspiration of top chefs. Locally sourced organic ingredients combine to create an unforgettable dining experience.
The Konstantin Restaurant and Cafe is another well-reviewed restaurant offering traditional Greek cuisine.
Dodecanese Islands Yacht Charters | Destinations
Please call us today at 1 (321) 777-1707 or describe Your Vacation Vision to help you plan your fully-crewed private luxury yachting vacation! Inquire as soon as possible about your custom, crewed yacht charter.
You make the memories. We make the arrangements.