Pserimos | Authentic Greek Island Life
Pserimos, a small, rocky, and less-traveled island, is about six miles from Kalymnos Island. In this place, archaeologists have found traces of an ancient settlement, Perraiotan. Its larger neighbors overshadow this tiny island.
However, it offers an unspoiled paradise for those seeking serenity, stunning landscapes, and a taste of authentic Greek island life.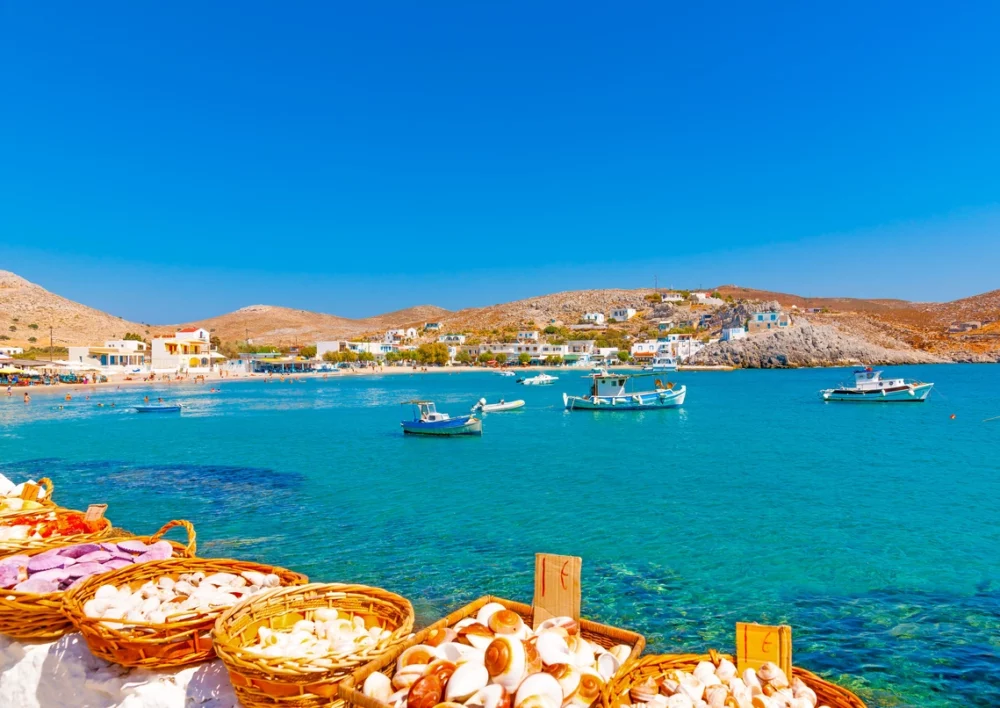 Climate
Pserimos, like most Greek islands, boasts a Mediterranean climate that embraces visitors with warm, sunny summers and mild, pleasant winters. If you're planning a summer yacht charter, expect blissfully hot days and balmy evenings. Indeed, summer is ideal for indulging in water-based activities and relaxing on the beach.
Although spring and autumn bring milder temperatures, these seasons are perfect for exploring the island on foot or by bike.
Places to see on Pserimos
Vathi Beach. A sheltered bay. The beach has clear blue water as well as a small beach.
Avlakia Village. Since this is the only village, you'll find tavernas and several small shops here. The village is on the site of an ancient settlement.
Panagia Grafiotisa church.
Plati island. A small island off the west coast of the region.
Pserimos Village: Your journey begins at Pserimos Village, the island's only settlement. It's a charming fishing village with traditional whitewashed buildings adorned with colorful shutters. In addition, it offers a glimpse into the island's authentic character.
Panagia Akathi: Perched atop a hill overlooking the village is the lovely Panagia Akathi church. A short hike to this serene spot rewards you with panoramic views of the island's coastline and neighboring islets.
Katsouni Bay: Explore the pristine beauty of Katsouni Bay. The bay's remote location makes it a tranquil haven, perfect for swimming, snorkeling, or simply unwinding under the Greek sun.
Agios Theologos Cave: Explore the mystical Agios Theologos Cave, a natural wonder hidden along the island's rugged coastline. Since it has fantastic stalactites and stalagmites, it is a fascinating spot for exploration.
Ancient Ruins: Wander through the remnants of ancient settlements scattered across the island. These ruins offer insights into the island's rich history, with traces of past civilizations waiting for you to discover.
Church of Agia Marina. You can visit the charming Church of Agia Marina. It's a quaint place of worship that adds to the island's cultural charm. Its picturesque setting and serene ambiance make it an ideal spot for reflection and relaxation.
Pserimos Windmill: Don't miss the chance to admire the iconic Pserimos Windmill. This traditional windmill is a testament to the island's heritage and offers a fantastic photo backdrop.
Things to do on Pserimos
Beach Hopping: Pserimos boasts a plethora of secluded beaches. Sail to them aboard your yacht or embark on a coastal exploration adventure. Visit beaches such as Agios Georgios, Vathi, and Limnionas.
Water Sports: Dive into the island's azure waters for a thrilling underwater adventure. If you've dived before or if it's your first time, the island's diving places let you see exciting sea creatures and underwater caves.
Island Hiking: Lace up your hiking boots and set out on scenic island hikes. Pserimos may be small, but its trails offer spectacular vistas of the sea as well as the surrounding landscapes. Don't miss the hike to the island's highest point, where you'll see breathtaking panoramas.
Watch the sunset from the Chapel of Panagia Grafiotissa.
Gastronomy
Pserimos' tavernas are open all day, including breakfast time. Breakfast consists of local products such as eggs, dairy, and honey. Meals often include local capers. The cliffs are full of these delicious little flower buds.
The island also has the name Kappari (the Greek word for "caper"). For lunch or dinner, visit the family-owned Taverna Manolas. The owner raises his animals, produces cheese and olive oil, and even catches much of the seafood he serves.
Please call us today at 1 (321) 777-1707 or describe Your Vacation Vision to help you plan your fully-crewed private luxury yachting vacation! Inquire as soon as possible about your custom, crewed yacht charter.
You make the memories. We make the arrangements.