Kasos, Greece | Nautical Adventures and Serene Evenings
The Greek Island of Kasos (Kassos), located east of Crete in the Carpathian Sea, is a small rocky island. It is the southernmost island of the Dodecanese, located between Karpathos and Crete. Since this lovely island maintains its traditional way of life, you'll find the locals warm and friendly and the towns uncrowded with tourists.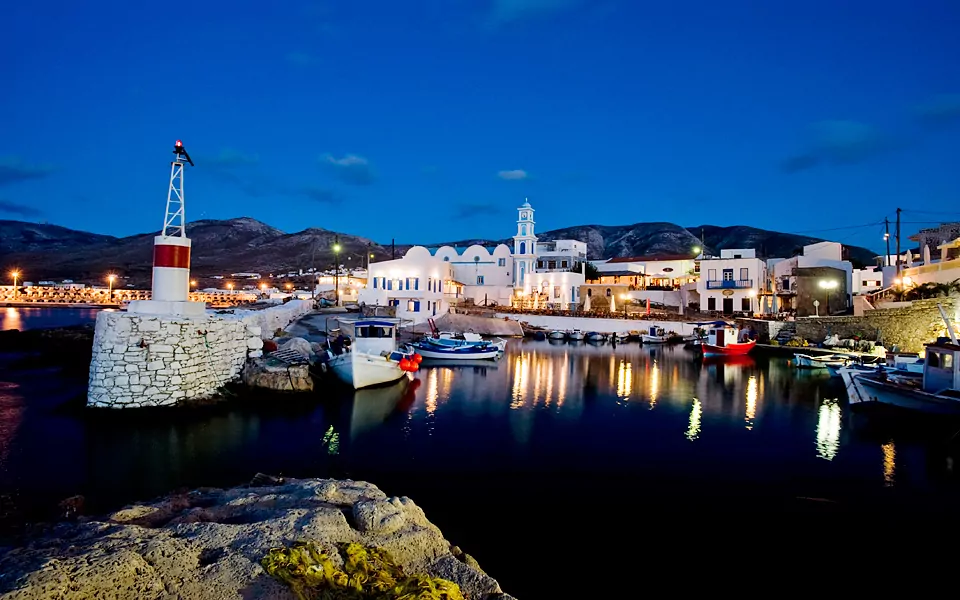 Climate
Kasos enjoys a delightful Mediterranean climate, offering mild winters and warm, sun-soaked summers. Whether you prefer sunning on sandy beaches or exploring the island's cultural treasures, Kasos beckons with its appealing climate.
Places to see in Kasos
Fry. Begin your exploration in the charming capital, Fry, where you'll encounter the heart of Kasos' culture and history. Stroll through the narrow streets and admire the well-preserved neoclassical architecture that graces this town.
Boukas Square on the waterfront of Bouka's port. Anchors and cannons serve as nostalgic reminders of the town's intriguing pirate past.
Archaeological Museum of Kasos. Situated within a charming 19th-century residence in Fry, the Archaeological Museum of Kasos beautifully showcases the island's traditional architectural style. Its curated collection encompasses artifacts from Kasos' prehistoric era, ancient coins, Ellinokamara cave inscriptions, as well as other historical treasures.
Agia Marina: Nestled within a picturesque bay, the village of Agia Marina is another must-see. Explore the village's quaint streets and relish its relaxing ambiance, highlighted by traditional tavernas serving delectable Greek cuisine.
Beaches. From busy to secluded, there's a beach on Kasos for everyone. Visit one or more of them, such as Emporios, Ammounda, Helatros, and Armathia.
Local Workshops: Participate in workshops where you can learn traditional Kaso crafts, such as pottery, weaving, and even boat building. Engaging with skilled artisans provides insights into the island's craftsmanship.
Religious Festivals: If your visit coincides with one of Kasos' religious festivals, seize the opportunity to join in the festivities. Witness the vibrant processions, listen to traditional music, and savor the local delicacies prepared for these special occasions.
Historical Sites: Delve into Kasos' history by visiting the island's historical sites. Explore the Venetian Castle, with its impressive architecture and commanding views. Or, visit the island's churches and monasteries, each with its unique story.
Things to do in Kasos
Caving. The caves of Kasos, Ellinokamara, and Selai (Stilokamara) were once a place of refuge during pirate raids. It's best to hire a local guide.
Swim. Since the water here is crystal clear, you'll want to swim. Emporios offers an organized sandy beach with shallow, calm waters.
Windsurf. One good spot is at Helatros in the southern part of the island.
Snorkel. With its soft sand and cobalt blue waters, the beach of Marmara makes a perfect spot for snorkeling. It is also good for swimming or wading.
Hiking: Lace up your hiking boots and traverse Kasos' rugged terrain. The island offers numerous trails that lead to rewarding vistas. One such hike is to the peak of Mount Prionas, which promises beautiful panoramic views.
Dine. If you're not in a hurry, visit Milos Taverna in Fry. The food is local, and there's a good sea view. Or, for fresh seafood, go to Meltemi, also in Fry.
Stargazing: The island's minimal light pollution creates ideal conditions for stargazing.
Rent a car and explore the island.
Gastronomy
No trip to Kasos is complete without trying its delectable cuisine. Taste the island's culinary delights, such as "pitaridia," a traditional pasta dish, or fresh seafood caught daily by local fishermen.
Don't miss out on the chance to sample the renowned local cheese, "sitaka," and indulge in mouthwatering sweets like "xerotigana." Stop by Taverna Emporeios for traditional cuisine.
Please call us today at 1 (321) 777-1707 or describe Your Vacation Vision to help you plan your fully-crewed private luxury yachting vacation! Inquire as soon as possible about your custom, crewed yacht charter.
You make the memories. We make the arrangements.