Telendos
Life on Telendos is simply unrushed, away from crowds, fast food, and motor noises. It is a quiet haven just a short distance from Kalymnos. Spend the day walking under tamarisk trees on the seaside, sit at the taverna or a restaurant with ouzo in hand, swim or snorkel in crystal clear waters, spear-gun fish, or sunbathe at any of the secluded coves dotted around the island. It is considered the friendliest island in the Aegean. In fact, with no roads, cars, or pollution, you may want to stay an extra day or two.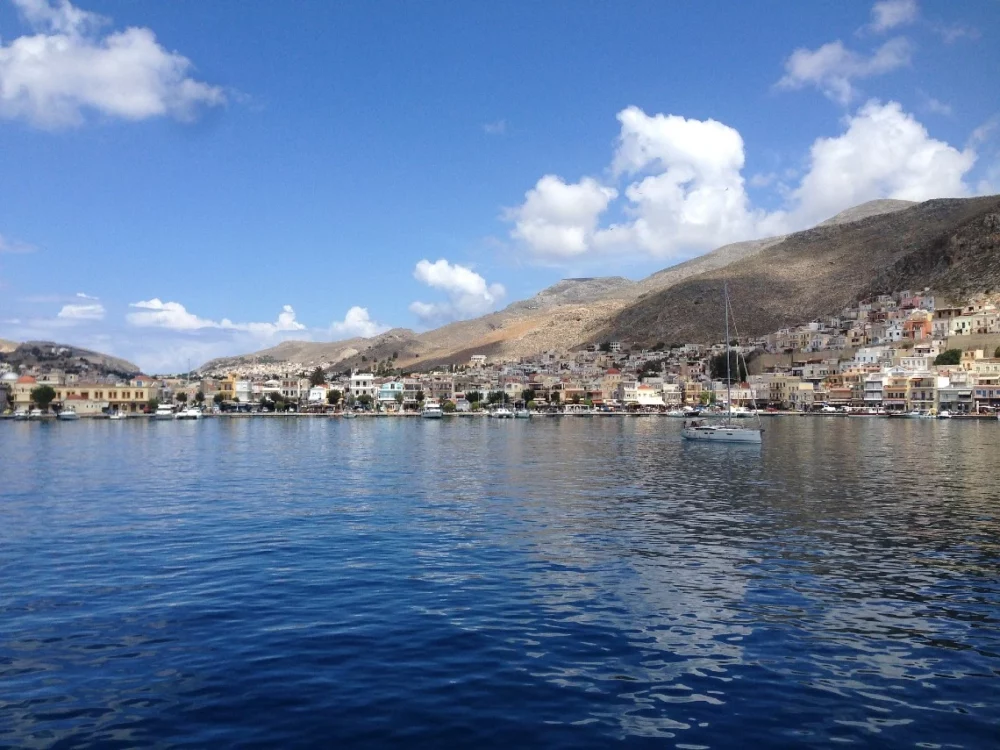 Climate
The best time to visit Telendos is from May until October when it is pleasantly warm and has limited rainfall. The highest average temperature is 27°C in August and the lowest is 15°C in January. The water temperature is between 17°C and 31°C.
Places to see
Ancient Theater of Telendos.
Basilica of Agios Vasilios, Basilica of Agia Triada and Basilica of Pothia. These are three of the best-preserved basilicas in the area.
Church of Agios Konstantinos. The view from this small church is breathtaking. In the surrounding landscape, you'll see scattered ruins of the legendary castle of princess Potha.
Telendos Town. Although small, the town offers tavernas, restaurants, and shops.
Things to do
Rock climb. A favorite pastime on Telendos is rock climbing. For further information on climbing Telendos and Kalymnos, go to "Climb Kalymnos," which is the primary resource for climbing updates on the island. Also, www.excitingclimbing.com contains reviews of some of the climbing spots on the island.
Hike. There are many paths for hiking.
Watch the sunset from the chapel of Agio Georgios.
Go to the beach. Visit local favorites such as Potha (sandy, organized with lounge chairs and umbrellas), Paradise (well organized with lounge chairs, umbrellas, and a tavern) Hohlakas (sand and pebbles), Pnigmenos (sandy), and Papa Mihalis.
Visit the coolest, loudest donkey in Greece, Odysseus. Be sure to bring him a sweet carrot.
Birdwatch. Telendos is an important bird migration area. In fact, along with the islands of Epano, Nera, and Sari, Telendos is included in the European Network of Natura 2000.
Gastronomy
While visiting Telendos, taste local products such as kopanisti and touloumotiri cheeses, fylla (a dish of vegetables stuffed with rice), kakavia (a fish soup), mouri, (a dish of stuffed lamb or goat), and taramosalata (fish roe dip)
For traditional Greek cuisine on Telendos, try Barba Stathis, a tavern directly on the harbor with a decidedly Greek ambiance. Another traditional restaurant is Cafe Restaurant Rita. It's a family establishment serving authentic Greek meat and fish dishes. Zorba's is a nice restaurant serving traditional Greek cuisine with a beautiful view of the harbor.
Please call us today at 1 (321) 777-1707 or describe Your Vacation Vision to help you plan your fully-crewed private luxury yachting vacation! Inquire as soon as possible about your custom, crewed yacht charter.
You make the memories. We make the arrangements.