Astypalaia | A Beautiful Greek Escape
Although Astypalaia belongs to the Dodecanese islands, it has a more Cycladic character. This charming Greek island has the picturesque Chora, a Venetian castle on top of the hill, traditional windmills, and relaxing beaches. Ideally, this island is for families and romantic couples, as well. Some beaches on the island offer lounge chairs and umbrellas; others are remote and naturist friendly.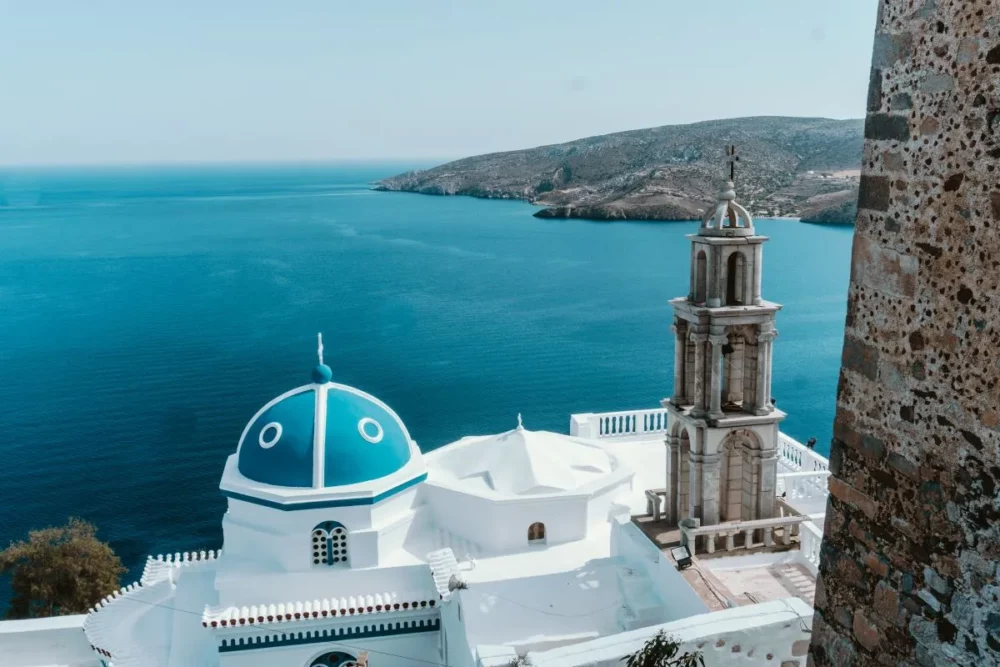 Best Time to Visit Astypalaia
Astypalaia enjoys a Mediterranean climate characterized by hot summers and mild winters, making it an ideal year-round destination for a luxury yacht charter. However, the peak tourist season occurs from late spring to early autumn when the weather is at its finest. Average temperatures range from 25°C to 30°C (77°F to 86°F).
During this time, the sea is calm, and you can indulge in various water activities like swimming, snorkeling, and diving. If you prefer a more relaxed and private experience, consider visiting during the shoulder seasons (late spring or early autumn), when the crowds are thinner, and the weather remains pleasant.
Astypalaia | Places to see
Chora, The island's capital, Chora, is a mesmerizing blend of Cycladic and Venetian architecture. Perched atop a hill, its narrow cobblestone streets lead to the iconic Venetian castle, which offers breathtaking panoramic views of the island's coastline. Explore traditional white-washed houses, charming cafes, and quaint boutiques.
Querini Castle. The castle, with its two whitewashed churches, overlooks the entire village and is one of the most famous attractions in Astypalaia.
The churches of Panagia of Castro (built 1853, the Holy Virgin of the Castle) and Agios Giorgios (built 1790, Saint George).
Pera Yialos is a small fishing village within walking distance from Chora, and this used to be the island's main port.
Livadi Village Is a delightful seaside village only 2 kilometers west of Chora. The excellent sandy beach attracts many visitors with its appealing turquoise water. The great poet Homer described this pleasant valley as the "Table of Gods."
Vathi is a traditional fishing village. Mesa Vathi and Exo Vathi offer calm beaches and crystal-clear water. Enjoy fresh, locally caught fish in the traditional tavernas. And several ouzo bars are open until late at night.
The Cave of the Dragon has terrific stalactites and stalagmites; the second is the Cave of the Negro.
The charming village of Analipsi. Maltese pirates used this village as their base. A visit to the Chapel of Analipsi and the Agia Varvara. A chapel built on the Ancient Temple of Artemis site is worth a visit.
Pera Gialos: This charming port town is known for its vibrant atmosphere and lively waterfront. Pera Gialos offers various dining options, boutique hotels, and souvenir shops.
Panormos: Situated on the northwest coast, Panormos is a secluded paradise with stunning beaches and unspoiled landscapes.
Astypalaia | Things to do
Go to the beach. All beaches on Astypalea have crystal clear water and are much quieter than many other islands. In addition, naturists can be easy to access or secluded and frequented. The most popular beaches are Pera Gialos, Agios Konstantinos, and Livadia.
Hike. Embark on a hike to the ruins of the Venetian castle, perched dramatically above Chora. The journey rewards you with panoramic vistas of the Aegean Sea and surrounding islands.
Rock climb Kalamos Cliff: One of the island's most popular rock climbing spots is the imposing Kalamos Cliff. Rising 300 meters above the sea, this massive limestone cliff provides a challenging yet rewarding climbing experience. Climbers can choose from various routes, each offering different difficulty levels and stunning views of the Aegean Sea.
Caving. Cave of Negrou at Vatses has impressive stalactites and stalagmite formations that fuel the imagination about pirates and hidden treasures. It is a 45-minute hike from the beach.
Visit the Baths of Talara with their blue tiles and mosaics from the Hellenistic period.
Diving and Snorkeling: The island's azure waters are a treasure trove of marine life and ancient shipwrecks. Dive into the depths with professional guides and witness the captivating underwater world of Astypalaia.
Taste the Local Cuisine: Savor the delicious flavors of the Aegean with traditional Greek dishes at local taverns and waterfront restaurants. Astypalaia's gastronomy is a treat for food enthusiasts, from freshly caught seafood to mouthwatering lamb dishes.
Best Anchorages and Marinas
Livadi Bay: This sheltered bay on the southern coast offers safe anchorage and beautiful surroundings. The crystal-clear waters are ideal for swimming, and you can enjoy dinner at one of the waterfront taverns.
Skala Port: Located in the main town of Chora, Skala Port provides easy access to the island's shops and attractions. The port is well-equipped to accommodate luxury yachts, and its proximity to the charming town is a bonus.
Vathi Bay: A peaceful anchorage on the eastern coast, Vathi Bay is a serene spot where you can bask in the tranquility of nature. Its secluded setting makes it an excellent choice for a private escape.
Maltezana Bay: Also known as Analipsi Bay. This anchorage on the island's western side offers a relaxed atmosphere and stunning sunset views. It's an excellent spot for a peaceful evening on your yacht.
Agios Ioannis Marina: If you prefer a marina over anchoring, the Marina of Agios Ioannis provides safe berthing options for luxury yachts. Its location near the Monastery of Panagia Portaitissa makes it a convenient starting point for exploring the island.
Please call us today at 1 (321) 777-1707 or describe Your Vacation Vision to help you plan your fully-crewed private luxury yachting vacation! Inquire as soon as possible about your custom, crewed yacht charter.
You make the memories. We make the arrangements.