Gyali, Greece | Island of Volcanic Beauty
Gyali Island, also called "Nisyros Gyali," is a small and picturesque island in the Aegean Sea. It is part of the Dodecanese group of islands in Greece. It may be lesser-known compared to some of its more famous neighbors. However, Gyali's unique charm and natural beauty make it a hidden gem worth exploring.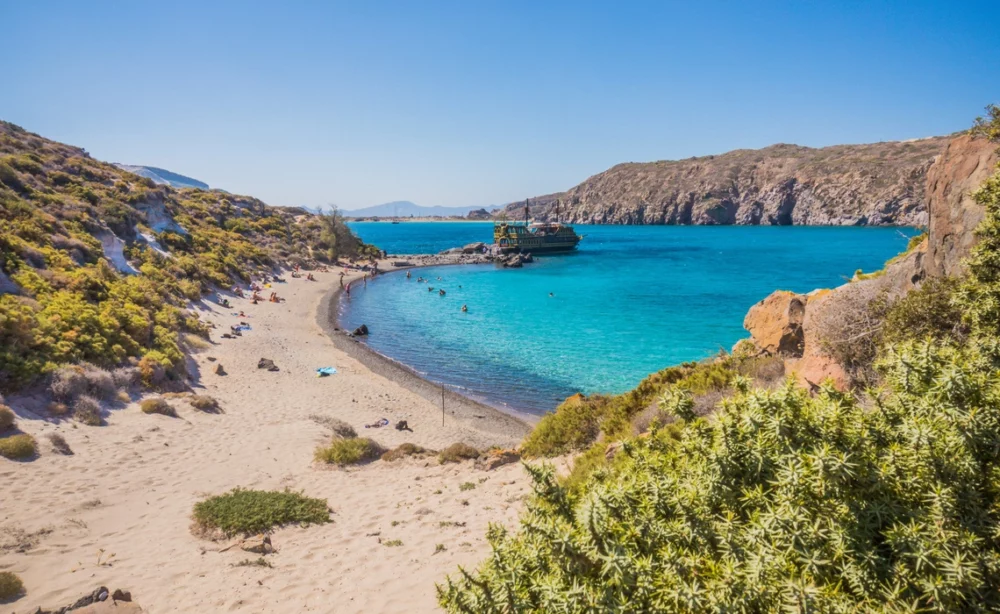 The northeastern part of the island consists of obsidian lava domes and perlite. In Greek, "Gyali" means glass. Pumice stone deposits are mined in vast quantities.
A narrow isthmus and beach made of modern reef sediments connect the island's two parts. Approximately 16 people live on the island.
Gyali is not an island to stay on for a whole vacation but rather an island worth stopping by for a day. While on Gyali, don't miss the beautiful beach Agios Antonios, between Nisyros and Gyali.
Climate
The climate in Gyali is similar to the other Dodecanese islands. It has the typical Mediterranean climate of a hot, dry summer and a milder winter. The southern Dodecanese islands have warmer weather sooner than the north of the archipelago.
Average temperatures in May are about 65 to 72 degrees. In the peak of the summer, the temperature rises to the mid-90s.
Things to do on Gyali
Geological Exploration: Gyali offers a unique opportunity to explore its volcanic formations and pumice quarries. The island's geological history is fascinating. You can witness the ongoing extraction of pumice used in various industries, including cosmetics and construction. Look for traces of a Neolithic settlement and an ancient cemetery.
Walk around the island. While Gyali may not have well-marked hiking trails as you might find on larger islands, you can still explore its hilly and volcanic terrain. If you plan to go hiking, it's advisable to bring appropriate footwear, water, and sun protection.
Sunbathe on the sandy beach. Gyali boasts some stunning beaches with crystal-clear waters. You can spend your days sunbathing, swimming, and snorkeling in the pristine Mediterranean waters. The most popular beach on the island is the sandy and pebbly Pahia Ammos Beach.
Snorkel or scuba dive.
Swim in the clear blue water.
Use your yacht's water toys. Kayak around the shoreline and get a unique look at the island.
Have a picnic on the beach. Your chef will prepare, pack, and set up your lunch. All you have to do is enjoy!
Photograph the beauty of the unique volcanic landscape.
Marinas and Anchorages
There are no marinas on Gyali. Your yacht will anchor offshore and then take you on the tender boat to shore.
Gyali Island may not have some larger Greek islands' bustling nightlife or extensive tourist infrastructure. However, its natural beauty, geological wonders, and peaceful ambiance make it a charming destination for those looking to escape the crowds and connect with nature.
Please call us today at 1 (321) 777-1707 or describe Your Vacation Vision to help you plan your fully-crewed private luxury yachting vacation! Inquire as soon as possible about your custom, crewed yacht charter.
You make the memories. We make the arrangements.