Aegean Expeditions | Dodecanese Islands Charter Itineraries
The Dodecanese Islands are a cluster of islands located in the southeastern Aegean Sea and Eastern Mediterranean. The group of islands derived its name from the Greek term "dodeka." This means twelve, referring to its main islands. Aside from the 12, there are also smaller islands in the area.
The main islands are Rhodes, Kos, Kalymnos, Patmos, Astypalaia, Symi, Leros, Nisyros, Halki, Tilos, Lipsi, and the more remote Karpathos. Halki, the smallest inhabited island measuring 28 sq km, has a population of about 300 people.
Planning a charter sailing itinerary in the Islands typically starts from either larger islands of Rhodes or Kos. The Rhodes marina and the one in Kos are both in excellent condition. There is also an international airport in Rhodes.
When going on a Dodecanese sailing adventure, you can expect moderately challenging conditions. The waters are partly open to the strong Meltemi summer winds blowing from the Aegean. However, the Turkish coast to the east offers some protection from the wind. Hence, it presents a suitable choice for sailing excursions.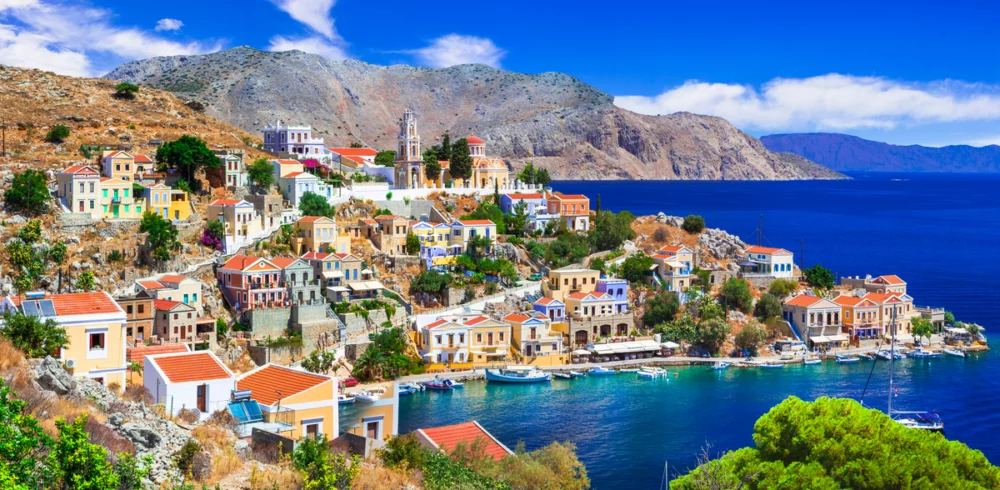 Rhodes
When visiting the island of Rhodes, there are several remarkable places to explore. In UNESCO-listed Rhodes Town, you'll find robust walls and historic monuments built by the Knights of St John. Lindos is a charming cluster of whitewashed houses along the coastline, topped by a 4th-century BC temple.
Inland, the Butterfly Valley offers lush woodlands inhabited by striking black, white, and red butterflies. Heading north from Rhodes, Symi stands out with its picturesque narrow harbor. Mansions from the 18th century, adorned with soft pastel tones, encircle the area. You can also savor delicious Symi shrimp at waterside taverns.
Between Rhodes and Kos lies the island of Tilos, where you can find idyllic beaches, fertile valleys, and gorgeous hiking paths.
Nisyros
Finally, we come to the extraordinary volcanic islet of Nisyros, a truly unique and captivating destination within the Dodecanese Islands. Nisyros is exceptional for its volcanic landscape, which is unlike anything you'll encounter elsewhere in this region.
One of the most striking features of Nisyros is its circular craters. These craters are dramatic reminders of the island's volcanic origins. As you explore Nisyros, you'll have the opportunity to witness these awe-inspiring rock formations up close. They offer a glimpse into the powerful forces that shaped this island.
Kos
Kos proudly stakes its claim as the legendary birthplace of Hippocrates, a figure revered as the father of modern medicine. This historical link to a prominent healthcare figure gives the islands of Kos added significance. Visitors have the opportunity to explore the roots of medical science in the very place where it all began.
Kos, characterized by its relatively flat terrain, stands out as an ideal destination for cycling enthusiasts. The island's gently rolling landscapes and well-maintained roads make it a haven for cyclists of all skill levels.
As you pedal your way across the island, you'll discover its scenic beauty. Olive groves, vineyards, and picturesque villages dot the landscape, creating a captivating backdrop for your cycling adventures.
Kos also boasts some beautiful sandy beaches.
Kalymnos
Heading north from Kos, you'll reach the captivating island of Kalymnos. Historically renowned for its natural sponge collectors, Kalymnos has a deep connection to the sea. Sponge diving was once a vital industry on the island. Although the sponge industry has evolved, with synthetic sponges now widely used, Kalymnos' maritime heritage remains essential to its identity.
Today, Kalymnos has transformed into Greece's premier rock-climbing destination, attracting climbers from around the world. The island's rugged cliffs, rock formations, and challenging routes attract rock-climbing enthusiasts of all skill levels. Whether you're an experienced climber seeking a challenge or a beginner looking to learn, Kalymnos has a variety of climbing options.
Patmos
Yet, for many, the true gem among the Dodecanese Islands is the northernmost island, Patmos. Patmos holds a unique place in religious history. It is the island where St. John the Evangelist wrote the Book of Revelation. This significant event occurred in a secluded cave, now part of the Monastery of St. John the Theologian.
Visiting Patmos is like stepping into a sacred realm. The island's spiritual atmosphere is palpable. Its historical and religious sites, including the Monastery of St. John and the Cave of the Apocalypse, evoke reverence and awe. With its medieval architecture, the monastery offers panoramic views of the surrounding landscapes and the azure sea.
Moreover, Patmos' picturesque villages add to the island's charm with their whitewashed buildings and cobblestone streets. As you stroll through the narrow alleyways, you'll encounter local artisans and inviting tavernas serving traditional Greek cuisine. You'll also meet welcoming residents who are proud of their island's sacred heritage.
Kalymnos and Patmos are two different sides of the Dodecanese Islands. Kalymnos earns recognition for its sea heritage and its appeal to rock climbers. On the other hand, Patmos is a sacred place where history and piety come together. Both islands offer a wealth of experiences that make them memorable destinations.
Dodecanese Islands Charter Itineraries Highlights
Activities:
Exploring ancient sites, fortresses, and monasteries
scuba diving
sea kayaking,
windsurfing (the latter at Prasonisi on Rhodes)
rock climbing (on Kalymnos)
wine tasting (notably on Rhodes).
Places of interest:
Lindos, with its hilltop Acropolis on Rhodes
Symi Town's 18th century architecture
Nysirros's volcano
Make one of these Dodecanese Islands charter itineraries part of your luxury yacht vacation.
Action-Packed Holiday | Rhodes to Rhodes Itinerary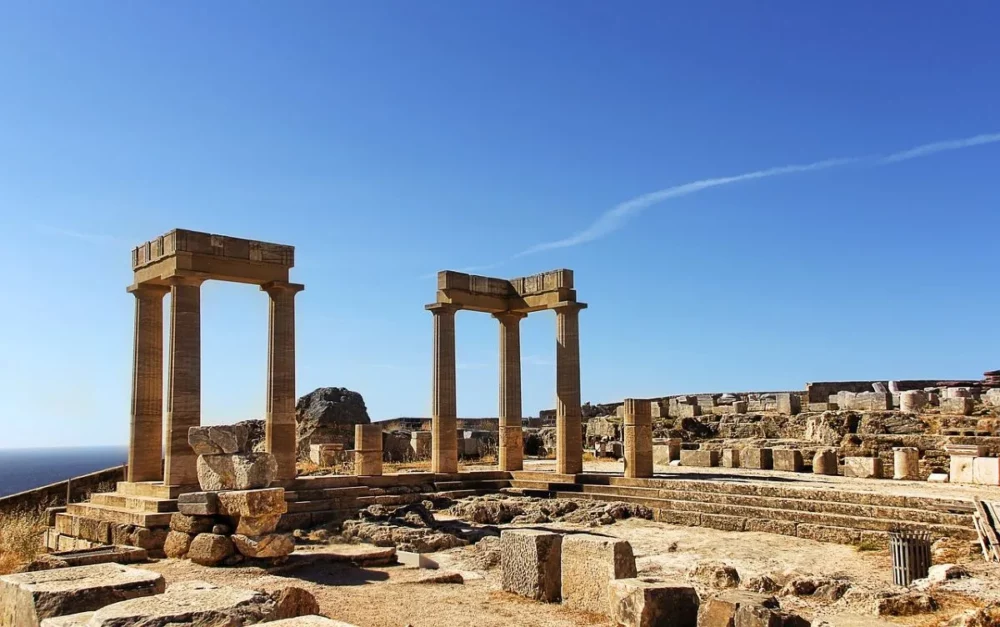 Stunning islands, beautiful beaches, and balmy nights await you on your Rhodes to Rhodes Itinerary. Your Captain will coordinate the final route, tailor-made to your preferences and the weather conditions...
History and Culture: Rhodes to Leros to Kos 10-Day Itinerary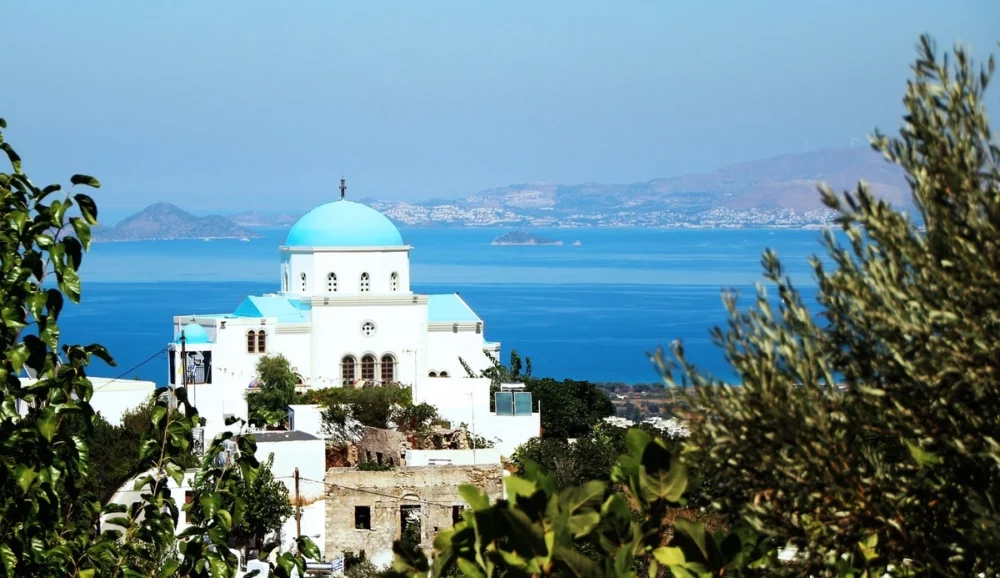 This Rhodes to Leros to Kos 10-day Itinerary is a suggested sample route. Your Captain will work with you to tailor your itinerary according to your preferences and the weather...
Medieval Journey | Rhodes to Lipsi to Kos 10-Day Itinerary
This Rhodes to Lipsi to Kos 10-day itinerary is only a sample. The Captain will coordinate the final route. It will be tailor-made to your preferences and the weather conditions...
Please call us today at 1 (321) 777-1707 or describe Your Vacation Vision to help you plan your fully-crewed private luxury yachting vacation! Inquire as soon as possible about your custom, crewed yacht charter.
You make the memories. We make the arrangements.