Medieval Journey | Rhodes to Lipsi to Kos 10-Day Itinerary
This Rhodes to Lipsi to Kos 10-day itinerary is only a sample. The Captain will coordinate the final route. It will be tailor-made to your preferences and the weather conditions during your charter.
Day 1 | Start Rhodes to Lipsi to Kos 10-Day Itinerary
Begin your journey in Rhodes, the capital of the Dodecanese islands. Rhodes is an ideal island for those who want to relax and explore medieval landmarks and historic sites. This island is incredible with its bright green hills, rich green valleys, and uninterrupted line of golden beaches. In 1988 the Medieval City of Rhodes became a UNESCO World Heritage Site.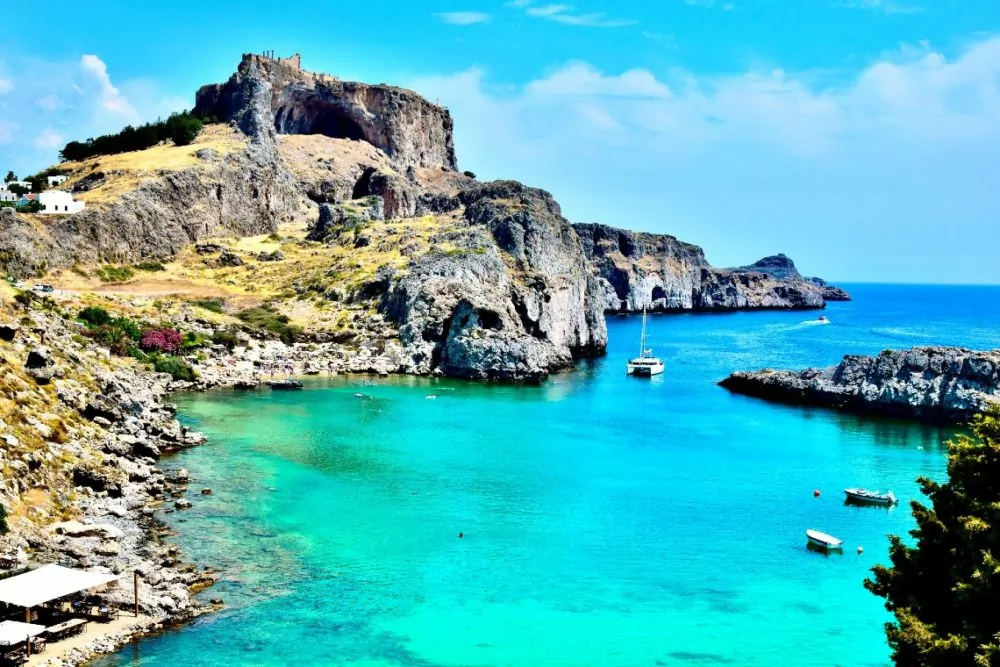 While in Rhodes, you'll want to see both the Old Town of Rhodes and the New Town of Rhodes. Each town has fascinating medieval fortress-like buildings, bastions, walls, gates, narrow alleys, minarets, old houses, fountains, and tranquil and busy squares.
The Palace of the Grand Master, originally a Byzantine fortress built at the end of the 7th century A.D.
The cobblestoned Street of the Knights is one of the best-preserved medieval streets in Europe.
The Church of Our Lady of the Castle hosts the Byzantine Museum.
Don't forget to stroll around the Turkish district. The Mustafa Pasha Mosque and the 16th-century "Yeni Hammam" (Turkish baths) are in this district.
Day 2 | Symi
On day two, arrive at Symi. You'll find plenty to do on Symi. In addition to fine restaurants, you can also enjoy a meal at a picturesque seaside tavern.
This part of Greece has many beautiful beaches. Many are off the beaten track and reachable only by boat. The island and the little islands near Symi have been declared archaeological sites by the Central Archaeological Council. They consist of 159 places and monuments representing the island's history from prehistoric eras to the latest years.
Day 3 | Kalymnos
Rugged Kalymnos is characterized by its dramatic mountains that draw hardy climbers from all over the world. Its western flank is spectacular, with skeletal crags towering above dazzling blue waters. Some of the most attractive Kalymnos beaches are Emporio, Myrties, Kantouni, and Massouri, organized with loungers and umbrellas. Other beaches in Kalymnos are secluded and perfect for privacy.
Pothia is the capital village and main port of Kalymnos. Don't miss the Archaeological Museum of Kalymnos.
Rural Kalymnos has many archaeological highlights, including many Early Christian Churches. Remains of at least eight churches are visible on the island. The most significant is the vast Basilica of Christ in Jerusalem, which has lovely mosaic floors.
On the east coast of Kalymnos, the valley and bay of Vathy are good places for a long and leisurely walk. You'll pass several more Early Christian churches and remains of ancient fortifications.
Day 4 | Leros
The tiny island of Leros is in the northern Dodecanese, a few miles south of Patmos and Lipsi. Small hills and many coves characterize the geography of Leros. The bay of Lakki is the largest natural harbor in the eastern Mediterranean.
Places to see:
The Castle of Leros was built in the 11th century by the Byzantine emperor Alexios Komninos.
Temple of Artemis – According to ancient Greek writers, Artemis was worshiped on the north coast of Leros in a marshy area.
The cobblestone streets of the main town of Agia Marina (8,000 residents) are easy to navigate. Agia Marina has lanes lined with lovingly restored pastel buildings with iron fretwork. It also has small waterfront cafés, seafood taverns, charming bakeries, art galleries, and bookstores.
Italian rationalist architecture, especially in Lakki. Lakki is a time capsule of the Italian Empire's former glory. The government buildings, a cinema, and even Mussolini's summer mansion are being returned to their heyday. The town's clock tower is stuck at the time when Germany dropped the first bomb on Leros during WWII.
Day 5 | Patmos
Patmos is famous as the island where Saint John wrote the Book of Revelation. Today, this beautiful island is a popular religious destination. The island has several beaches, including Kampos, Psili Ammos, Sapsilas, Lampi, and Arkoi.
Day 6 | Lipsi
Next on your itinerary is the beautiful island of Lipsi. This small, peaceful destination has rugged hills, serene blue coves, and deserted beaches. In the 'Odyssey,' Lipsi was where the nymph Calypso waylaid Odysseus for several years.
There's plenty to do, such as visiting the Dolphin Sanctuary, horseback riding, and exploring. Check out the local specialty, myzithra cheese, made from goat's milk and seawater. Other local delicacies include distinctive thyme honey and wine made on the island.
Day 7 | Agathonisi
Arrive at Agathonisi, a small, peaceful, almost traffic-free island near Patmos. It has a rocky surface without much plant cover except for some bushes and wild olive trees. Freshwater is sc, and therefore are wells to collect rainwater, and tankers periodically supply the locals with fresh water.

The island has many bays – Cochlia, Aghios Gheorghios, Poros, and Maistros. In fact, the largest and oldest settlement is Megalo Chorio, and the second town is Mikro Chorio.
The third and most recent settlement is Ai Ghiorghis. Furthermore, the island has five chapels and lovely, quiet coves for swimming. Along the port, there are some taverns and a couple of hotels.
Day 8 | Samos
Samos is one of the most famous Greek Islands because of its fantastic beaches and lush greenery. Vathi is the capital town. Samos has many beautiful seaside towns – Kokkari, Pythagorion, Karlovassi, and Heraion. Fabulous beaches include Tsamadou, Agios Konstantinos, and Lemonakia, although there are many more.
Some activities you may enjoy include hiking or biking Mt. Kerkis and Mt. Ambelos, exploring caves and canyons, or relaxing on a beach.
Sites of Samos include:
Sarakini Tower
The Monastery of Agia Zoni
Pythagoras' Cave – This cave is where Pythagoras spent a part of his life. He was a great philosopher, mathematician, astrologer, doctor, and musician.
The Waterfalls of Potami. These waterfalls form two small lakes with crystalline waters, perfect for swimming.
The Temple of Hera (The Heraion).
Samos Archaeological Museum.
Day 9 | Bodrum, Turkey
Bodrum is a bustling cosmopolitan city on the Bodrum Peninsula, stretching from Turkey's southwest coast into the Aegean Sea. Its beaches, boutique hotels, trendy restaurants, and clubs attract summer visitors. However, the town never seems overwhelmed. Even in the most hectic days of high summer, you can still find little corners of serenity in the town.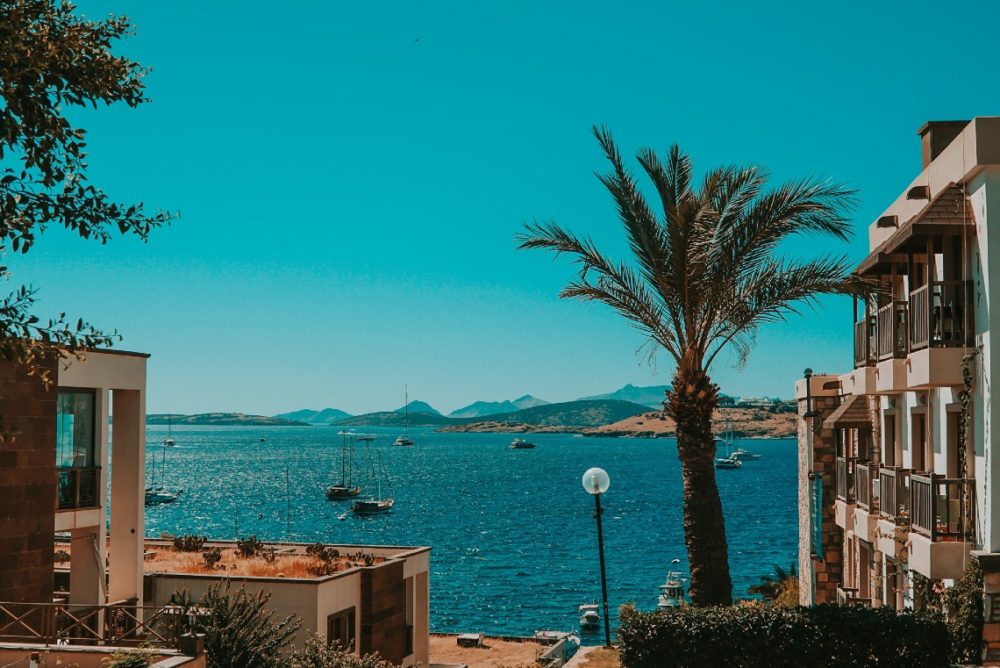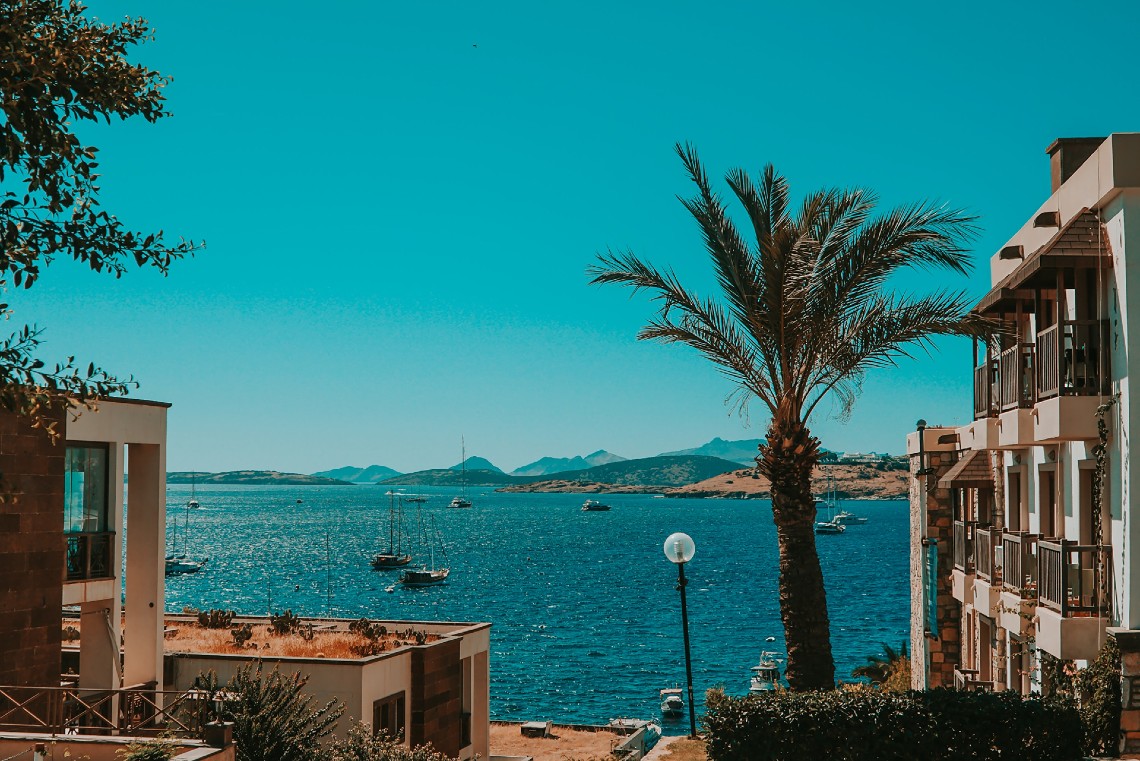 Must-see sites on Bodrum include:
The Mausoleum of Halicarnassus – one of the Seven Wonders of the Ancient World.
Myndos Gate
Bodrum's City Wall Moat
Bodrum Ancient Amphitheatre
Day 10 | Kos
Your last stop is Kos on your Rhodes to Lipsi to Kos 10-day itinerary. Furthermore, enjoy endless beaches with turquoise waters, lush vegetation, and classic architecture.
Must-see sites on Kos include:
Asklepion of Kos – Named in honor of Asclepius or Aesculapius, the god of medicine.
Kastro Nerantzias – The Castle of Knights
Archeological Museum – Two-story building on Eleftherias Square that houses the Archaeological Museum of Kos is a protected monument of the Italian occupation era (1912-1943), built-in 1935. The museum boasts a rich collection of antiquity artifacts until the late Roman era.
Ancient Kos Town (Agora). This area was exposed during a devastating earthquake in 1933. Ancient Kos Town occupies a vast area south of the Medieval Castle. In the 4th century BC, this was the first town ever laid out in blocks.
Please call us today at 1 (321) 777-1707 or describe Your Vacation Vision to help you plan your fully-crewed private luxury yachting vacation! Inquire as soon as possible about your custom, crewed yacht charter.
You make the memories. We make the arrangements.