Rhodes to Leros to Kos 10-Day Itinerary
This Rhodes to Leros to Kos 10-Day Itinerary is a suggested sample route. Your Captain will work with you to tailor your itinerary according to your preferences and the weather conditions during your charter.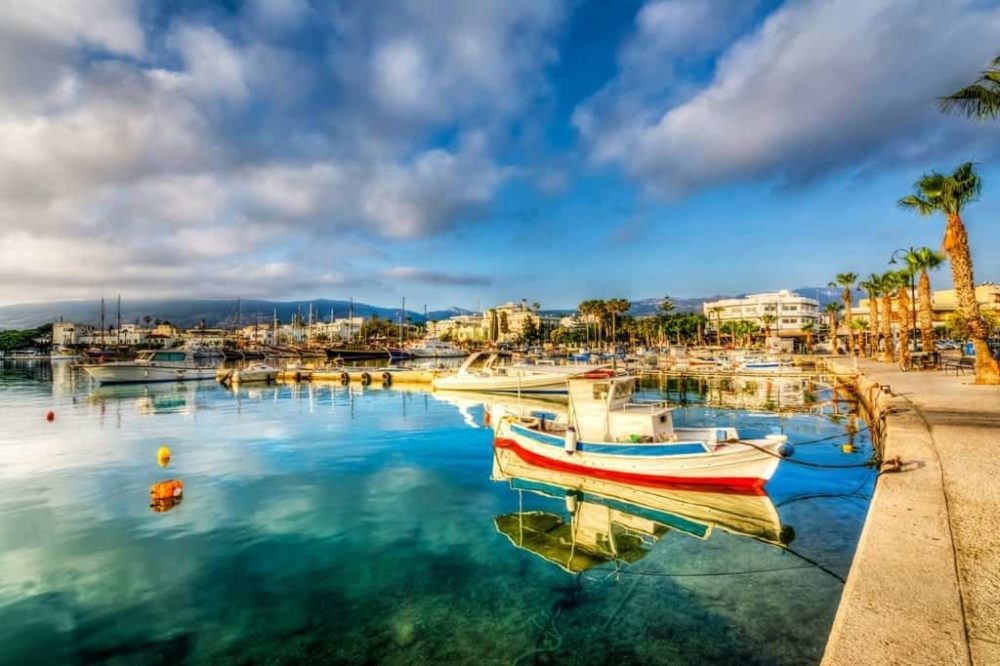 Day 1 | Begin Rhodes to Leros to Kos 10-Day Itinerary
The largest and historically the most important of the Dodecanese islands, Rhodes has so much to see and do that you may want to stay an extra day. There's history and culture, nightlife, shopping, dining, water activities, beaches, and more.
Before setting out on your Rhodes to Leros to Kos 10-Day Itinerary, explore this vibrant city.
Highlights not to miss include:
Acropolis of Lindos
Archaeological Museum
Ancient Kamiros
Knights Quarter
Palace of the Grand Master
Street of the Knights
Ladiko Beach
Valley of the Butterflies
Jewish Quarter
Day 2 | Symi
Symi is located 41 kilometers northwest of Rhodes, part of the Dodecanese island chain. In addition to fine restaurants, the town also offers seaside tavernas and traditional ouzo and meze tavernas.
You'll find lots of beautiful beaches on the island. Many of them are off the beaten track and reachable only by boat.
Day 3 | Halki
On day three, arrive at the tiny island of Halki. It's untouched by mass tourism and is a perfect destination for peace and privacy. As you explore this lovely area, take note of the traditional architecture. There are a few beaches in Halki which you can walk to or take the bus if you prefer. After a day of exploring, have dinner on your yacht and watch the sunset.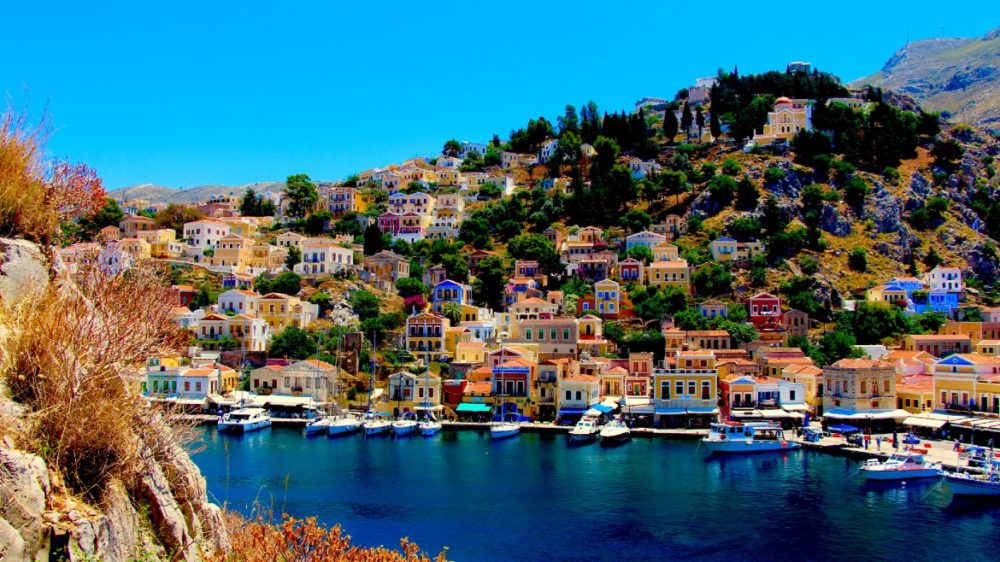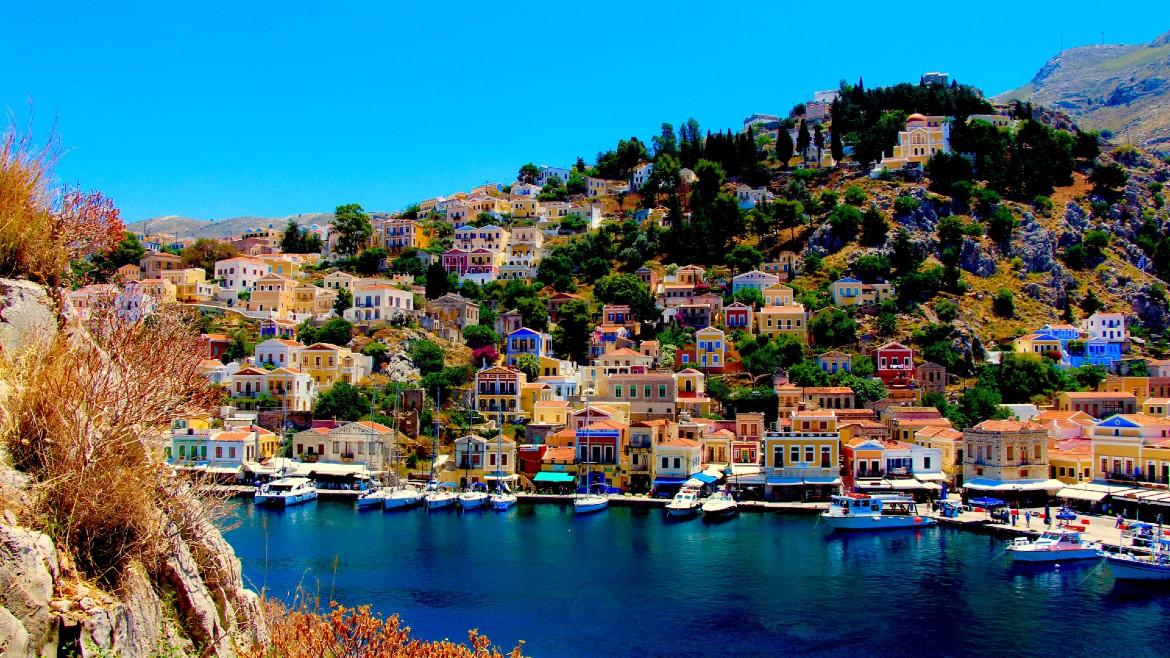 Day 4 | Tilos
The rugged, mountainous terrain of Tilos, with its densely forested ranges, hilly vistas, and verdant valleys, is home to four hundred species of flowers and herbs. The entire island is a vast ecological park protected by international treaties. Enjoy the privacy on a secluded beach.
Highlights include:
The medieval fortress, where there are some remaining relics of the Hellenistic Acropolis and the Church of Archangel Michael
The cave Charkadio, where the remains of dwarf elephants have been discovered
The castle of Mesaria (1366), with ruins of settlements and Byzantine churches
The Paleontology Collection, which includes the bones of dwarf-elephants, drafts, and photographs regarding the excavations performed in the cave Charkadio
The seaside village Aghios Antonios [Saint Antony]
The Byzantine Monastery of Aghios Panteleimonas (15th century)
Day 4 | Nisyros
Nisyros island is one of the most beautiful Aegean islands, still untouched by tourism growth. The volcano here is one of the few anywhere in the world that you can easily visit.
Mandraki, the capital of the island, is also its harbor. Even though it's one of the more significant settlements on Nisyros, it remains uncrowded.
Points of interest include:
Paleokastro is a classical period acropolis of the ancient city.
Monastery of Panagia Spiliani
The Castle of the Knights of St. John in Mandraki (circa 1315)
The town of Emporios (8 kilometers east of Mandraki), known for the architecture of the houses
The town of Nikia (14 kilometers SE from Mandraki) is home to the church of the Presentation of the Virgin Mary.
There are many beautiful beaches on the island, such as Lefki beach or Gialiskari, Lyés, Páloi, Pachia Ammos, Katsouni, Aghios Savas, and Aghia Irini. Chochlákia beach is ideal for windsurfing and snorkeling.
Day 5 | Kalymnos
Have a leisurely breakfast on your yacht, and then head ashore. Bask in the laid-back atmosphere on this lovely island. Situated between Kos and Leros, Kalymnos is surrounded by quiet islets, some inhabited only by sheep and goats.
You may want to explore the area on foot, rock climb, kayak, snorkel, or dive. The Kalymnos Dive Center has organized dives and lessons.
Day 6 | Leros
As you continue your Rhodes to Leros to Kos itinerary, please arrive at the island of Leros, known for its relaxing atmosphere and family beaches. In recent times the island has become a scuba diving destination. The sea bottom of Leros has many old wrecks, some dating from ancient times.
Points of interest include:
Paleokastro Castle
Temple of Artemis.
The main town of Agia Marina. It has lanes lined with lovingly restored pastel buildings with iron fretwork, small waterfront cafés, seafood taverns, charming bakeries, art galleries, and bookstores.
The town's clock tower. It is stuck at the exact time that Germany dropped the first bomb on Leros during WWII.
Day 7 | Patmos
Today, we arrive at the island of Patmos. This destination is world-famous as the island where Saint John was inspired and wrote the Book of Revelation in 95 A.D. The Monastery of Saint John and the Cave of Apocalypse are the most important sights on the island.
Patmos is also a fantastic destination for nature lovers thanks to its lace-like coastline, sheer cliffs, and volcanic soil.
Must-see places:
The Holy Cave of the Apocalypse, where St. John heard the voice of God talking to him, and then wrote the Book of Revelation.
The Holy Monastery of the Apocalypse
The Agia Paraskevi Byzantine Church (9th century)
Skála, the largest settlement and main port.
Beaches, including Kámpos. Psili Ammos, Váya, Sapsilas and Lámpi.
Day 8 | Lipsi
Today, Lipsi welcomes you with its crystal clear waters, beautiful secluded beaches, and laid-back atmosphere. Choose to relax or venture ashore to do some exploring.
Places to see and things to do:
Dolphin Sanctuary
Church of Agios Ioannis Theologos
The Ecclesiastical-Folklore Museum
Horseback riding
Hiking
Swimming
Diving
Day 9 | Bodrum, Turkey
Bodrum is an elegant city stretching from Turkey's southwest coast into the Aegean Sea. Once a sleepy fishing village, Bodrum now welcomes visitors worldwide. You will find scores of historical sites and many modern activities such as segway tours, museums, and beaches.
Must-see sites on Bodrum include:
The Mausoleum of Halicarnassus, one of the Seven Wonders of the Ancient World.
Myndos Gate
City Wall Moat
Ancient Amphitheatre
Bodrum Museum of Underwater Archaeology
Gumusluk Seashore Esplanade
Day 10 | Kos
Last but certainly not least, on your Rhodes to Leros to Kos 10-Day Itinerary, you arrive at the town of Kos. This trendy island has golden sand beaches, crystal clear waters, and archaeological sites. Historians note Kos as the home of Hippocrates, considered the father of medicine.
Places to see and things to do
Asklepeion. Asklepion is a significant attraction of Kos Island. According to ancient Greek mythology, Asclepius was the god of medicine and healing. This site is reported to be the world's first hospital.
Hippocrates tree. This is the place where Hippocrates is said to have taught his students.
Visit the castle of knights – Neratzia Castle
Archaeological Museum
Roman Odeon theater
The Ancient Agora, once the central marketplace
Castle of Antimachia
Wineries and wine tours
Kos has many beautiful beaches, including Lambi, Tigaki, Marmari, Psalidi, Mastihari, Agios Fokas, and Kardamena.
End Rhodes to Leros to Kos 10-Day Itinerary
Say farewell to your captain and crew until the next time—the end of Rhodes to Kos 10-Day Itinerary.
Please call us today at 1 (321) 777-1707 or describe Your Vacation Vision to help you plan your fully-crewed private luxury yachting vacation! Inquire as soon as possible about your custom, crewed yacht charter.
You make the memories. We make the arrangements.