Santorini
Crescent-shaped Santorini (or Thíra), the precious gem of the Aegean, is a group of islands consisting of Thíra, Thirassiá, Asproníssi, Palea, and Nea Kaméni in the southernmost part of the Cyclades. The entire complex of Santorini islands is still an active volcano (as are Méthana, Mílos, and Nísiros) and may be the only volcano in the world whose crater is in the sea.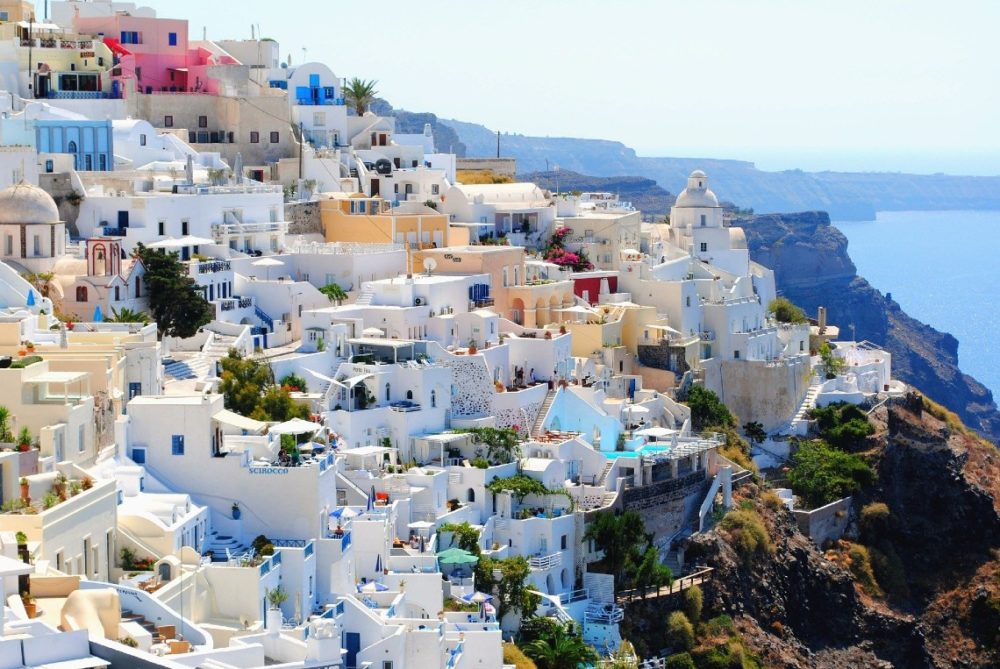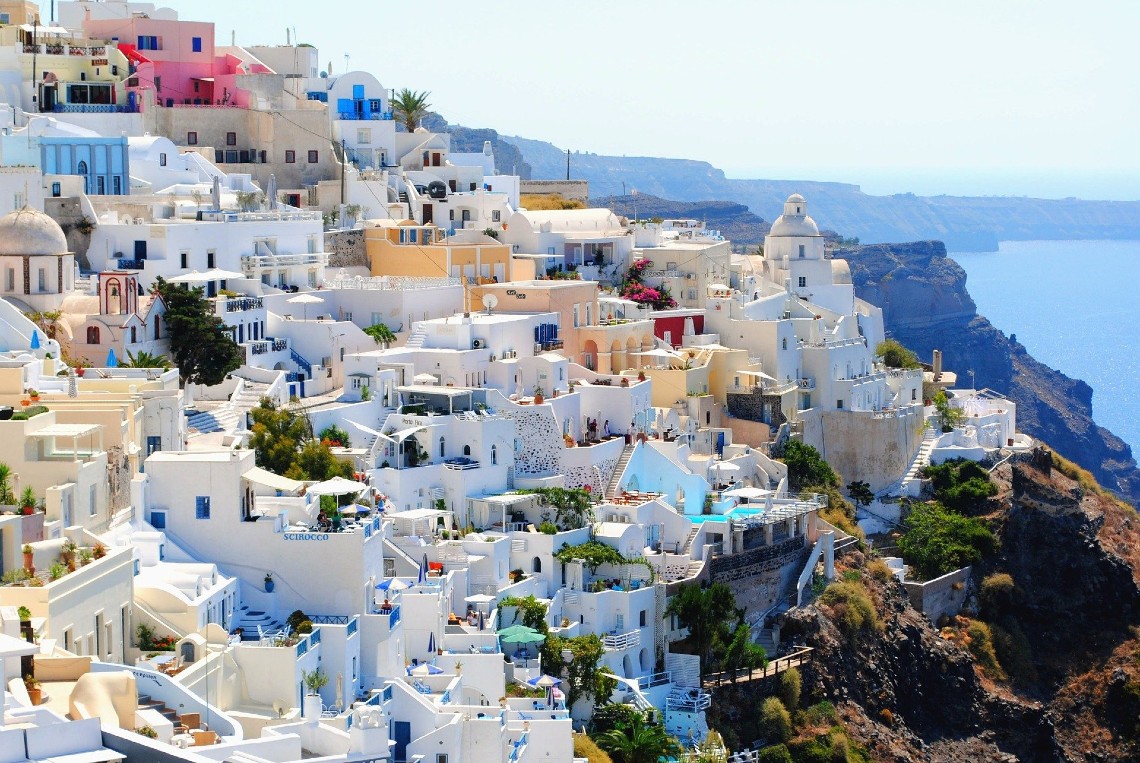 Sailing into the harbor, you are in the volcano's crater, with the sides rising majestically. It is very deep. Hence only mooring balls are available, and there are no marinas. Cruise to Santorini when it's the off-season and during calm weather.
Climate
Santorini has two seasons — a dry and warmer season from April to October and a cooler and rainy season from November to March. The temperatures rarely dip below 50°F or go higher than 85°F throughout the year, so temperatures are generally quite comfortable.
Places to see | Santorini
The Akrotiri Lighthouse is among the oldest lighthouses in Greece and was constructed in 1892 by a renowned French trading company. It stands like a sentinel on the southern peninsula of Santorini Island. The best time to visit the Akrotiri Lighthouse is during sunset.
Ancient Thera Museum is quite spectacular even from the outside. It hosts a rich collection of finds from the excavations in the sites of Akrotiri and other Cyclades islands.
Firá. The capital of Santorini. This scenic town is dotted with sugar-cube houses, winding lanes, blue-domed churches, and little squares. Spend some time just soaking in the atmosphere.
Oia. The world-famous sunsets here attract guests from all corners of the globe. This picture-perfect village of whitewashed houses overlooks the caldera. Oia caters to a more upmarket clientele.
Caldera. A massive volcanic explosion blew the center out of the island some 3,600 years ago and created this 12 km by 7 km caldera. Now it is filled with seawater.
Red Beach. Not only does Santorini have colorful blue-domed churches and whitewashed houses, but it also has a red beach. The unique red sand and the other-worldly volcanic landscape make this beach a must-see destination.
Things to do | Santorini
Shop. The most popular souvenirs include alcoholic beverages such as wines, raki, and ouzo, as well as hand-made jewelry and pottery.
Hike to the top of Santorini. Although the volcano is dormant, it is still an active volcano.
Take a boat tour of the caldera.
Taste local wines on a private wine tour.
Rent a bike and explore the mountains and villages.
Take an outdoor yoga class while soaking up the view.
Gastronomy
Santorini has so many delightful – and filling – foods that you may have to loosen your belt after a few meals. Some of the local favorites are Fava me Koukia (Mashed fava beans), Tomato Gefthedes (Tomato fritters), Saganaki (Fried cheese in filo pastry covered in honey), Spanakopita (Spinach pie), Sfoungato (a classic Santorini omelet-type dish) and Psarolia psita (sun-dried fish).
Please call us today at 1 (321) 777-1707 or describe Your Vacation Vision to help you plan your fully-crewed private luxury yachting vacation! Inquire as soon as possible about your custom, crewed yacht charter.
You make the memories. We make the arrangements.